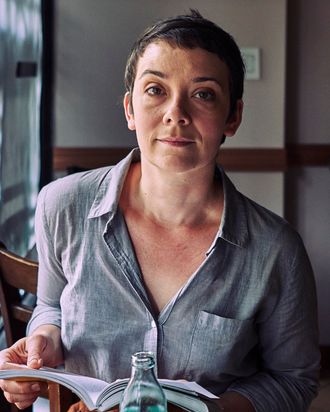 Marie Tribouilloy.
Photo: An Rong Xu
It bears repeating: Ops is the exactly the kind of restaurant that everyone wants in their neighborhood, and the kind your friends who don't live nearby complain about, well, not having in their neighborhood. A big part of the restaurant's appeal is that it's simply a great place to drink natural wine, courtesy of owners Mike Fadem and Marie Tribouilloy's ever-changing selection of fun, affordable bottles. Now the restaurant's fans will have a place to buy those pet-nats for home. Today at noon, Tribouilloy expands on her own with a natural wine store, Forêt Wines, in Ridgewood.
The white-walled, 350-square-foot space looks as much like a room in a bon vivant's home as a shop. It also has no separate storage space, so the decorations will not only include repurposed wine bottles but also cases of wine. Forêt Wines is still a work in progress. Tribouilloy is opening with, she says, roughly 15 percent of her planned inventory; that will increase to 50 percent by the end of next week. The store will also have limited hours of noon to 8 p.m., Thursday through Sunday, until the end of February, when it will be open for business daily.
Tribouilloy will stock about 100 different wines (and 1,500 to 2,000 bottles) at a time, from producers like Clos Lentiscus, Philippe Jambon, and Nicolas Carmarans. The selection will heavily favor Italy and France, with plans to include more American wines down the line. ("But it's hard to find more affordable natural wines from the US," Tribouilloy says.) At Ops, she says that she and Fadem are limited by pairing wine with the food, as well as by price range and limited space. Here, she's able to stock some more expensive wines and show off a wider range of bottles from producers that customers at Ops particularly like.
"I definitely want to have some of the wines we have at Ops, it's nice to have a crossover," Tribouilloy explains. "But I tend to get excited about different wines than we have at the restaurant."
The inventory will be roughly split: two-thirds affordable wines, which will rotate constantly, and a third higher-priced wines for the wine club and connoisseurs. Along with that, Tribouilloy wants to go beyond the most popular natural wine producers (your Frank Cornelissens of the world) that tend to be featured everywhere. "I'm not saying I don't want to have popular wines — I'm looking to sell wine," she says. "I just don't want to limit myself. It's interesting to have small producers that are not necessarily around that much."
Forêt Wines, 6838 Forest Ave., nr. Catalpa Ave.; 718-456-1150