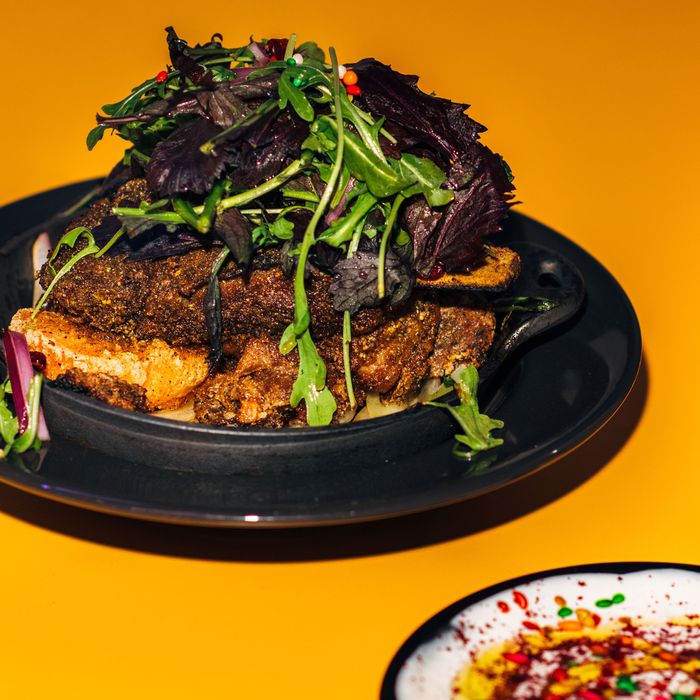 "Sizzling lamb riblets" at the new Mission Chinese Food in Bushwick.
Photo: Christian Rodriguez
"You might not want to be too stoned when you eat here," one of the possibly already-quite-stoned guests at my table said as we attempted to orient ourselves in the strange new whirligig world that Danny Bowien and his fashion consultants have created at the latest Mission Chinese outlet, which opened recently, next to a popular club called Elsewhere, on an empty, graffiti-covered stretch of Johnson Avenue, out in Bushwick.
The lights on the ceiling of the bunker-style, cement-covered room flashed pink, then white, then purple overhead, illuminating our weirdly irradiated, hazmat-green menus like old hippie posters under a black light. The orange-topped table seemed to be designed with a similar effect in mind, and so did my neighbor's "MSG Margarita," which apparently contained crystals of MSG in its gently melting ice cubes, and had the blue antifreeze color (and treacly corn-syrup taste) of a melted ice pop.
Bowien has always been famous for his tone and ear, as well as his sense of outlandish occasion, but out here in the wilds of gentrifying Brooklyn, he seems to have gone willfully, and randomly, over the top. The plastic chairs look like they've been heisted from the cafeteria of a not-very-prosperous middle school, and the clattering black bowls and chopsticks reminded one guest of "something you'd see at the Playboy Club in Dubai." The lighting is run through a series of metal bars affixed to the ceiling, and pulsates in time to the club track that grows louder and louder as one familiar, numbing, mala–infused dish succeeds the next.
The Mission menus seem to have been pared down to the popular basics since Angela Dimayuga left the East Broadway mother ship a while back, but as usual, with a Bowien production, there are plenty of things that get your attention. The famous Chongqing chicken wings seem to have shrunk in size since the last time I enjoyed them, and tasted like they'd been buried for a few days too long in a pit of industrial rock salt. The cool, spicy peanut noodles were as enjoyably messy and spicy as ever, however, and so was an ingenious new Bushwick creation called "sizzling lamb riblets," which caused a small riot among the disoriented, possibly still-stoned pilgrims at our table.
The delicious ribs in question were less "riblets" than long fatty ribs, which according to our waitperson, who had to politely shout to be heard over the thumping nightclub din, the kitchen dips in cornstarch, then rolls in delicate shavings of sweet potato for a little sweetness, and fennel for a slightly weird, unexpected crunch. They're then sizzled in the fryer, rolled in clouds of cumin and other spices, brought to the table with a cup of halal-style yogurt for dipping.
Those old Mission favorites — thrice-cooked bacon, mapo tofu, kung pao pastrami — seemed a little more meagerly portioned than I remember, but as one dish succeeded another, they began to work their addictive, mind-numbing magic. I have dim memories, as the lights pulsated and the music thumped, of sweet-tasting molds of fried rice shaped like layers of birthday cake, sprinkled with shiso flowers and shavings of coconut, and of a strangely intoxicating Tom Collins–like potion called the "Phil Kallins," made of gin and coconut milk, which we sipped from rice bowls like some exotic form of Taiwanese mountain tea.
Will I be returning anytime soon to Johnson Avenue for another taste of these strange creations? The honest answer is, "Most probably, hell no." But I'm praying that those lamb ribs make their way onto the menu of the Manhattan restaurant, and if you find yourself club-hopping at a civilized hour out on the graffiti-covered avenues of Bushwick — the restaurant closes, unaccountably, at 11 p.m. — you could do a lot worse.