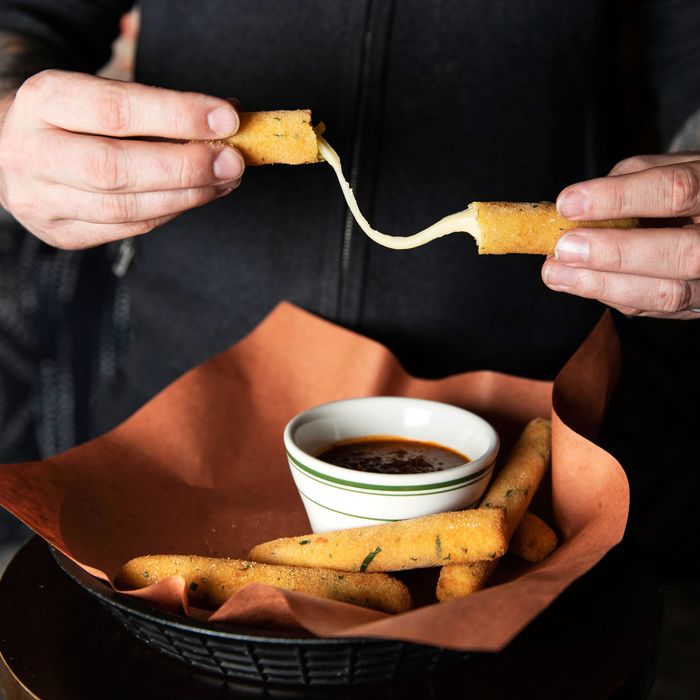 The Chihuahua (cheese) sticks.
Photo: Liz Clayman
Alex Stupak's Empellón al Pastor is the gruffer, metal-loving younger sibling of the chef's restaurant group, a place to drink mezcal piña coladas and eat jalapeño poppers. Originally conceived as a bar that served only its namesake taco, the East Village haunt has evolved since it opened in 2014 to have a more substantial menu of Mexican-American bar food. Now, Stupak will bring a sort of modified version of the restaurant to midtown when he officially opens a second location on Friday.
The second al Pastor isn't an entirely new restaurant. It's in the Pod Hotel space that previously housed Salvation Taco, which Stupak took over last year from April Bloomfield and disgraced restaurateur Ken Friedman. Since then, he's run that space as Salvation Taco, gradually giving it new parts in the form of al Pastor menu items, before closing it this week to make a final push.
When it reopens this Friday, the new restaurant won't be a clone of its big sibling. There will be table service, a lounge, and a game room, as well as a different look, one that doesn't take its cues from East Village dives. "If I were to bomb the new one with graffiti, it wouldn't sit right with me," Stupak says. "It's in a new place — I had to start looking for a different set of elements to inspire this."
So Stupak looked to an unlikely source of inspiration: Murray Hill pubs. The style here is captured, appropriately, by the the bar top, which the chef describes as like "a Celtic knot bar … a straight-up wood-tavern situation." It's like he opened a place called Flannagan's in Mexico City, with its dark wood tables, tan leather, and walls that are brick or painted a deep forest green. But they're also decorated with unusual photos and art reminiscent of what you'd see at other Empellóns, and one section is covered in a psychedelic painting of a praying mantis.
Likewise, the menu has been rejiggered to fit the new environs. There are 11 dishes on the menu here that aren't available at the downtown location. These include three salads ("It's a lot lunchier here," Stupak explains), a sweet potato taco, and bar snacks like deviled eggs and pickles that the team decided wouldn't fit in downtown.
Some of the new dishes also pull from the American-Irish bar canon, like Chihuahua cheese sticks with tomato sauce, and broiled oysters with hoja santa and bacon. The junk food theme started at the original al Pastor (both locations have jalapeño poppers with bacon-cream cheese filling), and carries over to the desserts. Here, there's a Klondike-esque crunchy corn masa ice cream bar served, of course, in foil wrapping.
Stupak also pulls inspiration from the Middle East in dishes like the Lebanese bulgur fritters called kibbeh, or even a fried-chicken sandwich topped with the garlic sauce toum. "It's becoming less about the Mexicanization of things for me. That was a big approach, and now it's becoming more willy-nilly, for lack of a better term," Stupak says, explaining he's been adding Persian-inspired dishes to his other menus. "I love that. In my mind, Mexico's most iconic taco" — the al pastor — "comes from Middle Eastern food."
Al Pastor being a bar, there's also plenty to drink. The cocktails here are divided into the same four sections (margaritas, cocktails, tiki, and frozen) as at the original location. Some of these are on the menu downtown right now, like the ¿Por Qué No? margarita, and others aren't, such as the Mutineer with rum, canela, and pink grapefruit.
In the age of scaling, it's notable that Stupak isn't simply copying the original al Pastor wholesale with the aim of dotting the landscape with his particular style of bar food. "Nowhere in my mind am I like, 'It's time to bang out my easy, I don't need to be there, cash-cow moneymaker," he says. "I think more like, we did something, let's be objective about it, what's good about it, what's not good about it? How do we fix that?"
Empellón Al Pastor, 145 E. 39th St., nr. Lexington Ave.; 212-865-5800