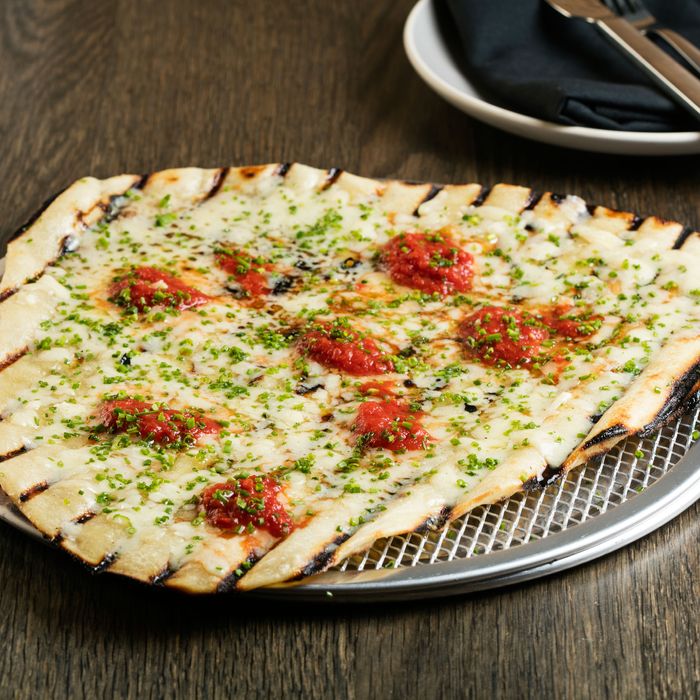 The Classic with sauce, cheese, herbs, and scallions.
Photo: Melissa Hom
Three short years ago, Emily was a single, small Clinton Hill pizzeria with a local following and a buzzy burger. Since the opening of its spinoff Emmy Squared in 2016, the brand has grown rapidly with a hybrid Emily-Emmy Squared in the West Village and locations of Emmy Squared in the East Village and Nashville. And in two days — this Thursday — chef Matt Hyland will officially open his fourth New York pizzeria in three years. Called Violet, it's a new restaurant devoted to another regional American pizza style: the grilled pizza of Providence, Rhode Island's influential Al Forno.
Grilled pizza is rare in this city. It was served at the Bronx's Coals (now in Westchester) and Manhattan's Accademia di Vino (now closed), and the Clam has offered a grilled clam pie. It's not a New York thing, in other words — but neither was Detroit pizza when Hyland made that the focus of Emmy Squared. "People gave us shit for Detroit pizza, but then they actually ate it they were like, 'oh yeah, it's just a pizza,'" he says. "The whole New Yorker, 'this is the real pizza' bullshit will die down.'"
Hyland's love affair with Al Forno began, he says, when his brother started college in Providence and continued during his own time at Roger Williams University. That is also where he went on a first date with his wife Emily, a co-founder of the restaurants, and their memories at Al Forno inspired Violet. While the Hylands have separated, Emily remains at partner at the original restaurant and holding company. She's also behind the wine list at Violet, which she assembles for all the restaurants.
Of course, it is no small task to reengineer these grilled pizzas. Almost 40 years after it opened, Al Forno remains a vital part of the country's food culture, and the Christian Science Monitor wrote way back in 1991 that its grilled pizza "has been widely imitated, but never duplicated." At Violet, the dough is low-hydration, naturally leavened with a sourdough starter, and oiled like focaccia, resulting in a crust that's paper thin but not crackery, tender, and very light. It's on the grill for under 30 seconds, Matt says, before it gets charred, taken to the toppings station, and put back on a cooler section of the grill. While the toppings are familiar, they aren't duplicates of Emily pizzas, either. Expect broccoli and pistachio pesto on the Atwells; or duck prosciutto, hoisin, and clams on the Dune Duck. For the classic, the cheese goes on first so it can melt, with tomato sauce, scallions, and herbs on top.
Pizza, however, is only one part of the equation here, and the non-pizza offerings are more plentiful than at the other Emily restaurants. "I had an idea I wanted to do a seafood shack next to the original Emily," Matt says. "That's where this idea came out of: New England-y stuff, but more interesting."
On the menu, that translates into clam "stuffies" with linguiça, pretzel stuffing, and uni; as well as hen-of-the-woods mushrooms with grilled miso treviso, goat gouda, johnnycakes, and crème fraîche. There are six different pastas, too, including an Al Forno homage of baked fusilli with vodka sauce, ricotta, and herbs. For some others, like the tortellini in dashi brodo, Hyland casts a wider net for his influences. The chef takes a similar approach to dessert, making the Portuguese doughnuts malasadas with PVD or coffee-milk cream filling. What there isn't yet is a burger, though Matt has been messing around with one made with kimchi queso.
After three years of rather rapid expansion, Hyland & Co. are hitting the brakes for a bit. He says that Violet will be the last restaurant they'll open in New York, at least for a while, and that the expansion focus will shift to outside the city. "We're definitely expanding the Emmy Squared brand, and while that's expanding, this is a place we can be more creative," he says.
Violet, 511 E. 5th St., nr. Avenue A.; 646-850-5900