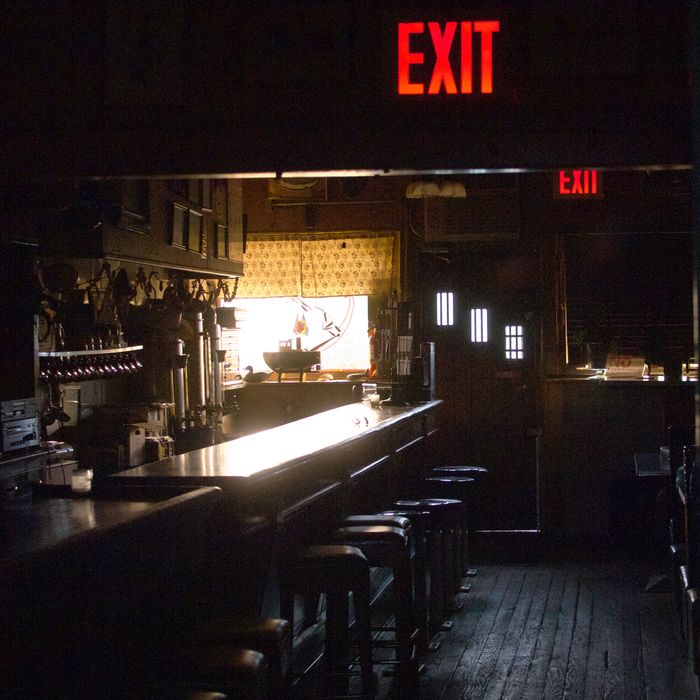 Emptier-than-usual bars means a time for staff and owners to reset.
Photo: Scott W Baker/Getty Images
February is just a few short days away and, with it, the unofficial return of regular drinking in New York after a month off. The rise of Dry January — the international month-long abstinence challenge — has certainly become a factor in this, but just as the concept of "mansplaining" existed long before there was a name for it, the first month of the year has been a time when people have simply decided to drink less.
"I've been in AA for years," says Giuseppe González, one of a growing cadre of sober bartenders. "The biggest meeting every year is that first one in January. It's like Catholics who only go to church on Easter and Christmas."
For the bar professionals who nevertheless keep working through the month, the effects of the social movement can still surprise: "It's jarring how empty places are," Troy Sidle, head bartender at ZZ's Clam Bar, bemoaned this month. "The usuals are gone and what's left is just the unusuals. It's a month of amateur night."
But business always bounces back: Marissa Mazzotta, the bar director at the Shanty in Williamsburg, says she saw her first uptick last week. "Every year, January gets worse," she says, "but so what?" For many in the nightlife world, January's downtime instead comes as a relief after the rush of the holidays, and the start of the year is a time to reset and take a much-needed rest.
"December is so busy, all you can do is be reactive; January is for being proactive," says Jim Kearns, whose juggling act of bars includes the Happiest Hour and its downstairs sibling, Slowly Shirley. "My wife teaches yoga so I like to frame it as setting intentions — it's housekeeping and goal-setting, a time to take a breath, catch our breath, and hold it. Sit with it."
"January is our spring cleaning," Mazzotta says. "It's winter cleaning. We don't have time for that in spring."
It's also a time for soft-opens, but "anything in January is soft," says Micah Melton, the beverage director at the Aviary NYC, who notes that liquor distributors also tend to take weeks-long breaks in January, and that he takes advantage of the lull to train new staff.
Many seasoned hospitality-industry professionals say that the slower months (or less-common drink orders from non-regulars) also offer a welcome challenge. Sidle says that one recent night at ZZ's involved a celebrity who was happy to spend the night ordering a long string of Shirley Temples. "Ultimately, hospitality wins out," he says. "Customers change and we have to change with them. Our job is not to blink when they ask for what they want."
Like Sidle, Existing Conditions' Don Lee sees January as a simple test of his resolve. "We want you to feel like you are your best self in our bar, and that means we want to be our best selves, too," he explains. "A great way to do that is to keep challenging ourselves. I think of January the way I think about August. If you're failing in August, it's not the beach's fault."
As confident as they are in their businesses and their craft, the start of February (which this year begins on a Friday) can nevertheless come as a welcome relief after a month of gazing into the abyss. "There are definitely Monday nights or Tuesday nights where it's dead, like, dead-dead," says Maks Pazuniak, an owner at Jupiter Disco, "and I think, 'This is the end.' But, no, it's just January, and it's fine." He adds, "There has to be a slowest month."