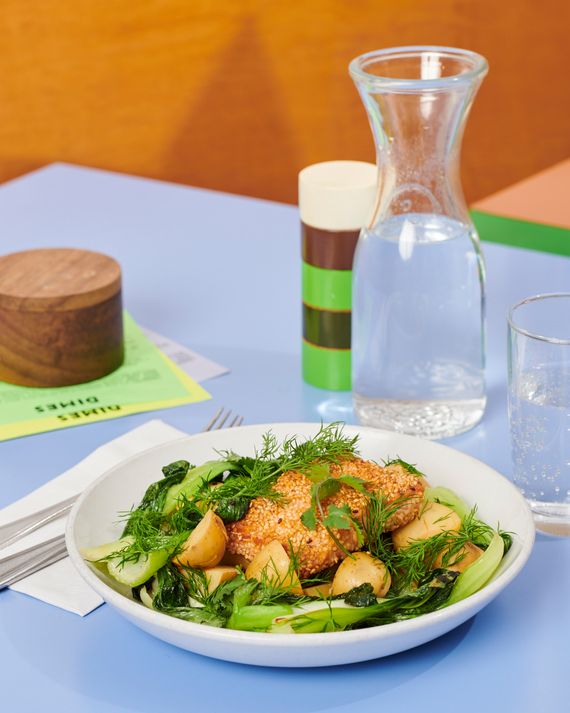 When Alissa Wagner opened Dimes — the tiny, beloved Lower East Side restaurant that's grown into an empire of clean eating — she and her co-founder created the kind of place where they wanted to dig in. "From the beginning, our goal has been to make healthy eating approachable and enjoyable rather than prohibitive," says Wagner. That translates into colorful, flavorful dishes that feel nutritious, but with no deprivation vibes. ("Think more avocado and coconut milk than butter and cream," the chef explains.)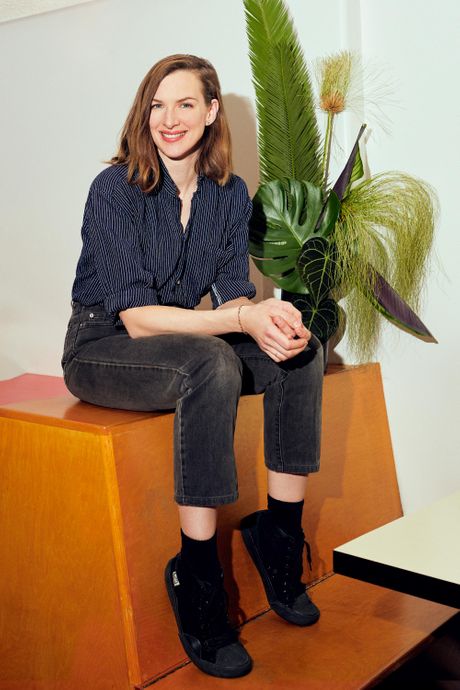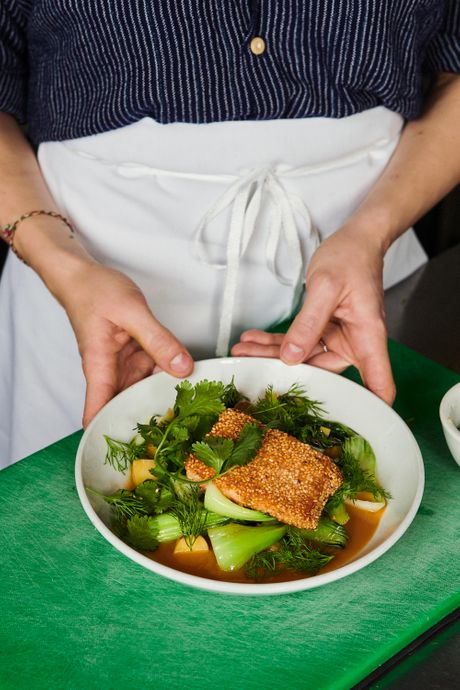 Wagner, a mom of two toddlers, prioritizes quick, simple, and balanced meals at home these days, and she says that approach trickles into her work at Dimes. Grub Street and Jet recently joined her in the restaurant, where she whipped up an easy salmon and veggie entrée that's perfect for a tasty weeknight dinner during peak resolution season. "This dish is a no-brainer in terms of packing in nutrients, and the spicy miso-ginger broth feels like comfort food," she says. Get the ingredients online — delivered same-day or next-day* in most of New York City — at Jet's City Grocery service.
Alissa
Wagner's
Miso
Sesame
Salmon
with
Winter
Veggies
(Serves
4)
The chef's notes on this recipe: liberal use of fresh herbs looks impressive and has a big flavor payoff, without adding extra work. And for one way to use the leftover gochujang paste, you can mix a little into yogurt to create a spicy dip for other meals and snacks throughout the week.

Ingredients
· 1 quart Organic Imagine miso broth
· 2 teaspoons Mother-in-Law's gochujang fermented chili paste concentrate
· 2 teaspoons grated ginger
· 2 cloves grated garlic
· 1 teaspoon kosher salt, plus more to taste
· 1 pound pee-wee potatoes, cut into bite-sized pieces
· ½ cup sesame seeds
· 24 ounces salmon, skin removed, cut into 4 equal pieces
· 3 tablespoons olive oil, divided
· 1 garlic clove, thinly sliced
· 2 pounds baby bok choy, bottom of bulb removed, and head pulled into individual leaves
· 1 cup organic cilantro leaves
· ¼ cup fresh dill
Instructions
1. Preheat oven to 400°.
2. Pour the miso broth into a stock pot, and bring to a boil.
3. Whisk in the gochujang until fully incorporated.
4. Reduce heat to a simmer, and add the ginger, garlic, and 1 teaspoon of salt.
5. Gently add in the potatoes with a slotted spoon. Cook them until they're tender when poked with the tip of a paring knife — about 10 minutes.
6. While the potatoes are cooking, pour the sesame seeds onto a plate. Season the salmon all over with kosher salt to taste, and dip the salmon into sesame seeds on all sides until coated, as if with breadcrumbs.
7. Heat 2 tablespoons of olive oil in an oven-proof, non-stick skillet until very hot, but not smoking.
8. Add the salmon, and cook until the sesame seeds are golden brown on one side.
9. Flip each piece of fish, then transfer the pan to the oven.
10. Cook for another 8 to 12 minutes, depending on the thickness of the fish. The salmon should be a little pink in the center: To check, gently break open the underside.
11. Heat the remaining tablespoon of olive oil in a skillet.
12. Add the sliced garlic, and sauté for 1 minute, or until the garlic is just barely brown around the edges.
13. Add the baby bok choy, and season to taste with salt. Sauté quickly until just wilted.
14. Divide the broth and potatoes, along with the wilted bok choy, between 4 bowls.
15. Top with the seared salmon, and garnish with a generous amount of cilantro and dill.
*A $5.95 scheduling fee may apply. Scheduled delivery only available in select zips in and around NYC and subject to availability. To order with same-day delivery, place your order by 9 am. For next-day delivery, order by 8 pm the night before. See jet.com/citygrocery for full details.
This is paid content produced for an advertiser by New York Stories. The editorial staff of Grub Street did not play a role in its creation.