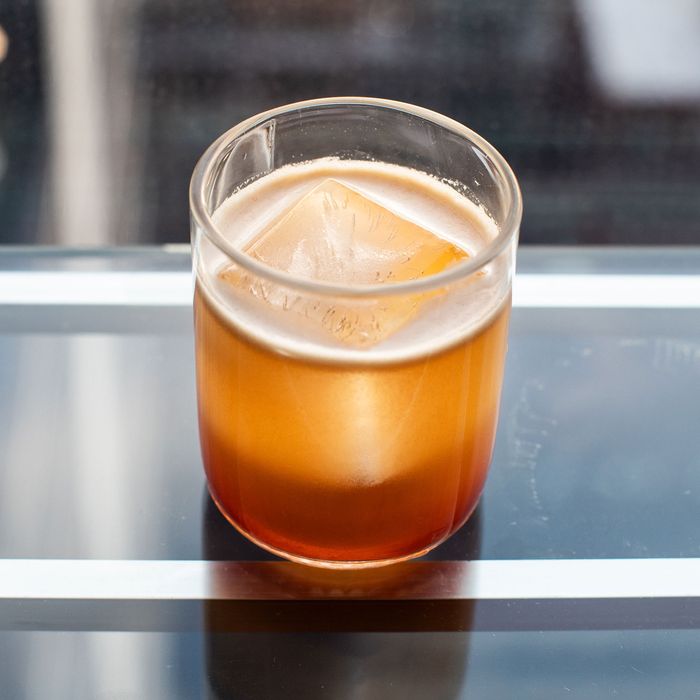 Drink up at the new Dear Irving on Hudson.
Photo: Erinn Springer
After today, you might actually want to go to Times Square, thanks to Meaghan Dorman, who, as a partner and bar director at the Thousand Best–worthy Raines Law Room and Dear Irving, has now expanded her empire uptown.
Called Dear Irving on Hudson, the sleek new location is spread out over the 40th and 41st floors of the Aliz Hotel on 40th Street, with four balconies and expansive midtown views. The aim, according to Dorman, is not just to offer an amenity to the guests of the hotel, but to draw in residents of the area and those who work nearby — who, let's face it, could always use a few more good options for drinks.
This particular option goes big. The 40th floor, now open and with room for about 80 people standing, pays homage to James Bond with low-slung, mod-style hexagonal leather stools, and a fun Eero Aarnio–inspired ball chair. There's also a sleek black bar to rest those martinis on (those should really be stirred, not shaken). The 41st floor, meanwhile, with art deco styling and fixed seating for reservations, will open February 1.
Small plates are available but the focus leans heavily toward cocktails. Favorites like Dorman's perfect Gibson — which has gained a cult following downtown with its botanical Carpano Bianco vermouth and garnish of red onion, pickled in-house — make the trek over, but you'll find a new section on the menu called Ode to the Empire State, with a focus on New York–made spirits: Products from brands like Owney's Rum, Hudson Baby Bourbon, and New York Distilling Company. "I wanted to give people visiting and staying in the area or the hotel an extra-organic look at New York, not just city but also state," says Dorman. "They're in Times Square, but we can give them an extra level to their visit to New York."