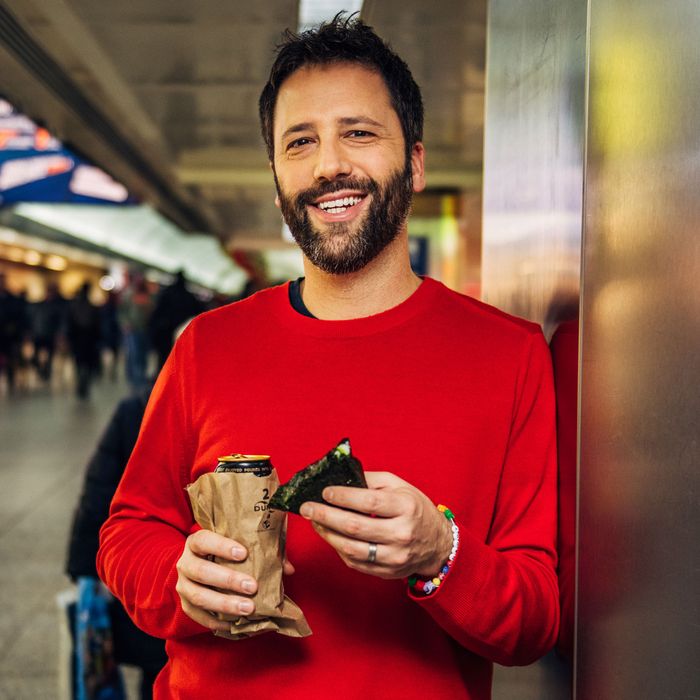 Dan Pashman at Penn Station with his go-to pre-train snack of an onigiri and Guinness.
Photo: Christian Rodriguez
Next week, the James Beard Award–winning food podcast The Sporkful will celebrate its ninth anniversary. The show is known for host and creator Dan Pashman's deep explorations into topics like Dairy Queen Blizzard dreams, and live episodes with the likes of comedian Hari Kondabolu. In his real life, Pashman remains committed to seeking out amazing food, even if it's gotten a little harder since he moved from Brooklyn to Greenlawn, Long Island, five years ago. "Finding really good food outside the city isn't easy, but it's there if you look hard enough," he says. This week, he visited "a super old-school" doughnut shop, had a pizza party with his family, and ventured into Manhattan for fancy Korean food. Read all about it in this week's Grub Street Diet.
Friday, December 28
We all eat a lot around the holidays. But for parents like me that goes double, because I spend the whole time home with my wife, Janie, and our daughters, Becky (age 8) and Emily (age 5). When I'm around my kids, I consume an average of 14,000 additional calories per day.
That's partly because parenting little kids requires extra energy, sort of like how cross-country skiers need to eat 12 meals a day. That's me, except instead of being a world-class athlete, I'm a suburban dad. Also, I hate wasting food. So when my kids leave something on their plates, I am compelled to eat it. Like my father before me, I have earned the nickname "The Human Garbage Disposal."
For breakfast, I had a few bits of cheesy scrambled egg, a handful of grapes, and several pieces of Life cereal from the floor, which may have been mixed with dislodged crumbs of tile grout.
My older daughter, Becky, had an eye doctor appointment — a long one. Fortunately the doctor is right near Fairway Market, which is my happy place. So while Janie stayed with Becky and Emily, I went to Fairway. Anytime my family is running errands, I'm always thinking, what can I eat nearby?
I got a ball of fresh mozzarella, some Parma prosciutto, a still-warm baguette, and some coffee, and sat by myself in the café with all of it, using a plastic knife to slice slabs of mozzarella on to the bread, which I tore apart with my hands. (It may have been day one of this diary, but it was day seven of continuous family time; I needed some self-care.) Of course I made sure to eat the mozz-baguette combos cheese-side down, so the cheese landed on my tongue and that flavor was accentuated.
Then I went back to the eye doctor to wait with the kids so that Janie could have a turn to go to her own happy place: The Dollar Store.
Eye doctor visit complete, we drove to Hicksville and got Thai food for lunch. I had khao soi, which was decent but not as spicy or sour as I'd like. It wasn't the same as a really good curry you would get in Elmhurst. I didn't really love this place but the owners are really nice people.
After Thai food, we stopped at Hicksville's House of Donuts, a super old-school place with a formica counter and stools and homemade donuts. Emily got chocolate frosting with sprinkles, Becky got red velvet, Janie got plain glazed, and I got apple crisp, a marble cruller, and an apple fritter. No, I did not eat them all. But I am not capable of ordering only one donut. You never know which will be best until you sample each one! We all tried each other's and while I'm normally not a fan of red velvet, I have to say that one was the winner — mostly because it was still warm.
For dinner, we went to our friends' house. They have an annual Christmas Eve open house that we went to, and they had so much leftover food that they invited us back that Friday. I brought the ingredients to make old-fashioneds, which were a hit. I do enjoy bringing a cocktail, and showing up to a party with a cooler of ingredients.
I focused my eating on their platter of ciliegine (small mozzarella balls), salami, prosciutto, and olives. I combined mozzarella and prosciutto to make salty, creamy bites, picking mozzarella balls that were adjacent to the olives, so they'd have a bit of that briny flavor. You have to be thoughtful when you go Full Olive.
Saturday, December 29
In the morning, Emily, Becky, and I made buckeyes. They're sort of like homemade Reese's Peanut Butter Cups. I really love cooking with my kids. It's fun to have a project together that we're all into, even though they're not always as into it as I am.
This one was a winner. I used the New York Times recipe but only put in half the powdered sugar because last year I thought they were too sweet. (I also added extra salt and used a mixture of dark and semi-sweet chocolate, instead of just semi-sweet, as the recipe instructed.) The lack of powdered sugar (and my heavy hand on the peanut butter) may have made the peanut butter mixture extra sticky, so when the kids and I tried to roll it into balls we got covered in peanut butter. The kids had a blast licking their hands clean. Okay, fine, the kids and I had a blast licking our hands clean. We didn't end up with very many buckeyes.
For lunch, I had leftovers of Janie's excellent carrot soup and roast chicken. Her carrot soup is one of those foods that gets even better after sitting in the fridge for a couple of days. Sometimes when there's only a little left I'll use it as a sauce and pour it over pasta or seitan. I added some Lao Gan Ma Spicy Chili Crisp to the chicken. I'm the only one in my family who likes spicy food, so I have an arsenal of jars and tubes that I use to get my kicks in.
In the afternoon, I snacked on salted cookie butter cheesecake that I made with the kids earlier that week. The Biscoff cookie crust is similar to a graham cracker crust and is so, so good. But as with any recipe with a graham cracker crust, you must increase crust ingredients by at least 50 percent to make it nice and thick.
Dinner was make-your-own-pizza night. We got the dough from our local pizzeria, Broadway Pizza. I went with my go-to in these situations. I coated my dough in olive oil and cooked it solo for a bit so it got an oily crust, a little like focaccia. Then I added feta, artichokes, and za'atar, cooked it a few more minutes, and finished it with some Maldon salt.
I also had a glass of homemade eggnog I make every holiday. I use the Joy of Cooking recipe: a dozen eggs, half a gallon of heavy cream, a pound of sugar, and the better part of a bottle of bourbon or rum. It's basically like you're making a cake … but instead of flour you put in liquor and then you drink the cake. I don't know if it's because my friends and I are getting older, but I couldn't get anyone to drink it — it's very strong and really bad for you. I decided this might be the last year I make it. I may have to switch to something lighter, because people just don't want a pound of sugar in their drink, I suppose.
Me, though? Dessert was buckeyes!
Sunday, December 30
Breakfast was table scraps again, sans grout.
After a bit of strong coffee, I switched to genmaicha, a Japanese green tea with roasted rice in it. Each year on the podcast, listeners and I make New Year's Food Resolutions — foods we resolve to eat more of in the new year. In December, I was feeling overcaffeinated. While I didn't want to quit coffee, I did resolve to drink less, and instead drink more tea. I'm still working on my caffeine buzz management under this new arrangement. It seems the best strategy may be to have a half a cup of very strong coffee first thing in the morning, just to get the gears churning, then switch to tea for the rest of the day.
For lunch, we went to my in-laws', who live nearby. We were dropping the kids off there so Janie and I could go into the city for a date night. We had bagels and lox, tuna salad, Jarlsberg cheese, sliced veggies, mac and cheese for the kids, plus some delectable mini quiches. All very delicious.
Janie and I went into the city, saw a matinee of The Other Josh Cohen, then went to dinner at Gaonnuri. It's an upscale Korean restaurant that's on the 39th floor of a K-Town office building, so it has amazing views of the city. I'm no expert on Korean food, and I like a lot of the places in Koreatown, but Gaonnuri is a really nice spot for a special night out. I had the bossam, which I love. The pickled radish is my everything. Combine it with the pork belly and wrap them in the pickled perilla leaves and you've got just about every flavor, texture, and taste sensation known to humankind, all in one bite.
For dessert, we got this deconstructed Snickers thing that seems to use Dippin' Dots as a topping on chocolate and vanilla ice cream and peanut butter sauce. That is the only acceptable use of Dippin' Dots. And it's goooooood. But by themselves? The texture is weird. It's like eating a bowl of a topping. It's supposed to be some new-fangled alternative ice cream, right? That's what it's sold as. "Don't have ice cream, have a bowl of these pebbles!" But why is it better? It's not nearly as satisfying.
Monday, December 31
First thing I did when I came downstairs in the morning was take the leftover bossam from last night out of the fridge to come to room temperature. I can microwave the pork but I wouldn't heat the kimchi, radish, wraps, and other fixin's. If they're too cold they'll have less flavor and might transfer their chill to the melty fat of the pork belly. I couldn't have that.
Lunchtime. I totally get parents who are like, "I'm not cooking separate meals for everyone in the family. I'm not a short-order cook!" But it's actually one of my dreams to be a short-order cook. I kinda like the rush of trying to get all these different foods out at the same time. So, I made feta, artichoke, and za'atar flatbreads for Janie; farina with rainbow chocolate chips for Emily; and an egg and cheese burrito for Becky. Add to that my leftover bossam, and it was quite a feast.
Then it was time to get ready for New Year's Eve.
Janie is an amazing event planner. She decided on five days' notice to throw a New Year's Eve-ning party for 60 people where we'd count down to "midnight" at 5 p.m. This way all the kids could be part of it and all the grown ups could go to bed well before anything exciting happened.
Janie teamed up with our friends Sarah and Ron, who got us the event room at their church. My job was to make a big tray of baked ziti, to which I added mushrooms, spinach, garlic, and artichokes. I was also the DJ and in charge of the countdown. Janie was in charge of firing the confetti cannon at the precise stroke of whenever-I-said-it-was-New-Year's.
She nailed it.
Everyone brought food, so dinner was a smorgasbord. In addition to my ziti I ate veggies and hummus, salami, and nachos that appeared to have been built upon some very good off-brand Doritos.
As for dessert, I don't know who made the brownies but they were bonkers, crusty and chewy on the edges and perfectly fudgy in the middle. Someone else brought cookies with M&Ms on them, but many of the M&Ms fell off. (I do also love peanut m&ms solo but I think as a topping or filling as I was using those m&ms, classic are superior.) So I gathered stray M&Ms, then selected a prime parcel of brownie real estate — one containing maximum dynamic contrast, which is the term sensory scientists use for a contrast in textures — and pressed the M&Ms into the soft areas of the brownie. Happy New Year indeed, and all before 6 p.m.
Tuesday, January 1
After all the holidays excess, I woke up on New Year's Day ready to cut back. But I still had one more day with the kids. How could I change my ways and maintain the massive caloric intake necessary for effective parenting?
Fortunately there were lots of leftover veggies and hummus from the party. I spent breakfast and lunch snacking on those, along with some dates and almond butter, one of my favorite healthy snacks. You need to get the big, fleshy dates and keep them in the fridge, so they stay firm and meaty. Then split them in half, remove the pit, and hold one half like a canoe and schmear almond butter into the opening.
After lunch, we took the kids to the Kmart near us, which is closing down. That turned out to be a huge mistake. The kids were exhausted and spent the whole time crying about all the toys we wouldn't buy them.
As we left, our reserves of parenting energy were severely depleted. Before we even made it back to the car, I had ordered Chinese food from one of the two places in town, Green Garden. As we drove to pick it up, the sun was setting on the last day of our family vacation from school and work. I got the orange chicken, which was really not good. We'd eat healthy the next day. This night, we'd eat our feelings.