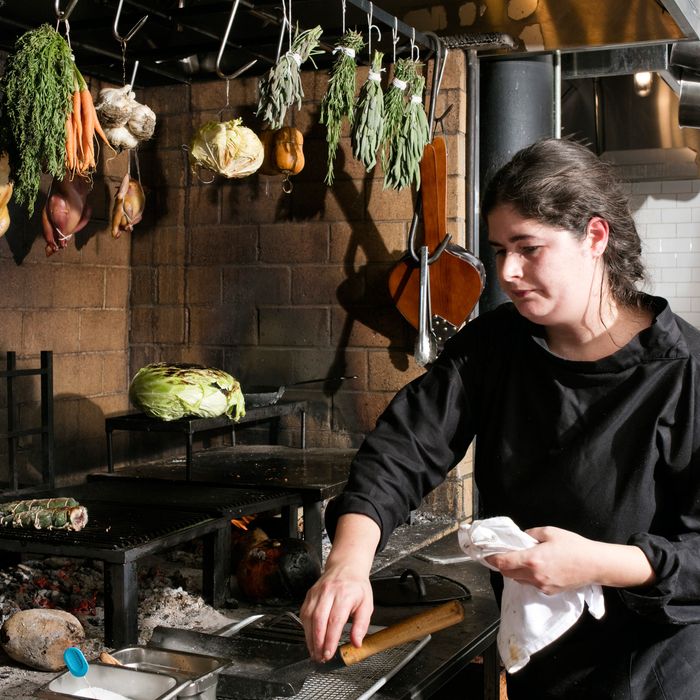 Christina Lecki at Reynard.
Photo: Melissa Hom
The year is kicking off with a big Brooklyn chef shuffle. Chef Christina Lecki has left the Wythe Hotel's Reynard. She leaves just two months after the restaurant's founder (and former hotel partner) Andrew Tarlow left the scene, too. If this sounds like the end of Reynard, that's because, well, it kind of is. In a statement provided by a representative, hotel owner Peter Lawrence says, "We are now working hard on a re-imagination of the food concept at the hotel that we will share in the coming months." The person tasked to do that is new executive chef Charlene Santiago, who worked at the Breslin (as did Lecki) and was previously Reynard's chef de cuisine.
Opened in 2012, Reynard was a sort of bigger, higher-end version of the "New Brooklyn" vibe that Tarlow helped pioneer at places like Diner. Lecki was the restaurant's second chef, and her departure comes a little over a year after officially taking over the kitchen from Sean Rembold. At Reynard, she reworked the menu (almost entirely) and tone, citing Chez Panisse and River Café as influences and bringing to the restaurant an uncomplicated approach to cooking.
The food resonated, with New York's Adam Platt highlighting Reynard in his Where to Eat in New York City 2018 and Grub also naming it Williamsburg's third-best restaurant earlier this year. In a three-star review, Eater New York's Ryan Sutton argued that Lecki turned the restaurant into a "New York dining destination."
Yet despite the quality cooking, Reynard felt in many ways like the odd one out in Tarlow's restaurant group, the Marlow Collective. It simply didn't take hold in the same way as places like the now iconic Diner, Marlow & Sons, and Roman's, which have all become entwined with their neighborhoods.
Lecki confirmed her departure in an Instagram post, thanking Tarlow "for believing and trusting me at a time when I didn't fully believe in myself." What's next for the chef isn't clear; at least for now, she'll take some time off. Grub has reached out for comment, and will update the post if and when we hear back.