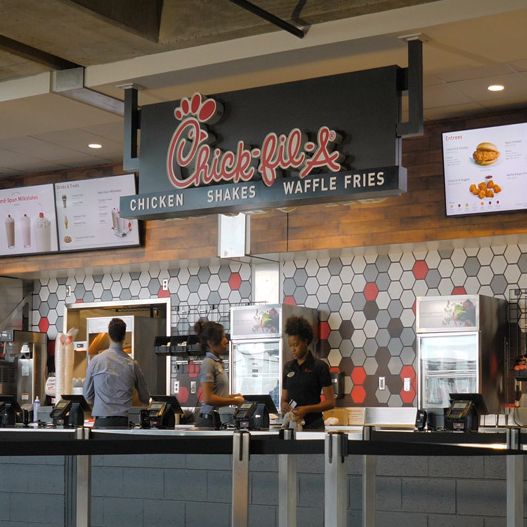 No chicken sandwiches for anyone.
Photo: Courtesy of Chick-fil-A
You haven't known real pain until you've craved Chick-fil-A on a Sunday only to remember that the Georgia-born fast-food chain is closed on Sundays (unless there's some sort of emergency or disaster).
Apparently, the Super Bowl coming to Atlanta for the first time since 2000 isn't considered an emergency. On February 3, when the New England Patriots and the Los Angeles Rams throw down at the city's Mercedes-Benz Stadium, the Chick-fil-A near section 123 will be closed.
In a statement, Chick-fil-A said that it was sticking to its peanut-oil-fried guns in memory of its famously religious founder Truett Cathy, who instituted the Sunday policy back in 1946. "Truett saw the importance of closing on Sundays so that he and his employees could set aside one day to rest and worship if they choose — a practice we uphold today," company officials said.
Instead, according to Sports Illustrated, the restaurant will be temporarily replaced by a concept called "Fries Up," which only serves French fries with assorted toppings and has subbed for Chick-fil-A on Sundays since the stadium opened in 2017.