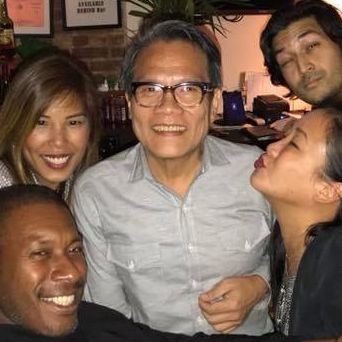 Bui, center, surrounded by friends.
Photo: Courtesy of Alex Corporan
Brian Bui's laugh was infectious. "Bwah-ha-ha-hah!" That is what it sounded like, crinkling his cheeks and eyes, hidden behind Roy Orbison frames and a similarly ink-black side-part. The blowout laughter defined his name. Friends and patrons sometimes called him "Brian Bwah-ha-ha-hah!"
Bui passed away last week at Mount Sinai Hospital, from complications due to colon cancer. He was 55, and everyone who knew him thought he, and his joie de vivre, would never have a final meal.
At his restaurant, Mekong, the regulars were Kongers. Bui's food, based on the Mekong River region's home cooking, was consistent, but it was the restaurant's atmosphere that set the pace. Though Mekong first hung its placard on Prince Street (for a decade), it was the Edward Hopper–aglow, patio-seated corner spot at Sixth Avenue and King Street that defined Bui and his welcoming clubhouse. Who would think that a no-frills Vietnamese café would become, well, cool?
"Mekong was a one-and-only Vietnamese-wacko-affordable-delectable-sometimes-quite-quite-disreputable restaurant that was always a reliable choice," said Michael Gross, the author and editor-in-chief of Avenue magazine, who first stumbled upon Mekong while living off Washington Square and would later make weekly treks after moving uptown. "It was an insider's secret you were glad to share, albeit only with good friends — Brian's welcomes were always fulsome and his hospitality, legendary."
Gordon Nelson, a beauty consultant and a regular at the downtown iterations of Mekong for seven years, said, "At Mekong you knew you could just be you. The place was special, no doubt, but it became quietly legendary because of Brian's enthusiasm. A genuine happiness radiated from him."
Serge Becker says Bui was an invaluable member of the community. "Brian was not a buzzy, marquee name in our industry. He represented something much more subtle, something personal, and ultimately, more important and valuable: He was the archetype of the restaurateur as the beloved host of an entire neighborhood." Friends called him the "king of King Street."
When a 50-percent rent hike forced Mekong out of its King Street space in 2016, Bui moved the restaurant to a Clinton Hill corner. His younger brother James says he'll keep it going, but it will be tough. "What I loved most about him was his laugh."
This past Saturday evening, from 5 p.m. to 2 a.m., approximately 200 boisterous well-wishers of the late restaurateur crammed into the Ear Inn, spilling out onto the sidewalk. "At one point it was like waiting to get into Studio 54," said Alex Corporan, the skate-world icon and regular at all three incarnations of Mekong. "Nobody cared that it was 34 degrees," he said. "Everyone just wanted to celebrate the journeys they'd taken in their lives with Brian over the years." Corporan added, "He brought us all together. We rocked all night for our Buddha, Brian."
Bui was born in a Central Vietnam town near Saigon. His family moved to New York City in 1975, and he graduated from New York University with a degree in finance. The family traveled often, which led to a love of food of all kinds, but his brother says he always returned to the brothy seasoned phos and deceptively complex seafood cuisine of his homeland.
Marisa Acocella, the graphic novelist and cartoonist says, "Brian was different. In an age where restaurants are opening with big money partners — bred to franchise and their dishes designed by committees — Brian was its antithesis." She adds, "He was not your cookie-cutter, corporate, slick face-boy head of a dining establishment. He was approachable. He did it for the love — to make people feel good … We all loved him."