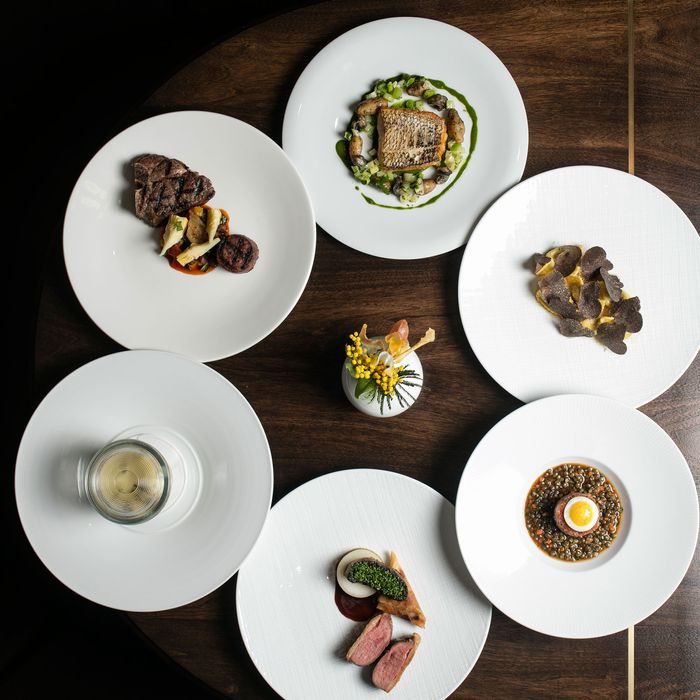 Don't be fooled by the absence of tablecloths: Benno is fine dining.
Photo: Melissa Hom
In accordance with the fashions of this scattered, unpredictable, increasingly stratified dining age, there's a little something for everyone at the various dining "concepts" (the website's words, not mine) that Jonathan Benno has cooked up for the new ownership of the Evelyn Hotel on 27th Street in Nomad. There's a bakery and "pasticceria" up front where you can sip espresso and fresh fruit juices and ogle long, paddle-shaped Roman-style focaccia under glittering glass displays. Farther down the lobby, there's the boisterous, Roman-inspired Leonelli Taberna, which was serving a jumble of accessible rustico-style favorites (lasagna, country chicken, a de rigueur "Taberna Burger" with melted provolone and hot peppers) of varying quality when I dropped in, along with a variety of "stuzzichini" small-plate snacks to share as you enjoy the many ersatz Negroni combinations available at the bar.
But if you want to travel back to that not-so-distant era my mother-in-law still refers to, with a wistful tone in her voice, as "the days of proper dining," I suggest you save up your cash for a visit to the chef's eponymous concept, Benno. The small room sits in the back of the lobby, beyond the taberna, up a discreet set of marble stairs. There is a bar at one end, which has been fitted with cushioned leather chairs instead of stools and seems designed, in a quaint, old-fashioned way, for sipping a drink or two before your table clears instead of eating your dinner. The wait staff drift to and fro dressed in dark dinner jackets (instead of, say, jaunty butcher's aprons), portaging foie gras dumplings and jars of delicately coddled eggs across the shiny terrazzo-tile floor, and the lighting in the hushed, dimly lit room is provided, at least in part, by rows of candles flickering along one of the walls.
Jonathan Benno is a product of this mannered, slowly vanishing world of artfully tweezed appetizers and endlessly simmered stocks and veloutés, of course, having served as a trusted lieutenant for a string of grand blue-ribbon chefs, most notably Thomas Keller, for whom he ran Per Se for many years. After Per Se, he opened the larger, more populist Lincoln Ristorante, at Lincoln Center, which some grumpy critics liked better than others. But this is a much smaller operation, and as one intricately fussed-over recipe succeeds another — risotto folded with crushed walnuts; dense little wheels of tête de veau bedecked with a single quail yolk; that coddled egg, with baby mushrooms and a whipped truffle mousseline hidden in its depths — you get the feeling that the chef has found a comfortable balance between intimacy, ambition, and his own highly particular gourmet style.
Benno has always been more of a technician than an innovator, so there's nothing very groundbreaking about this gourmet style, of course. The menu is filled with favorite themes from days gone by ("showcasing classic French technique and contemporary Italian cooking" is the website's tagline), and after we'd lapped up our coddled eggs, a variety of familiar dishes appeared, many of them engineered in slightly unfamiliar ways. There were rounds of beef tartare mingled with crunchy bits of sunchoke, and a very Per Se–like serving of abalone (including the shellfish and the mushroom) carefully arranged on the plate against a twirl of vividly green parsley vinaigrette. The excellent pastas include little boat-shaped casoncelli soaked with brown butter and filled with a creamy blend of artichokes; tangles of smoky, burnt-wheat "grano arso" spaghetti tossed with uni and fat, fresh clams; and that poster child of the haute-ravioli era, agnolotti del plin, here stuffed with a decadent mash of duck and foie gras.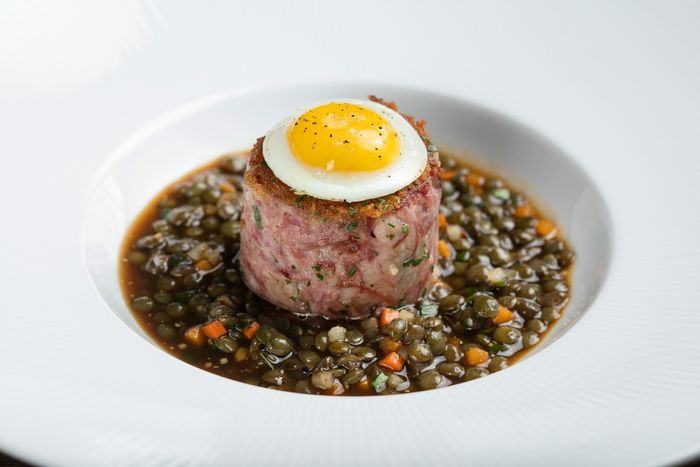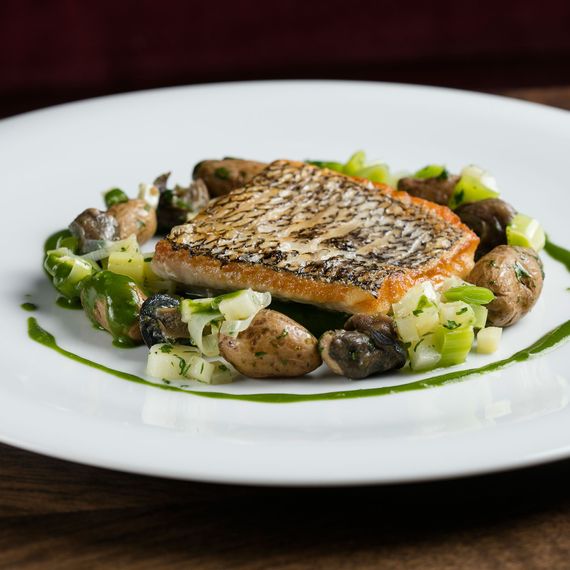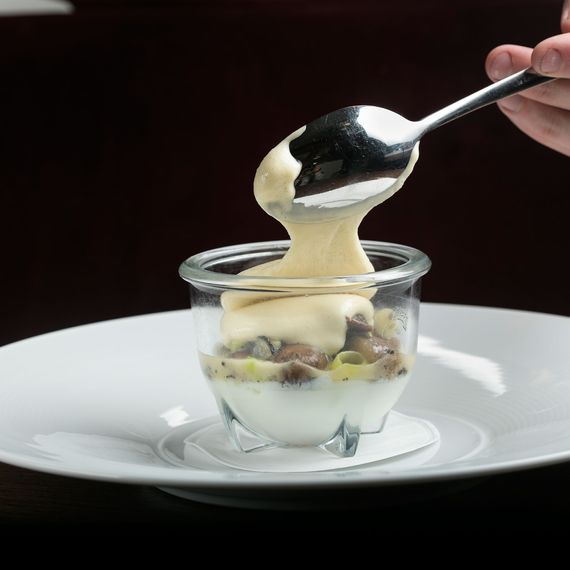 There are plenty of inventive new pasta creations available around the city these days, but if you've spent time hopping frantically from one boisterously trendy hot spot to the next, a taste or two of these retro creations can feel a little like sipping a dignified (and, yes, not inexpensive) glass of Bordeaux after spending months in crowded gastropubs guzzling goblets of funky natural wine. The same is true of the best of the studied, professionally executed entrées, like the black sea bass (a small, perfectly seared fillet ringed with escargot, fingerling potatoes, and fennel), the Rohan-duck breast (cut in crisply tender slices and plated with another generous ration of foie gras), and the saddle of lamb, which was less a whole saddle than a single, transcendent lamb chop, surrounded by Mediterranean flavors and ingredients (eggplant, artichokes, spicy merguez sausage).
Dinner at Benno is accompanied by all of the usual props and accoutrements that have been designed, over the years, to enhance the illusion of the theatrical, ethereal "gourmet" experience — warm, freshly baked pointy little baguettes made with einkorn flour, pots of whipped butter with herbes de Provence, pre-dessert amuses served around the table on silver spoons (one of which was described by our waitperson in whispering tones as an "île flottante with a grapefruit palate cleanser"). There are carefully curated cheeses, of course, tastefully displayed on slabs of black slate, and a slightly mixed-bag selection of desserts arranged around themes like "Apple," "Pear," and "Cheesecake." The ones I tasted tended to blend together in a pleasantly nondescript way, but if you're looking for a little lift at the end of your meal, call for the babka, a sugary twist of pastry made with a bracing dose of dark chocolate.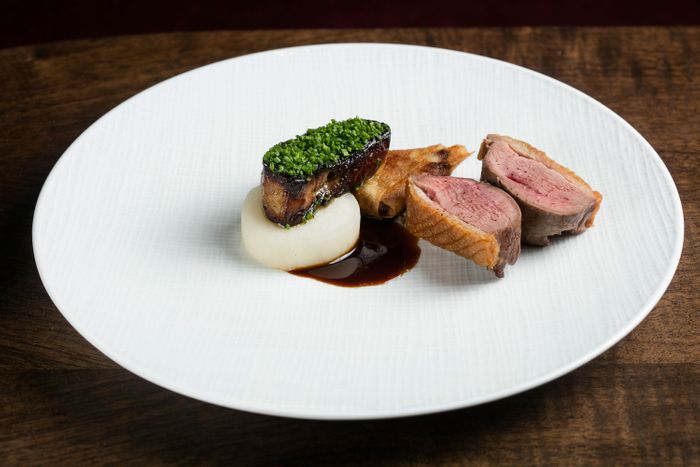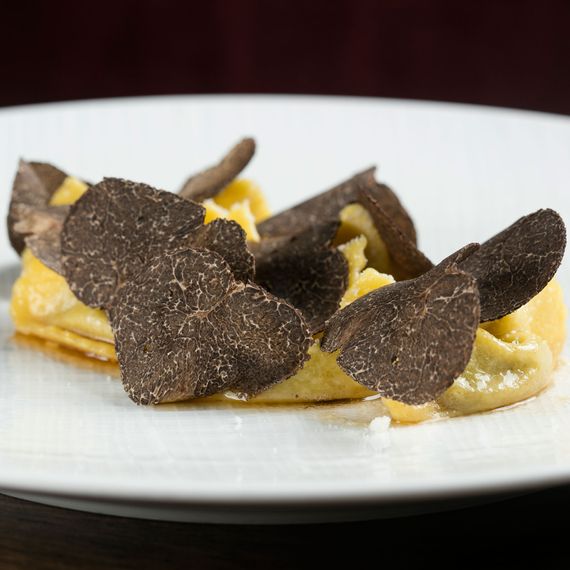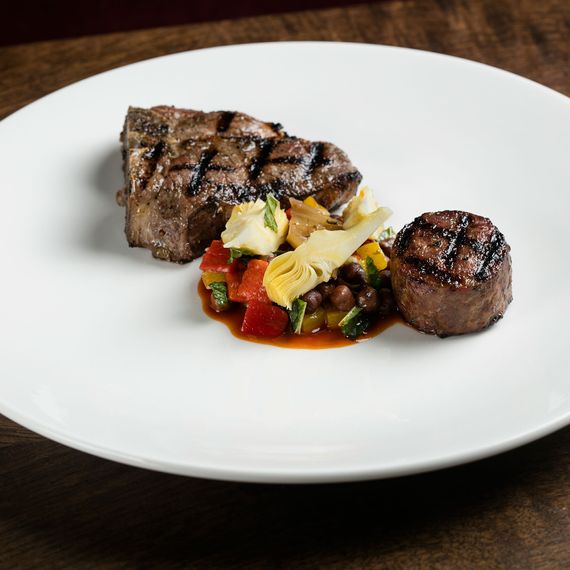 Benno | 87 (out of 100)* | Very Good
7 E. 27th St., nr. Fifth Ave.; 212-451-9557; bennorestaurant.com
Open: Dinner, Tuesday to Saturday.
Prices: $95, $125, and $145 for three, four, and five courses respectively.
Ideal Meal: Coddled egg, tête de veau and/or any of the pastas, black sea bass or Rohan duck, babka.
Note: The dining room is prix fixe only, but you can order à la carte at the bar.
Scratchpad: That old-fashioned combination of service, stylish presentation, and technique launches Jonathan Benno's posh new restaurant into the "impressive" stratosphere of our rating scale.
*The rating scale of 0 to 100 reflects our editors' appraisals of all the tangible and intangible factors that make a restaurant or bar great — or terrible — regardless of price. See The Thousand Best for 999 more great places to eat and drink.
*This article appears in the February 11, 2019, issue of New York Magazine. Subscribe Now!