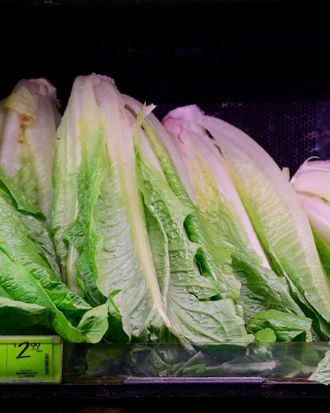 Go for it.
Photo: Andrew Caballero-Reynolds/AFP/Getty Images
Romaine lettuce is officially, totally, completely safe to eat again. Yes, everyone returned to eating it as usual last month, but now we no longer have to worry about getting a stray bad batch.
Last month, the Food and Drug Administration declared that only some romaine lettuce was safe to eat again. After the massive outbreak of E. coli-tainted romaine that sickened 62 people across 16 states, the government organization concluded that the outbreak was not connected to romaine coming from Mexico, Florida, or Arizona, but from end-of-harvest stock out of California.
We no longer have to worry about this distinction at all, the Associated Press reports. All romaine lettuce, regardless of origin, is safe to eat. There hasn't been a new illness in a month, the suspect lettuce is out of our food system, and the farms where the tainted romaine originated are done harvesting it.
Unfortunately, however, the ongoing government shutdown is keeping the FDA from doing routine food inspections. Until the shutdown ends, the department is in a holding pattern of sorts. Officials will announce recalls and the like, but inspections of domestic food facilities have come to a virtual halt as 41 percent of staffers are currently furloughed.
FDA commissioner Scott Gottlieb says, however, that he plans to call many of them into work (without pay) to make sure the 31 percent of food facilities that are considered high risk for outbreaks will continue to be monitored.