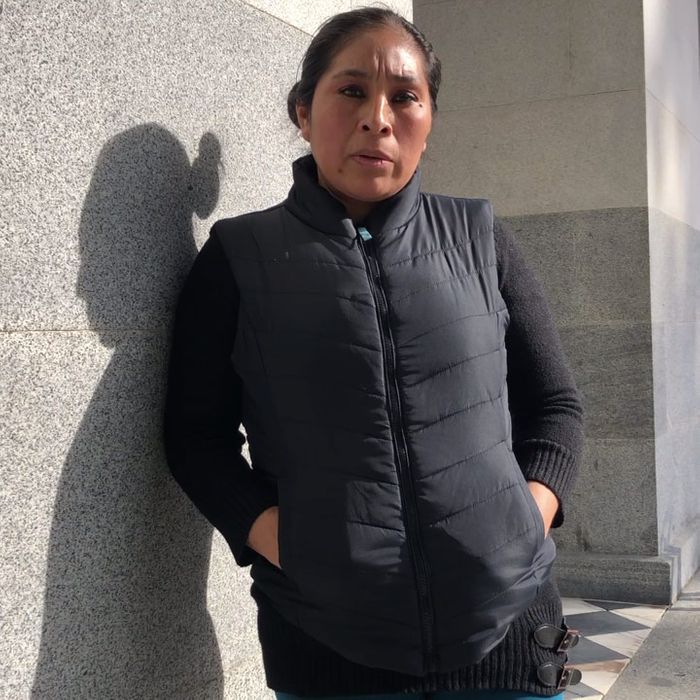 Francisca Pérez.
Photo: Center for Workers' Rights
Last May, Sacramento-area cook Francisca Pérez alleges that she was fired from her restaurant job of a decade for the heinous crime of speaking Spanish. She had worked at Osteria Fasulo in Davis for a decade when the alleged incident occurred, reportedly provoking owner Leonardo Fasulo to tell her, "This is America. We speak English here." This week, the Center for Workers' Rights in Sacramento filed a complaint on behalf of Pérez with California's Department of Fair Employment and Housing. According to her attorney Daniela Urban, they had reached out to Fasulo about resolving the issuing without a filing but he was not interested.
The alleged incident occurred when a new waitress named Janet Ruelas-Nava asked Pérez in Spanish if a dish was ready to be served. Fasulo apparently heard them, and the Sacramento Bee reports that he yelled at Ruelas, pounded the table, and asked if they wanted him to start serving burritos. He allegedly told Pérez she would need to learn English, which she speaks, to keep her job. All of this occurred in front of Pérez's son, who had arrived at the restaurant, and prompted Pérez to tell Fasulo he was discriminating against Mexicans. This provoked the restaurateur, she tells the Bee, to say, "you can get your ass out of my restaurant."
The Bee spoke with Fasulo outside his restaurant, where he denied telling Pérez to speak English and said she quit on her own terms and is not owed a final paycheck. In a letter seen by Telemundo, Fasulo's attorney Matthew Smith calls the allegations "false and unsupportable by facts."
The now former waitress Ruelas-Nava quit the restaurant following the alleged incident. In a statement, she says that after she told her boss she would not be returning, they argued but then she received her check. "He knew that the reason I was quitting because of his behavior and his 'English only' statement," she writes.
Speaking to NBC News, Pérez says she "felt humiliated" and "not worth anything in this country." Her relationship with her boss had not always been bad. She tells NBC News that her job interview with Fasulo was in Spanish and that "he was a good person." After a few years, though, she says that his behavior changed. In response to the incident, Pérez tells NBC News she told her son that she wants him to study hard "so you don't have to go through what I experienced." She is now working as a custodian in Sacramento, where she lives.