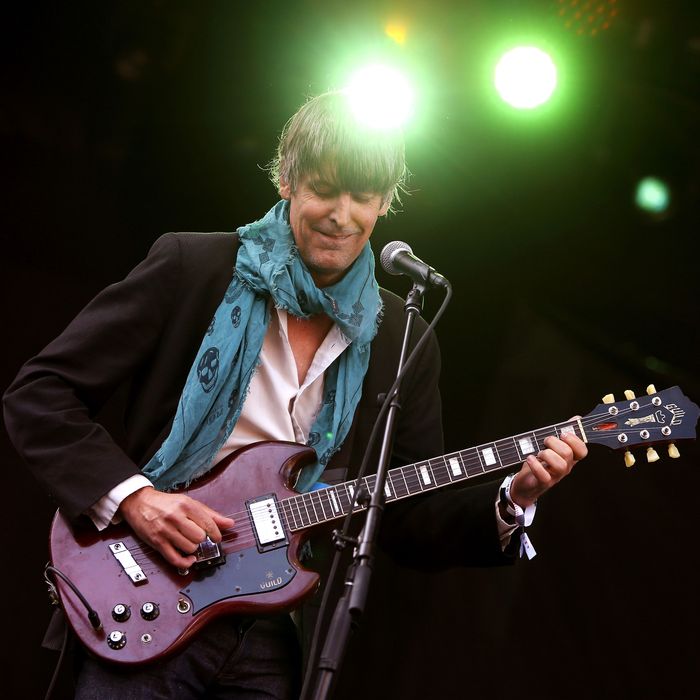 Stephen Malkmus heads to Brooklyn.
Photo: Mike Lawrie/Getty Images
Events to check out this weekend, January 24 to 27.
1. See a love letter in play form.
New Yorker writer Calvin Trillin was used to inserting his wife Alice into his comic writings. Then, after she passed away from complications with lung cancer, he wrote a love letter in the form of a whole book. Called About Alice, it's now been turned into a very sweet two-character play, written by Trillin, currently being performed at the Theater for a New Audience. Bring tissues.
2. Contemplate rest.
Sleep sometimes gets a bad rap. (Think, "You snooze, you lose.") At Performance Space New York, through January 31, the installation "Black Power Naps," by Afro-Latinx artists niv Acosta and Fannie Sosa, aims to reclaim the importance of sleep, as well as to shed light on the racial sleep gap (studies have shown that black Americans get significantly less sleep on average than their white counterparts). The artists received a Creative Capital award for the installation, which includes interactive zones with trampolines, hammocks, and other objects related to rest and its power.
3. See Colin Quinn riff on politics.
The former SNL Weekend Update anchor never stopped riffing on topics, and in his new Off Broadway show Red State, Blue State, at the Minetta Lane Theatre, he monologues himself all over party lines. Absurdities in our political system? There may be a few.
4. Be delighted by magic.
Do you like crossword puzzles, magic, or places that look like they're straight out of Harry Potter? The limited engagement of The Enigmatist by magician and cruciverbalist David Kwong is set at the gothic Hoffman Hall at the High Line Hotel, which, with help from a scenic supervisor on Harry Potter and the Cursed Child, is designed to look like the "Riverbank Estate," inspired by rich person George Fabyan, a pioneer of cryptology. If you make it there before it closes in March, warm up your brain first. Puzzles await.
5. Reflect on the net.
The internet has come a long way from when it started, and each step of the way has yielded a bounty of visual delight and social connection. In "The Art Happens Here: Net Art's Archival Poetics" at the New Museum, you'll see 16 works from the archive of the net: websites, software, books, and more. Maybe if we're lucky they'll have the most artistic of all: a GeoCities archive.
6. Celebrate poet Robert Burns.
You don't need to be Scottish to participate in Burns Night (a bottle of Laphroaig and a book of poetry will do just fine), but it helps if you like Scotch. And haggis. At the James Beard House on Friday you'll get both of those, plus poetry readings and more, at their celebration of Scottish poet laureate Robert Burns, with food from chef John Hutt from the Museum of Food and Drink, and master of ceremonies Keith Jolly.
7. Get your fill of the four B's and a C.
That's beer, bourbon, barbecue, and bluegrass, plus some biscuits and definitely some cowboy boots, at the Beer, Bourbon, and BBQ Festival, this Saturday at the Tunnel in Manhattan, featuring over 60 beers and 40 bourbons to taste. Also on Saturday, fill yourself up with beans and warmth at the 11th annual Cassoulet Cookoff, hosted by Brother Jimmy's but held at the Biba in Williamsburg. An all-inclusive ticket gets you a tasting of ten-plus cassoulets and a selection of cider, craft beer, wine, whiskey, and spirits.
8. Enjoy some OGs.
You know you love a good crooner, and this weekend you can catch the smooth sounds of R&B musician and producer Brian McKnight on Saturday at Sony Hall. If you're more of an indie-rock-from-the-'90s reminiscer, on Friday, Stephen Malkmus & the Jicks perform at Brooklyn Steel, in support of last year's Sparkle Hard and possibly Malkmus's upcoming electronic album, Groove Denied.
9. Eat burgers in a yurt.
This weekend, the EMP Winter House teams up with Shake Shack, and we all win. With dual pop-ups in Aspen and NYC, we lucky city-dwellers get to try specialty items like the Alpine Swiss Burger, with applewood-smoked bacon and an Alpine-style cheese sauce, plus truffle gravy fries, onto which you can add fresh black truffle. Decadent! Even better, it all goes down in a yurt in Madison Square Park, through Sunday.
10. Revel in the absurd.
What's better than one tragicomic Eugene Ionesco text? Five of them: The Bald Soprano; The Lesson; Frenzy for Two, or More; Jack, or The Submission; and French Conversation and Diction Exercises for American Students. Performed by seven actors, they're mashed up with wordplay and staged as a dinner party in The Ionesco Suite, which runs through Saturday at BAM.