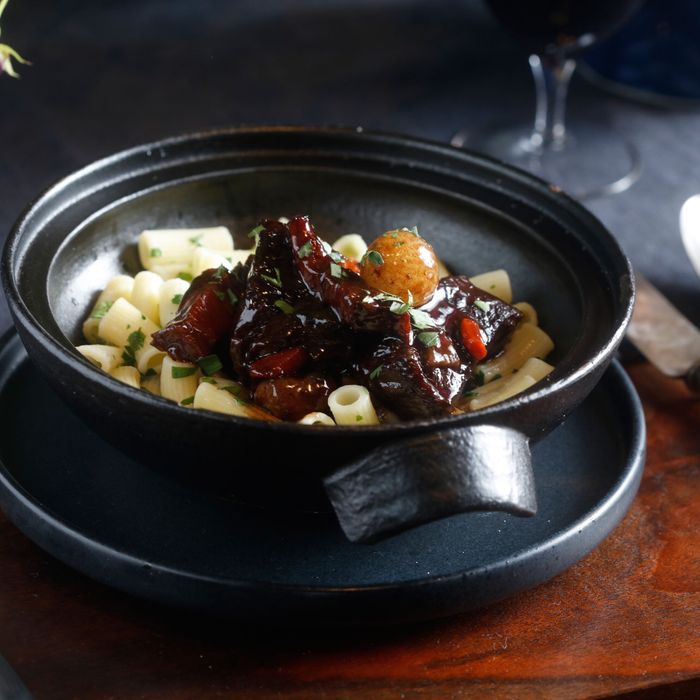 La Mercerie's boeuf bourguignon.
Photo: Melissa Hom
One of the very best things about being in New York around the holidays is how much emptier it gets, and so it becomes that much easier to go eat at your favorite restaurants. For those whose offices close after Christmas, this is especially true: You have several days to go eat lunch at excellent restaurants, then get back into bed and watch movies. Here, ten great restaurants where you'll be able to pop in for lunch this week.
abcV
If your request is "serene, leisurely meal, but make it vegetarian," head here. Jean-Georges Vongerichten serves dosas with yogurt and avocado, soba noodles with dashi, and plenty of vegan things.
Adda
The Long Island City-spot is as thrilling as everyone says, and it's been very busy (on Grub's visits) since a glowing review in the New York Times. Heaps more praise won't help your cause of casually popping in after work. There's no need to fret, though, because you can get pakoda fix during lunch, when you'll find a kati roll, seasonal saag paneer, and other dishes.
Atla
Enrique Olvera and Daniela Soto-Innes shifted gears here a couple months back, and now's your chance to check out what's new. To start, there's mole blanco with leeks and cabbage, a lobster salpicón tostada, and duck wings.
Frenchette
It's not easy getting a table during dinner at 2018's restaurant of the year, but there are plenty still available for a weekend lunch. Go and close out the year with pork schnitzel and boudin blanc.
La Mercerie
If you're looking for a dignified lunch to help you feel fancy, this is your place. Breakfast is the best time of day here, so make sure you're over in time for crème anglaise with brioche and a galette complète. Come lunch, though, you'll still find crêpes, as well as a great version of boeuf bourguignon.
Loring Place
There's a really good lunch deal here ($29 for a small plate and large plate, or $6 more with dessert). But then you'd miss out on the excellent Grandma-style pan pizza, the spicy soppressata, and sausage calzone that the Underground Gourmet named the second-best dish of the year. You know what to do!
Olmsted
The bad news: Getting into the Friday through Sunday brunch at this perpetually mobbed neighborhood favorite is usually as difficult as dinner. The good news: There are lots of reservations for each day, so gave have yourself some BEC egg rolls, Austrian doughnuts, and latkes.
Oxomoco
Brunch is served daily at this sun-splashed Mexican restaurant in Greenpoint, where you'll find plenty of food fit for a celebratory meal or, let's be honest, a day of napping. Think a tlayuda with camote and quesillo, a hamburguesa pambazo, and frozen palomas.
Simon & the Whale
Have yourself a long, late lunch of croquettes with gouda and pimenton, grilled octopus with freekeh, and smoked mussels.
Tang Hotpot
Planning a last-minute lunch with friends on Friday? Gather around the hotpot at this hip spot, where you can dip your meats and tofu in spicy beef tallow broth for lunch from Friday through Sunday.