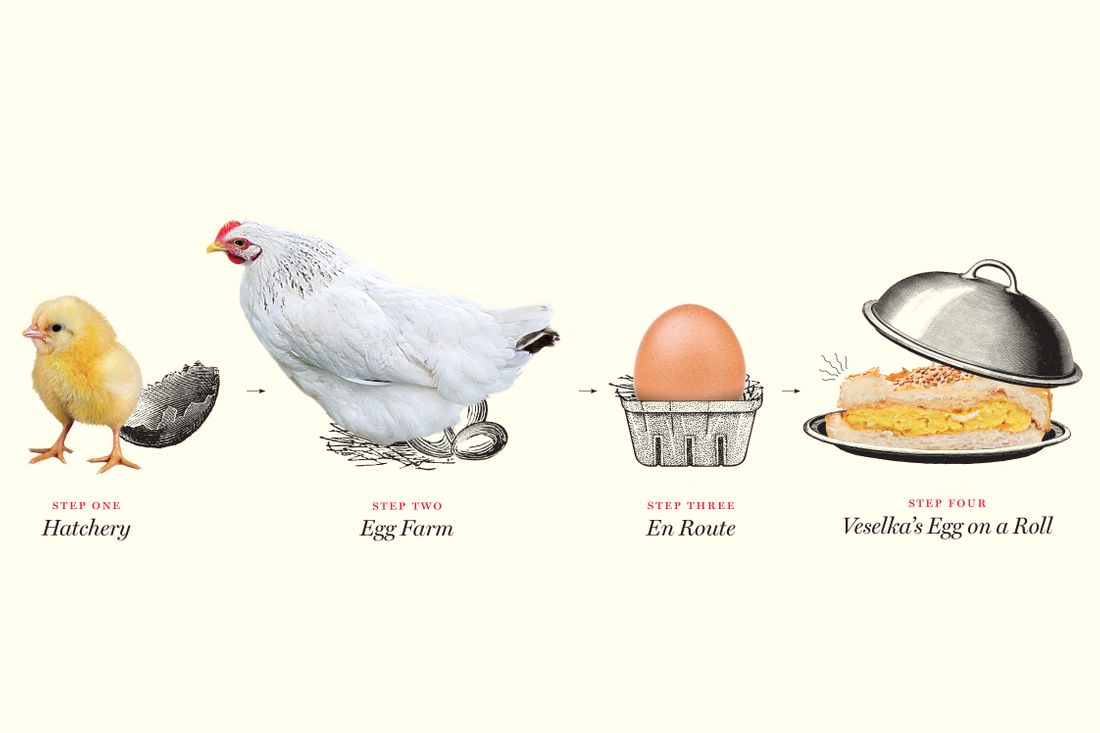 Photo: Grant Heilman Photography/Alamy Stock Photo/Aluxum/Getty Images/Andrii Gorulko/Alamy Stock Photo/Graylen Gatewood/New York Magazine
Do you know where your food comes from? Do you want to know? Truth be told, we all could stand to be more inquisitive about the provenance of the stuff that ends up on our plate. The best most of us do on a typical trip to Gristedes or Trader Joe's is to check the expiration date on a tub of yogurt; or, while perusing the menu at our neighborhood bistro, sheepishly ask the waiter where the shrimp is from or if the salmon is wild, at which point he or she will feign great interest and say, "You know, that is a very good question. Let me check with the kitchen," and then, of course, never get back to us. Taking as our premise that there might be a fascinating food-chain story behind each and every ingredient that goes into all the stuff we eat, we set out to track our daily grub as far back as we could, from the Peruvian coffee producers who make our local Rainforest Alliance Certified eye-opener possible to Sullivan County's last egg farmer, who happens to be responsible for the egg on a roll at one of the East Village's most legendary diners. And that's just breakfast. The goal of this exercise wasn't to tally food miles or weigh the pros and cons of agribusiness (though obviously those subjects demand constant and exhaustive scrutiny) but simply to trace the origins of things we modern eaters have largely learned to take for granted — and to acknowledge the seed breeders, fish processors, tomato canners, lime importers, and truck drivers who make it happen.
Coffee
7:30 a.m., Greenwich Village
The Daily Blend at Joe Coffee Company
Joe Coffee Company's house drip doesn't stick to a formula. The current incarnation is brewed from four varieties from Peru.
A Small Black Drip Begins on a Tree in the Andes
1. The roughly 3,000 small-producer members of the Cenfrocafe cooperative in Peru's mountainous northern region of Cajamarca pluck the ripened coffee fruit off their trees, de-pulp the coffee cherries, and ferment them.
2. The seeds are dried on platforms made of bamboo, chicken wire, and nylon mesh, or on the ground under a protective tarp. Dried coffee is bagged, and conveyed via truck or motorcycle or on foot to a regional purchasing station, then transported to the main Cenfrocafe warehouse in Jaén, where the coffee is evaluated and sorted into lots based on quality.
3. Once pre-shipment samples are vetted for size, density, and defects by Cafe Imports, the Minneapolis-based importer that Joe Coffee uses, the coffee is sent to Norandino dry mill in Piura. There, the last outer layer of protective skin is removed, and the beans are sorted again, packaged into 152-pound burlap bags, and loaded into shipping containers 275 bags at a time. The coffee is taken to the port of Paita, where it's loaded onto a cargo ship, and then spends almost two weeks in transit before docking at the Global Container Terminals in Bayonne, New Jersey.
4. From rented warehouse space in Carteret, New Jersey, supplies are delivered weekly to the roastery in Red Hook, Brooklyn, where a four-person team roasts and quality-tests the coffee to fill orders placed by the company's 20 cafés and wholesale accounts.
5. The coffee is delivered the day after it's roasted. A production crew packs the beans into 12-ounce bags, five-pound bags, and 25-pound reusable bins, and a crew of five or six drivers makes deliveries to about 150 metropolitan-area locations. Café employees de-gas and age the coffee for ten days for optimal taste, then brew it using Fetco Extractor machines.
—Sanam Yar
Breakfast
9:00 a.m., East Village
Veselka's Egg on a Roll
In addition to acres of pierogi and boatloads of borscht, Veselka, the 24/7 Ukrainian diner, sells about 500 fried-egg sandwiches per week. When the restaurant opened, in 1954, the ne plus ultra of New York breakfasts-on-the-go wasn't listed on the bill of fare, says co-owner Tom Birchard, but you could always order one off the menu.
Veselka's Egg on a Roll Begins at the Hatchery
1. Thousands of eggs are artificially incubated at the Elizabethtown, Pennsylvania, branch of Hy-Line North America, a "poultry layer genetics" company. At day 21, the chicks hatch, and within 24 hours they're placed in baskets holding 100 chicks each, ready for delivery to "layer" farms.
2. One of these farms is Brey's Egg Farm in Sullivan County. Owner Daniel Brey receives 96,000 Leghorn chicks from Hy-Line three times a year. (Leghorn chickens are remarkably prolific layers.) Brey has to place orders five years in advance to guarantee the delivery dates he wants, as competition is brutal — he's vying with egg producers much larger than his own 360,000-bird operation, which he describes as comparatively pint-size. Many egg farms have a million or more laying hens at any one time.
3. The day-old chicks arrive at Brey's farm via environmentally controlled (temperature, humidity, airflow) Hy-Line tractor-trailer. The chicks are unloaded, and the Brey's staff of ten — including Daniel, his wife Nancy, and daughter Vanessa — takes inventory, which lasts about four hours. The chicks are raised in a pullet house, where they spend the first 18 weeks of their lives. Light stimulates egg laying, so controlling their exposure to LED light is important to prevent the pullets from laying eggs too soon.
4. Next, the pullets are moved to a layer house, where the chickens are given 15 hours of light a day. Brey feeds them a calcium-rich mix of corn, soy, and limestone he mills himself. The chickens begin laying at 20 weeks of age and end up producing around 300 eggs a year. Egg production and egg size both increase as the chickens age: At 22 weeks, they produce medium-size eggs; at 28 weeks, they're up to extra-large, which is the egg size Veselka and most New York bodegas and restaurants purchase. But eventually egg quality declines, so Brey's hens lay for one cycle (60 to 65 weeks) before they're replaced with a new flock — after which they're sold to a Canadian food processor.
5. The eggs are automatically collected and processed: rolled onto conveyor belts, washed and dried, and inspected for dirt, cracks, and blood. They're weighed, packed in cases, and placed on pallets — 900 dozen each. Then they're loaded onto a refrigerated tractor-trailer and delivered to Woolco Foods, a broadline or general distributor (like Sysco or US Foods) in Jersey City.
6. Woolco stores the eggs in its 50,000-square-foot warehouse, packs them at night in one of its "straight" or "straight-job" trucks (one size down from a tractor-trailer), and a driver named Fabricio Diaz, who's been arriving at the office by 5:30 a.m. every workday for 25 years, rolls up his sleeves and gets down to business. By 6 a.m. each weekday, he delivers 90 dozen eggs to Veselka, plus another 300 dozen on Saturday; that's a grand total of 9,000 eggs per week.
How a Temperamental Chicken From Tuscany Is to Thank for Veselka's Egg Sandwich
Leghorn chickens, the breed that inspired the Looney Tunes character Foghorn Leghorn, who lived to terrorize Barnyard Dawg, are one of the most popular laying hens among commercial egg producers. Leghorns like the white hybrid variety raised on Brey's Egg Farm are descendants of a chicken that originated in Italy. The birds were exported from Livorno to Connecticut, circa 1830. (The British, for reasons of their own, anglicized "Livorno" and thus the poor chickens became known as "Leghorns.") These birds are tall and sleek with red combs and wattles. They're prized because, like supermodels, they don't eat a lot, and they're also prolific layers, capable of producing over 300 eggs per year. Like the cartoon character, they're not exactly warm and fuzzy and Leghorn hens are not brooders; in fact, they're kind of grumpy, and some possess a bit of a mean streak. As a blog devoted to the ins and outs of raising chickens in your backyard called The Happy Chicken Coop cautions, "I would advise against allowing small children near them unsupervised."
North Dakota Wheat Makes Springy Egg-Sandwich Rolls
Amy's Bread uses King Arthur Sir Lancelot flour made from hard red spring North Dakota wheat for the sandwich rolls it sells to Veselka. The wheat is planted in spring, harvested in summer, shipped to Albany for milling, and then delivered in 50-pound bags by Corona, Queens, distributor Fodera Foods to Amy's Long Island City commissary, where, over a two-day process, it's made into dough, proofed, shaped, baked, and delivered to Veselka at the ungodly hour of 3 a.m. five days a week.
The Cheese That Goes on the Roll Is Made From the Milk of Jersey Cows in Vermont
The Cabot Cheddar that goes on Veselka's sandwich comes from the milk of mostly Jersey and Holstein cows raised on Cabot's 1,000 or so co-op farms in Vermont and New York State. The cheese is made in Cabot, Vermont, the same day the milk arrives, then aged for 10 to 12 months, cut into ten-pound "prints" or blocks, and delivered by Jersey City distributor Woolco to Veselka.
Lunch
1:30 p.m., Upper West Side
Koginut Squash Bowl at Sweetgreen
In support of Row 7, the seed-breeding company co-founded by Blue Hill's Dan Barber, Sweetgreen and Barber built a dish around a new hybrid squash variety and added it to the menu on November 1.
The Star Ingredient of the Koginut Squash Bowl Was Bred at Cornell and Planted Upstate Last Spring
1. Last March, Row 7 mailed several ­double-walled kraft-paper coffee bags containing 44,500 organic Koginut seeds from its Naples, New York, fulfillment center to nearby Pedersen Farms in the Finger Lakes …
2. Where Rick Pedersen owns 550 acres and leases 900 more. Transplants were started in the greenhouse, then moved to eight acres in June and harvested in September and October. After a crew of 12 cut the stems, the squash "cured" for a few days in the field, then went into storage on the farm.
3. Once a week, regional distributor FingerLakes Farms transports the squash in 700-pound cardboard bins by tractor-trailer to distributor Gargiulo Produce in Hillside, New Jersey. There, the squash is cut to Sweetgreen's specifications — skin-on, one-by-three-inch pieces — by a team of produce processors in Gargiulo's 15,000-square-foot fresh-cut department, then vacuum-sealed and packed in 20-pound cases …
4. And delivered six days a week by refrigerated truck to all 22 NYC locations.
How the Squash Gets Made
The cross between an American butternut and a Japanese kabocha-like squash is one of 11 seeds bred and sold by Row 7, the company Dan Barber co-founded early this year. The enterprise brings together plant breeders, farmers, and chefs to develop mostly new varieties selected for flavor as well as yield and disease resistance. It's formally named Robin's Koginut in honor of Robin Ostfeld, the late Finger Lakes farmer and organic-agriculture advocate who assisted in its development and chose its name.
A Bicoastal Bowl
Bosc Pears: Hudson Valley
Goat Cheese: Made at Westfield Farm, MA, from regional milk
Fennel: New Jersey
Hydroponic Basil and Dill: New Jersey
Toasted Buckwheat: Oregon-based Bob's Red Mill
Spinach: California
Almonds: San Joaquin Valley, CA
Walnuts: Monterey Bay area, CA
Lundberg Family Farms Five-Rice Blend: Grown in the Sacramento Valley
Lunch, Part 2
1:53 p.m., Upper West Side
Hot Dog at Gray's Papaya
When in the general vicinity — especially after a light and virtuous lunch — who can resist the magnetic pull and wafting aroma pervading the southeast corner of 72nd and Broadway, the flagship location of Gray's Papaya hot-doggery?
This Hot Dog Was Made in Part From the Meat of Retired Dairy Cows
1. Chambers Valley Farms in Salem, New York, is a member of the Cabot Creamery co-op. When dairy cows grow too old or infirm to produce milk or keep up with the herd, they're sent to Champlain Beef, a nearby processor and one of four main slaughterhouses around the country that sell beef to Marathon Enterprises, the manufacturer of Gray's Papaya's hot dogs.
There, they're slaughtered and deboned, and the meat is packed into 2,000-pound combo bins for shipping.
2. The bins travel by tractor-trailer to one of Marathon's two manufacturing plants in the Bronx, where the beef is run through a fat analyzer, which uses near-infrared waves to determine its leanness. Dairy cows and bulls bred for breeding tend to be much leaner than animals raised for beef. To achieve the hot dog's desired 70-30 lean-to-fat ratio, Marathon general manager Don Stacey combines 90 percent lean meat, mostly from the Northeast, with the 50 percent lean trimmings from cattle finished on high-fat feed and harvested in slaughterhouses in South Dakota and Nebraska. According to Stacey, lean protein like dairy cows provides a stable base for fat to bind to during production.
3. Meat from Champlain Beef is dumped into a ribbon blender, ground into homogeneous 3/8-inch particles, then transferred to a hopper and combined with salt and sodium nitrite to further homogenize the muscle and deepen the red color.
4. After the meat sits for 24 to 36 hours, the spices are added — along with ice for moisture, sorbitol for sweetening, and liquid smoke for flavor — and the beef is emulsified at a temperature below 40 degrees to keep the fat from separating out.
5. The mixture is then dispensed into 550-pound stainless-steel vats and refrigerated for 24 hours, after which the meat is extruded into natural casings that range in length from 26 to 46 feet. The links are formed by a piece of equipment that extrudes and twists the sausages at measurements specific to Gray's. The strings of links are conveyed by hook to the smoker, where they cook for one and a half to two hours at 160 degrees.
They're next quickly chilled in a refrigerated brine to reach below 44.6 degrees.
6. Then they're cut into franks, vacuum-packed in 30-pound packages, boxed, and delivered by New Rochelle–based distributor Stina Provisions to Gray's Papaya. A typical daily 300-pound order arrives by 5 a.m.
each day. Hot dogs are removed from their packaging and placed in plastic bins, then laid on the 180-degree grill. The frankfurters are cooked in one or two minutes, unless you're like us and request yours well done.
—Matthew Sedacca
A Lot of Famous New York Hot Dogs Come From the Same Place
Gregory Papalexis founded New Jersey–based Marathon Enterprises, a manufacturer of hot dogs, sausages, and buns, in 1964. (At the time, he also ran a pushcart operation called House O' Weenies.) In 1989, the company acquired competitor Sabrett Food Products. The Sabrett name was retained and Marathon continues to make hot dogs for Sabrett-branded street vendors, Gray's Papaya, Papaya King, and — according to unconfirmed but persuasive rumors — Katz's.
This Mustard Starts in Idaho
A Gray's Papaya hot dog is not a Gray's Papaya hot dog without a squiggle of the spicy brown mustard you pump out of a gallon jug labeled Sabrett's (the brand name of Marathon's retail line). The tangy stuff is actually made in Greenville, New Hampshire, by a family-run outfit called Old Dutch Mustard that's been in the condiment business since 1941. The spice mix is proprietary, but the mustard seeds come from Idaho.
The Flour for the Bun Is Milled Upstate
The Sabrett-brand buns are outsourced to Rockland Bakery in Nanuet, New York; food-processing juggernaut Archer Daniels Midland supplies the Midwest wheat, which is milled in Hudson.
Dinner
8 p.m., Cobble Hill
Kanpachi Collar With Jerk and Lime at Saint Julivert Fisherie
When co-chefs Alex Raij and Eder Montero were planning the menu for their Cobble Hill seafood restaurant, they knew they wanted to serve a collar — that oddly shaped, trash-to-trendy flap of unctuous meat and cartilage from behind the gills, popularized over the past decade or so by Japanese izakayas. "It's what we eat on our day off," says Raij. Their hunt for consistently available sustainable options to supplement their revolving roster of wild local species led them to a high-tech farmed-fish operation off the southwest coast of Japan.
This Kanpachi Collar Started Out As a One-Inch Fry Off China's Hainan Island
1. After they grow to roughly four inches in small bamboo-thatched pens, the kanpachi (a.k.a. amberjack) travel by boat to Ehime Prefecture, Japan, where they're divided among members of a fishermen's co-op who raise them in open-water pens for 20 to 22 months on a diet that might include dried and soft pellets (think dog food for fish) until they reach an average weight of about eight pounds.
2. Then they're brought to Uwajima-kaido, a two-year-old processing facility nearby that's a joint venture between a government investment fund and three corporations — Dainichi (which brokers the fry and manufactures and sells the feed and the steel pens), Onsui (which developed the patented processing and freezing techniques), and Mitsui (which focuses on sales). There, they go from a holding pen to minus-33 degrees in under three hours.
3. The Cryovaced collars travel by container ship to L.A., where they clear customs …
4. And are trucked to Boston by American importer Wheeler Seafood, a journey that takes five or six days. From rented super-freezer storage facilities …
5. They're driven to the Lobster Place's wholesale headquarters in Hunts Point …
6. Which delivers one or two 22-pound, 56-collar cases a week to Saint Julivert.
Toshinori Yonezawa Grew Up Farming Fish
Toshinori Yonezawa of the Yonezawa Suisan fishery in Yusu, Ehime Prefecture, is one of about 30 family farmers who raise kanpachi. Like most of them, he is descended from generations of men who fished wild species, and he worked with his parents on their 12-cage farm. He isn't employed by Uwajima-kaido, but his livelihood depends on a symbiotic business relationship in which the processing plant provides everything the farmer needs to do his job, including the fry, the feed, the pens, and a guaranteed buyer and distribution network at the end.
The Fish Are Relaxed, Killed, Bled, and Fast-Frozen
In the murky, complex realm of the global seafood industry, farmed and frozen are generally considered stigmas, not selling points. But according to Dainichi's foreign-trade manager, Boyd Way, the Uwajima-kaido processing plant employs several techniques that set it apart.
First, prior to processing, the fish are held for 10 to 16 hours in a super-oxygenated tank for relaxation, which prevents the flavor-and-texture-impairing buildup of lactic acid in the muscle tissue.
Their spinal columns are removed, and through an injection of a carbon-enriched saline solution, virtually all their blood is eliminated in under ten minutes.
The fish are filleted, and the loins and collars vacuum-packed and frozen via alcohol brine. This cho-rei-kun, or "super-frozen-smoked" technique, is said to preserve bright color and fresh flavor.
Kanpachi Is Relatively New to the Collar Market
The collar may have started out as what Dainichi's Boyd Way calls "more of a butcher's cut," but you can now find it at sustainably minded New York fish markets and on both Western and Japanese menus. "The flesh is some of the best," says Way. "It's the muscle that moves most, with a large amount of lipid and protein." But it was the hamachi collar — hamachi kama in menuspeak — that likely pioneered the trend, not the smaller and leaner kanpachi. "The reason I imported kanpachi collars was because I could not source hamachi collars," Way says. "My Japanese co-workers sold them all domestically. I started selling them last year. Wheeler was my first client."
A Tricontinental Marinade
To obtain what she needs to "sort of pickle the fish" and achieve an almost Louisiana-style blackened appearance, Raij relies on ingredients sourced largely by the Bronx-based distributor Baldor Specialty Foods.
Scallion: Ippolito and Church Brothers farms, California
Garlic: Christopher Ranch, Gilroy, CA
Ginger: Peru to Miami and up the East Coast
Persian Lime: Veracruz, Mexico
Thyme: Israel to JFK
Hot peppers: Grown at Eckerton Hill Farm in Berks County, PA; Raij picks them up at Union Square Greenmarket.
Late-Night Snack
10:55 P.M., Greenwich Village
Pizza Delivery From Ribalta
Ribalta's "regular" margherita is its most popular pie, and it's not quite as full-blooded Italian as you might expect.
To Earn the Right to Top This Pizza, the Tomatoes Had to Win a Contest
When Neapolitan natives Rosario Procino and Pasquale Cozzolino (left) opened Ribalta four years ago, they went straight to the San Marzano source: family-run farms in the Agro Sarnese Nocerino area of Campania. At the invitation of Claudia Vitelli, owner of New Jersey–based Vitelli Foods, which acts as a broker for the farms, Procino and Cozzolino taste-tested tomatoes from several fields. Every September since, Vitelli has sent cans of the season's harvest to Ribalta, one from each of the producers the pair liked best on their trip. Three out of four years, the winner has been Giulio Franzese, a grower whose tomatoes Vitelli custom-labels under the Ribalta brand. There may be wiggle room with the flour and the cheese, but for most Neapolitan pizzaioli, nothing can replace the low-seed plum tomato variety grown at the foot of Mount Vesuvius.
1. In the spring, tomato plants started in a greenhouse are transferred to a 750-acre field. Ribalta's tomatoes come from a 24-acre plot within that field.
2. There are three harvest periods, including agostano, the high season (which actually begins in September), when the tomatoes are hand-picked at their sweetest best.
3. After picking, the tomatoes go to Franzese's nearby canning facility. They're washed and sorted, then given a hot shower to make them easy to peel; next, an assembly-line team of nimble-fingered women remove the skins.
4. The tomatoes are machine-packed into cans, then sealed, sterilized, cooled, coded, stamped with a production date, and labeled for Ribalta.
5. The restaurant's 384,000-tin order is placed on a pallet, trucked to Naples, and loaded into a 40-foot cargo container that arrives by ship in Elizabeth, New Jersey, 16 days later. The tomatoes go through customs before being delivered to distributor Teitel Foods' warehouse in the Bronx. Space at New York restaurants being at a premium, Procino orders frequent deliveries, going through 70 tins per week.
The Truth About San Marzanos
San Marzanos are plum tomatoes named for the town of San Marzano, near Naples. They're prized by pizzaioli and sauce aficionados for their unique balance of flavor and the fact that they contain fewer seeds than most tomatoes. In Italy, San Marzanos are government-protected like Fort Knox gold as a Denominazione d'Origine Protetta (DOP) product. The designation guarantees that tomatoes labeled San Marzanos were grown in the San Marzano region, under specific rules of production, including that they be hand-picked. But in the United States, a producer can sell tomatoes labeled as San Marzanos that were grown anywhere and sucked up by a giant mechanical tomato harvester, no questions asked. Unsurprisingly, the domestic market in San Marzanos, like the ones in olive oil and North Face parkas, is rife with fraud. In fact, according to the Consorzio San Marzano, 95 percent of San Marzanos sold in the U.S. are impostors. Ribalta's tomatoes, however, are hand-picked San Marzanos grown in San Marzano …but without DOP certification. "Just as you can have a bad DOP product, you can have an excellent non-DOP product," says Ribalta co-owner Rosario Procino. "In general, DOP products are good, because it's likely that a producer willing to spend money on certification is also willing to spend money on growing a quality product." But since the tomatoes that Ribalta uses aren't sold retail and have nothing to prove but to taste great on a pizza, it doesn't make sense for the restaurant to pay the cost of certification — not unlike the way some American growers of quality produce forgo USDA organic certification.
The Cheese Isn't From Italy, But the Cheese-Makers Are
If you want to trace the origin of the cheese that ends up on Ribalta's most popular pizza, you've got to begin 50 miles outside of Naples, in the town of Bagnoli Irpino (population 3,000). That's where Angelo Tartaglia and Franco Russo — of the Hawthorne, California–based company Angelo & Franco's: The Mozzarella Guys — grew up and where Russo, whose family has been in the mozzarella business for over 75 years, learned the art of pasta filata (stretched- or pulled-curd cheeses) starting at the ripe old age of 4. "In the morning, Franco went to school," says Tartaglia. "In the afternoon, he studied cheese." Angelo & Franco's uses milk supplied by California Dairies, Inc., a 400-member co-op, to make Ribalta's one-pound low-moisture-mozzarella logs. Every week, the Brewster, New York, distributor Ace Endico picks up 2,000 pounds of the stuff, part of which it delivers to Ribalta's door once a week, 260 pounds at a time.
It Doesn't Hurt to Have an In With the Flour Company
As is the case with many a Neapolitan-style pizzeria, ownership and flour source are inextricably intertwined. One of Ribalta's investors owns Le 5 Stagioni, which sources wheat from Emilia-Romagna and Umbria and processes it in Padua at a mill that has been in operation since the 14th century.
Flavor Enhancers
The salt that goes into the dough and the extra-virgin olive oil that goes on top of the pizza are from Sicily.
The 100-year-old natural starter used to make the dough came from a bread bakery in Verona.
The basil, procured by Bronx-based distributor Baldor, comes from Israel — a powerhouse of herb agriculture, as it turns out.
*A version of this article appears in the December 24, 2018, issue of New York Magazine. Subscribe Now!