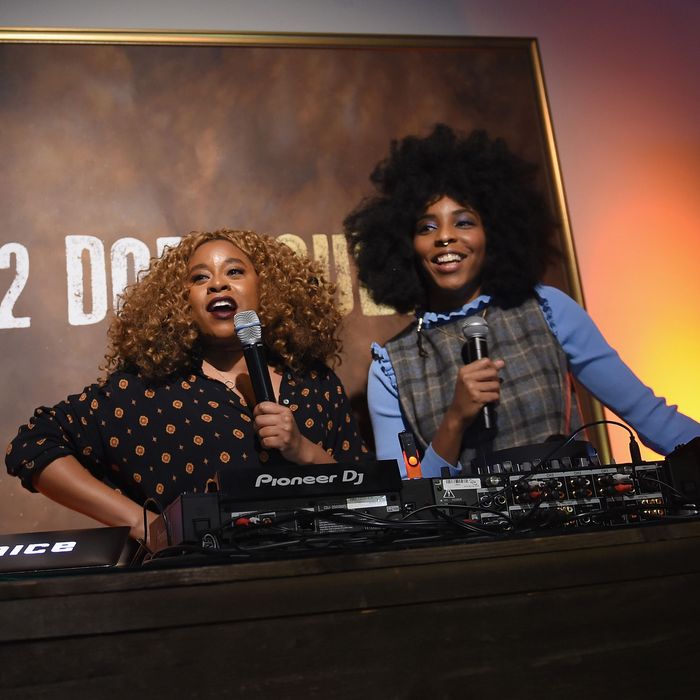 See some queens in Brooklyn this weekend.
Photo: Michael Loccisano/Getty Images for HBO
Events to check out this weekend, December 6 to 9.
1. See some dope comedy queens.
Boy, is this a good week for comedy. Tuesday kicked off the Janelle James comedy festival (formerly known as the Eugene Mirman comedy festival), which closes tonight at the Bell House with "Comedians Who Said 'Sure, I'll Come By.'" A lot of great comedians said they'd come by! Including Amy Schumer, Eugene Mirman, Catherine Cohen, Nore Davis, and the lady of the hour herself, Janelle James. And though their WNYC podcast is officially over, you can still see Phoebe Robinson and Jessica Williams, a.k.a. the 2 Dope Queens, live tonight and tomorrow at the Kings Theater in Brooklyn. Cheer loud enough and you may even hear yourself when the shows air on HBO next year.
2. Catch a funny duo on film.
Laurel and Hardy — arguably the world's most famous comedy duo– are the subject of the new biopic Stan & Ollie, starring Steve Coogan and John C. Reilly. The film isn't out until later this month, but you can catch a preview this Saturday as part of the Reel Pieces series at 92Y. Following the screening, Annette Insdorf will interview Coogan and Reilly, as well as director Jon S. Baird.
3. Get cheesy.
'Tis the season for festive libations, and hey, why not include whiskey. This Friday, Murray's Cheese will show you how to pair the brown stuff with cheese, a skill you'll no doubt be using for years to come. Then pivot to beer and cider, with the Fruit and Grain festival featuring Threes Brewing this Sunday showcasing over 30 New York state breweries and cideries, plus extra fun with Mario Kart and a DJ. A portion of ticket sales as well the as money from the games will be donated to three charities: Graham Windham, the New York Immigration Coalition, and the Coalition for the Homeless.
4. Put on the yarmulke, it's time for …
Menorah Horah! Forget eight nights — clothes barely last the length of a song in this miracle-of-lights burlesque and variety show, with Hebrew hotties and and all-inclusive kosher camp. BYOD (Bring Your Own Dreidel) this Sunday to the Highline Ballroom. And, through Sunday, don't forget to stop by the giant 32-foot menorah in Grand Army Plaza for a nightly Hanukkah celebration, with live music and hot latkes.
5. Buy fancy meat. 
You know what makes a great host gift? Pâté. And you can get a whole basket of it at the Les Trois Petits Cochons pop-up in the West Village. The French specialty purveyor, which got its start in the Village, is back IRL through New Years Eve, with mousses, terrines, sausages, and more. Buy a premade basket or create your own. Find them on the corner of Bleecker and Cornelia Tuesday through Saturday, from 10 a.m. to 8 p.m., and Sunday from 11 a.m. to 7 p.m.
6. Remember Pearl Harbor.
This Friday is the anniversary of the Pearl Harbor attacks. In remembrance of the day on which 2,400 Americans were killed and 1,200 were wounded, the Intrepid Museum will have a wreath-laying ceremony at 11 a.m. Also in attendance will be survivors, should you want to honor them in person.
7. Dig some holiday tunes. 
You know you're in the mood for holiday tunes. The good news is, some famous people want to sing them to you. This Friday at Madison Square Garden is the annual Z100 Jingle Ball extravaganza, where there will be no need for tinsel — the stage will be sparkling enough, with Cardi B, Shawn Mendes, Camila Cabello, Calvin Harris, G-Eazy, Dua Lipa, Meghan Trainor, and more. And on Saturday at the Beacon Theater is Cyndi Lauper & Friends: Home for the Holidays, with a lineup including Regina Spektor, Angie Stone, A$AP Rocky, and comedian Gina Yashere, performing in support of the True Colors Fund's work to end homelessness among LGBTQ youth.
8. Bless some pets.
Do your pets need prayers? They couldn't hurt. This Sunday, everything from pigs to parrots, plus maybe a police horse or two, will be blessed by a minister and a rabbi at Christ Church's annual Blessing of the Animals. All pets must be accompanied by their owners and vice-versa. It's advised that you come early — you never know what creatures will show up for this thing.
9. Hear some Haunting Renditions.
In his "Haunting Renditions" show, comedian, Broad City writer, actor, and classically trained vocalist Eliot Glazer orchestrates pop songs of the '90s (think Too Close and his recent masterpiece of playing MC Skat Kat to Cecily Strong's Paula Abdul for "Opposites Attract") . This Sunday at Littlefield, he turns his attention to holiday classics, with guests Chris Redd of SNL and Larry Owens.
10. Celebrate 20 years of the Dude.
It's the 20th anniversary of cult classic The Big Lebowski, and the Dude abides. You can abide as well at Lebowski Fest this weekend. On Friday at Gramercy Theatre, see burlesque tribute "The Big Burlesquie" followed by a screening of the movie, and on Sunday hit a bowling party at Lucky Strike Manhattan, where there will be a meet-and-greet with storyboard artist J. Todd Anderson, signed storyboards for sale, costume contests, trivia, unlimited bowling, and more. Proceeds benefit the Everything Will Be OK Project.