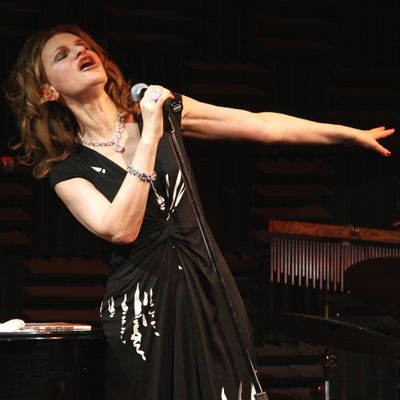 Sandra Bernhard.
Photo: Bruce Glikas/FilmMagic
Events to check out this weekend, December 27 to 30.
1. See some skilled OGs.
Last year, influential hip-hop duo Eric B. and Rakim celebrated the 30th anniversary of their landmark debut LP, Paid in Full, and this year they reunited for their first tour in two decades. Catch them rounding out 2018 in lyrical style, tonight at Sony Hall.
2. Rock and roll.
Speaking of throwbacks, take it back to junior high every Thursday through Sunday, as the 15,000-square-foot Dreamland roller rink has migrated to Industry City for the winter, and will stay through April. Visit a themed disco night, learn how to hula hoop while skating, or get in on the ground level with classes for kids and adults. Because as we all know, it's more fun on wheels.
3. Take a trip to Asbury Park.
Need a little getaway before 2019? Make like Springsteen and get down to Asbury Park this weekend, where you'll find musician Japanese Breakfast on Friday at the Asbury Lanes stage. Saturday Margo Price and Lilly Hiatt perform, and Sunday and Monday see Hop Along with Diet Cig. Pro tip: Make it a weekend at the Asbury Hotel, which has a "secret" tunnel to the venue, then on January 1 you'll be right by the ocean for the polar bear plunge. Don't forget your swimsuit!
4. Catch some Phish.
America's favorite jam band is back for their holiday run at Madison Square Garden, from Friday through New Year's Eve. On Saturday catch a special after-party at Sony Hall when saxophonist Skerik teams up with guitarist and Wilco member Nels Cline; Medeski, Martin & Wood drummer Billy Martin; and MonoNeon. Party all weekend, man.
5. Make some decisions.
Or rather, have some very funny people make them for you. Sunday at Union Hall is Everyday Decisions with Jo Firestone, a stand-up show with a fire lineup of Janeane Garofalo, Michelle Buteau, Marie Faustin, Catie Lazerus, and Sam Taggart. Laughter! It's the best way to end the year.
6. Sip some British-born cocktails.
If you've ever wanted to check out London's award-winning bar Coupette but find yourself here in NYC, now's your chance. From the 29th to the 31st, the revered cocktail masters are taking over Diego at Ian Schrager's Public Hotel, with specialties like their signature Champagne Piña Colada and cocktails like the Mr. Brightside, with Beefeater 24, sweet Monbazillac wine, and grapefruit bitters. A few of those and you'll be bright indeed.
7. Shred 2018.
Inspired by a tradition in parts of Latin American where handmade dolls are burned in effigy to release the bad and usher in the new, say "see ya later" to all that ails from noon to 1 p.m. in Times Square on Friday. Bring old bills, letters, whatever to Good Riddance Day 2018. Shred, then repeat.
8. Celebrate Kwanzaa.
Happy Kwanzaa! This Saturday is the Apollo's annual festive celebration, featuring the New York–based dance company Abdel Salaam's Forces of Nature Dance Theatre, plus music and guest performances in tribute to principles of Kwanzaa: family, community, and culture. That happens twice, at 2 p.m. and 7:30 p.m.
9. Say hi to Sandra Bernhard.
In an annual end-of-year tradition, the bold comedienne and actress tells (and sings) it like it is, riffing on the year that was with inimitable style every night through December 31. Be sure to hold onto something during her new show Quick Sand (a martini works fine) or else you just might sink.
10. Go au naturel. 
The provocative Sarah Lucas of Young British Artists fame rose to superstar status on her side of the pond with brash, often humorous works subverting gender and sexuality norms. Catch her first American retrospective at the New Museum, called "Au Naturel," before it closes on January 20.