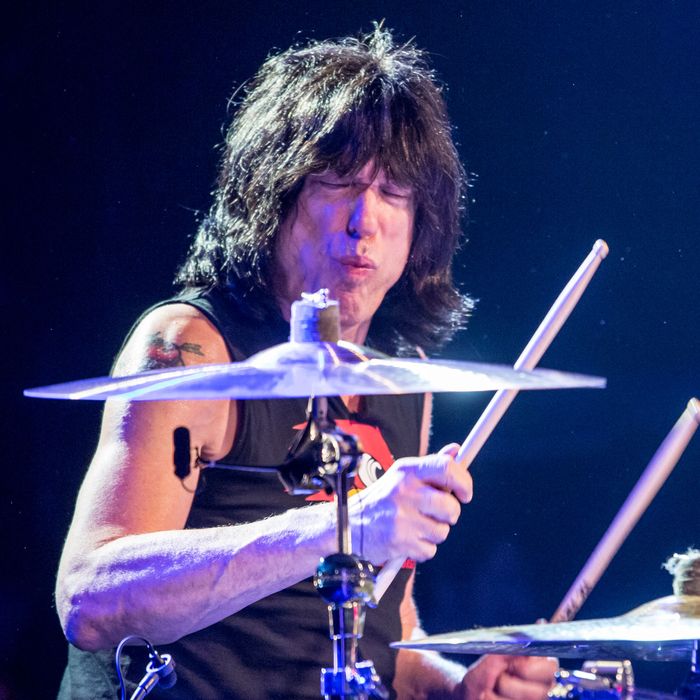 Marky Ramone.
Photo: Xavi Torrent/Redferns
Events to check out this weekend, December 20 to 23.
1. Have fun with a Blond(ie).
Did you know that Blondie co-founder Chris Stein is also a talented photographer? One with obviously incredible access to the music scene. His latest photo book, Point of View: Me, New York City, and the Punk Scene is out now, with an accompanying exhibition at the Morrison Hotel Gallery with prints for sale and a signing tonight. Not a bad idea if you're in need of some last-minute gifts! (We especially like this one of Richard Hell at Max's Kansas City.)
2. Crash a holiday party.
No holiday party to call your own? No problem. The House of Yes is throwing one tonight for all the office orphans out there, complete with bonus drinks for the best-dressed employees and the ones who let loose the best and the ones with just a cool vibe. And no need to spend that hard-earned money: It's free.
3. Say hello to a new Nitehawk.
There's a new movie theater-bar-restaurant in town. This week, Nitehawk opened its new 650-seat cinema in the completely redesigned and refurbished Pavilion Theater, called Nitehawk Prospect Park. Check out a screening of The Favourite, with a special pairing of foie gras mousse tartlet, red wine gelée, and cornichons. Or maybe Mary Poppins Returns with a "Lamplighter's Lunch" of pork, beef, and currant meatloaf, and a roseMary popover. Plus a "Read Between the Lines" drink of Earl Grey and lemon soda. Gin is optional, but why would you even need a choice?
4. Have a Murray Little Christmas
Comedian and host extraordinaire Murray Hill pulls out all the stops for his holiday extravaganza, running from tonight to Saturday. Guests include Bridget Everett, Bridget's dog Poppy (billed as Little Dog), burlesque star Angie Pontani, live music by the Jingle Balls band, and a rumored appearance by Santa Claus and Rudolph. Spring for a VIP ticket and get prime booth seats plus merchandise that will carry you through to … next week.
5. Pair meat with wine.
Like wine? Love meat? Then Friday's collaboration dinner at Industry City between Ends Meat and sommelier David Sawyer is for you. Sawyer, the ex-wine director of Lilia in Brooklyn and Husk in Charleston, turns his attention to picking the perfect pairings for a five-course butcher's dinner. Tickets are $100 and two seatings are available; email john@endsmeatnyc.com to reserve a spot. And if you're still looking for gift ideas, Ends Meat has a 12-week "Meat Club" that should keep any carnivore happy. At least for 12 weeks.
6. Celebrate Ailey.
It's the historic Alvin Ailey American Dance Theater's 60th anniversary, with all-new programs tonight, including hip-hop pioneer Rennie Harris's Lazarus, inspired by the life and legacy of the late Alvin Ailey, and the first staging by an American company of Wayne McGregor's Kairos. On Friday is the "All Battle" Program, featuring a new production of Juba (2003), artistic director Robert Battle's first work for the company, with a score by John Mackey. Anniversary performances run through December 30.
7. Howl at the moon.
This Friday is the Winter Solstice, or the shortest day/longest night of the year. But what does that mean? Maybe you'll find out at the "Pregame Your Brain: Astronomy Solstice Party" at Caveat, where you can roam around and hear presentations from guest astronomers, science writers, and general star enthusiasts. Learn about the smells of space with staff from Popular Science or the immense size of space from a Columbia astrophysics Ph.D. candidate. Tickets are free with RSVP. Learn something!
8. Take to the streets.
The longest night of the year also means it's time for the Make Music Winter, the free outdoor musical celebration taking over the city on Friday with a diverse variety of cultures and musical genres represented. Pick a program like the Bell by Bell community parade beginning at Astor Place, or ukulele caroling (ukulele not necessary), beginning at the Washington Square Arch, and join in. Or just enjoy!
9. Score some last-minute gifts!
This is the third time we're bringing up gifts, but it's just because we know you. If you're still in need, check out our guide to food gifts you can get right now. You can also pop into Eataly in Flatiron for live cooking demos and themed gift boxes, pick up a pie for the vegan in your life (made with Faba Butter) at Petee's Pie's, or go down to the Winter Garden at Brookfield Place to get your favorite Johnnie Walker fiend a bottle, which you can have engraved for free. You can also get a sticker of your face put on the bottle for free, which might be more hilarious. Actually, definitely more hilarious. Do that. And then when you're all done, treat yourself to a cocktail at one of these seasonal bar pop-ups.
10. Jingle your bells.
There are only a few more days to get your holiday music fill, so why not go all-out with a cappella enthusiasts Pentatonix and their Christmas Is Here! tour, with arrangements of modern and classic faves through Saturday at the Beacon Theatre. And on a very different note, former Ramones drummer Marky Ramone celebrates the 40th anniversary of Road to Ruin, his first album with the band, by playing 40 Ramones classics with his band Marky Ramone's Holiday Blitzkrieg and screening the classic Ramones movie Rock 'n' Roll High School on Friday at the Gramercy Theater. As for the holiday part, maybe he'll be wearing a Santa hat.