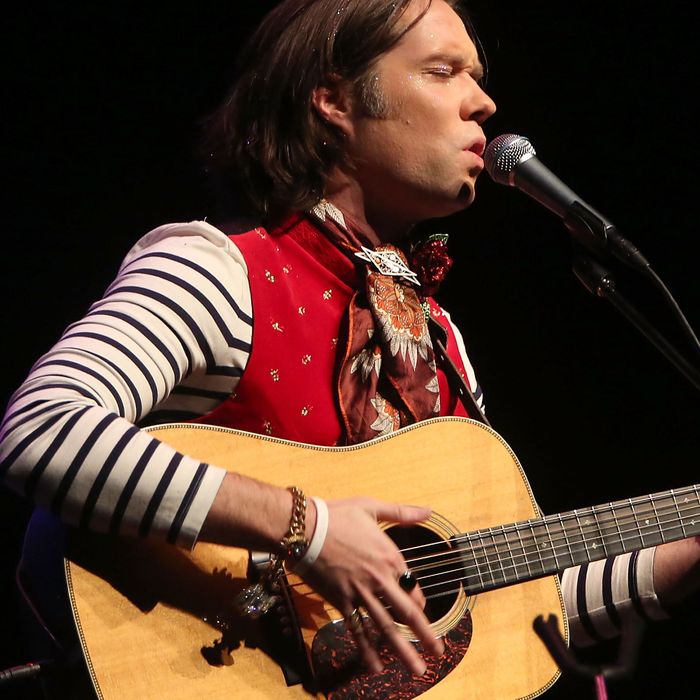 Rufus Wainwright and Co. spread holiday cheer this weekend.
Photo: Jonathan Leibson/WireImage
Events to check out this weekend, December 13 to 16.
1. Experience some holiday magic …
There is a version of the Nutcracker that reflects on the melting pot of Brooklyn, but it only happens for one night. Catch The Brooklyn Nutcracker at the gorgeous Kings Theatre this Saturday. This weekend also marks the opening of The Hard Nut, the Mark Morris Group's cheeky, retro reimagining of the classic ballet, based on the comic book art of Charles Burns and featuring Tchaikovsky's complete original score. For more Nutcrackers, including the one at Lincoln Center that only seems to get better with age, consult our holiday guide.
2. Then see some actual magic.
These days, the McKittrick Hotel (home of Sleep No More) is turning into NYC's very own Magic Castle. See Scott Silven's candle-lit mentalist show and intimate dinner party, At the Illusionist's Table, or his more casual magic and cocktail experience, Wonders at Dusk, on Fridays and Saturdays in the hotel's Club Car (it's sold out this weekend but tickets are available for next). If it's up-close trickery you're after, Saturdays at 10:30 p.m. in the Club Car you'll find Speakeasy Magick, hosted by magician Todd Robbins. Allow yourself to be deceived.
3. Sip some Hot Toddies. 
A new holiday pop-up to add to our list: This year, the team behind the Up & Up opened Stay Gold, and this winter, Stay Gold introduces a limited hot-toddy bar called Cottontail. With room for just 30 guests, it's first come, first served for a menu with variations on the toddy, plus other drinks to warm you up from the inside. And if you've got buddies with you, toddies are available in large-format servings. Toddies for all! The pop-up is open through Saturday, then again from the 19th through the 24th.
4. Immerse yourself in a movie classic.
It's the 30th anniversary of Coming to America, and like Prince Akeem, you should head to Queens. At the Knockdown Center, they're celebrating with a screening, special performances, themed areas, and music ranging from African rhythms to '80s gems. You are encouraged to dress within the same range, but whether or not you do, there will be food and drink inspired by the film and a chance to win a flight to Africa. You should dress up, though.
5. Take a trip to the American West. 
In conjunction with the December issue of The California Sunday Magazine, the Aperture Foundation hosts At Home: In the American West, with photography from the issue by emerging and established photographers who traveled throughout the western United States to speak with people about their notions of home. Subjects include a single mother living in the New Mexico desert, a DACA recipient who purchased their first home in Utah, and an L.A. dweller most comfortable by the ocean.
6. Imagine yourself in the future.
Fate is what you make of it in The Other Josh Cohen, a delightful gem of a play that received six Drama Desk nominations when it first premiered. Now at the Westside Theatre, the musical comedy stars David Rossmer and Steve Rosen, both as Josh Cohen — one version being decidedly more lovelorn than the other. For more, you'll have to check it out yourself.
7. Holiday concerts!
There's a holiday concert for every taste this weekend. Tonight, be prepared to protect yourself from the crying preteens when hairstyle connoisseur Charlie Puth is joined by fellow singer-songwriters Lauv (of "I Like Me Better" fame), Alec Benjamin, and Julia Michaels at the Beacon Theatre. On Sunday, HOT 97: Hot for the Holidays with Trey Songz, Tory Lanez, Lil Baby, Gunna, and Flipp Dinero heats up the Kings Theatre; and also on Sunday, at Town Hall, is the Wainwright and McGarrigle clan's annual Noel Nights extravaganza with guests including Emmylou Harris, Joan as Police Woman, and Teddy Thompson. Proceeds benefit Stand Up to Cancer.
8. See our art critic's top pick of the year.
Luckily, the number-one pick in Jerry Saltz's best art shows of 2018 is still running. Hilma af Klint's Paintings for the Future at the Guggenheim Museum examines the work of the unacknowledged Swedish visionary and makes a case for her being the first modernist abstract painter. Saltz is especially enamored with the first gallery, so make sure you spend some time there.
9. Say goodbye to some old friends
It's been quite a year for closings, but there's still some time to say goodbye to familiar institutions. Have a shot (or five) at Continental, which shutters on Saturday with a closing concert by Jesse Malin. Sip a cocktail at the trailblazing Flatiron Lounge, catch an underground DJ at Output (which will be closing after its New Year's Eve show), take in a show at Cornelia Street Cafe, and if you're a rum fan, find your way to Cienfuegos. The bar will stay open in its current incarnation through the end of the year, then reopen next spring as a whiskey and vegan barbecue restaurant.
10. Visit Alaska in space.
Drag Race superstar and space-case Alaska wants to celebrate the holidays with you. Along with her sidekick Handsome Jeremy, go on adventure no one has ever gone on before, spreading tinsel in a vacuum. If you're not able to snag tickets this weekend, never fear: Shows continue through December 19.