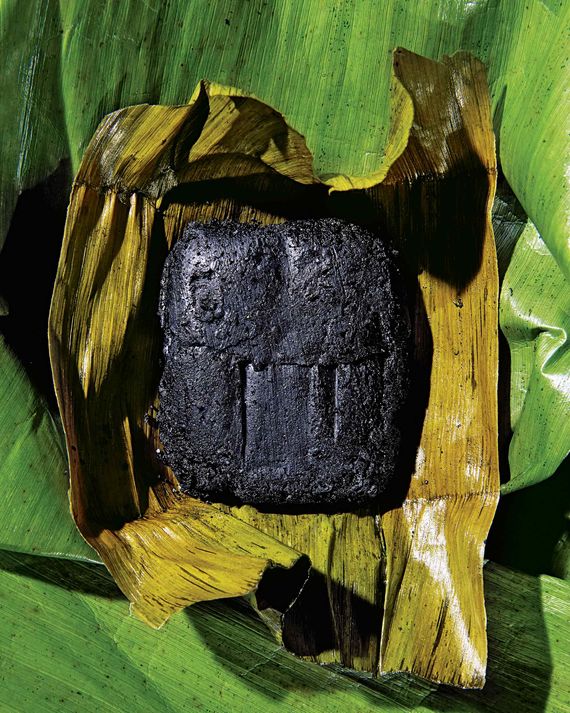 Atla's cacao tamal.
Photo: Marvin Orellana/New York Magazine
We're taking a break from our usual focus on the best brand-spanking-new things to eat and drink right now to bring you our picks for the top things we ate last year.
Pizza
1. Superiority Burger's Focaccia
430 E. 9th St.
Is it pizza? Is it focaccia? Even Superiority Burger chef-owner Brooks Headley doesn't know. Regardless, the long-fermented, part-semolina, oil-and-salt-slicked recipe he learned from bread guru Rick Easton is outstanding — crisp-edged, springy-crumbed, and available only on Friday nights. It will change everything you thought you knew about pizza … or focaccia.
2. Mama's Too's Pepperoni Slice
2750 Broadway
The hefty square at Mama's Too is the other game-changing hybrid slice of the year. Part Sicilian, part Detroit, part Bonci pizza al taglio, it's the best thing to happen to the Upper West Side since Zabar's.
3. Una Pizza Napoletana's Margherita
175 Orchard St.
Back after a seven-year hiatus, Una Pizza Napoletana and its margherita pie remind you in one bite why simple things made with few ingredients are often the best.
4. PQR's Piennolo-Tomato -and-Stracciatella Slice
1631 Second Ave.
PQR's pizza al taglio is so light and airy and deliciously topped even downtowners who fear they'll break out in a rash if they travel above 14th Street admit it's worth the trip.
5. Joe & Pat's Vodka Slice
168 First Ave.
The East Village Joe & Pat's recently started serving daytime slices you can tuck into at the copper-topped bar. And if there's a better place to eat cracker-crisp pizza off paper plates with a frosty mug, we don't know about it.
Sandwiches
1. Madcap Cafe's Madcap Flat
387 Court St., Carroll Gardens
Madcap Cafe's eggs are cooked with Cheddar, seemingly by some advanced scrambling technique yielding extra-fluffy results, then swaddled in housemade flatbread with almost comically meaty strips of bacon. It's a BEC upgrade that gives BEC upgrades a good name.
2. Primo's Muffuletta
129 Chambers St.
Putting a muffuletta on the menu of the little Art Deco cocktail snuggery that is Primo's inside the Frederick Hotel is a pretty inspired idea in and of itself; meticulously sourcing every ingredient, including custom-made bread from Arcade Bakery, is pure genius.
3. Ferris's Iberico-Pork Katsu Sando
44 W. 29th St.
Ferris chef Greg Proechel's budget-friendly answer to the Wagyu katsu sando trend is to substitute a super-tender cut of Ibérico pork for the high-grade beef. The result is a sweet and meaty little package of perfection.
4. Bang Bar's Mortadella Mini
10 Columbus Cir.
Bologna for breakfast. Bang Bar's mortadella is charred and carved off vertical spits like loaves of gyro meat before it's tucked into griddled flatbread with a Kraft Single and a swipe of mustard. It's even better than a Taylor ham, egg, and cheese.
5. Existing Conditions' Turkey Club
35 W. 8th St.
The thinking man's turkey club: Existing Conditions' chef Josh Eden cooks turkey sous vide for five hours to keep it juicy, then, with the aid of a little meat glue, sculpts it like a culinarily inclined Brancusi to match the shape of the toasted Japanese milk bread.
Dishes
1. Çka Ka Qëllu's Kacamak
2321 Hughes Ave., Belmont
What Joël Robuchon was to mashed potatoes, Çka Ka Qëllu is to kacamak, a Balkan corn mush. If that description fails to entice, consider the essential inclusion of kaymak, the clotted cream that renders the stuff rich and tangy — world-class comfort food in any language.
2. Loring Place's Calzone
21 W. 8th St.
The Loring Place calzone is a considered calzone, and by that we mean the structure is sound: No bite lacks a nugget of house-ground sausage, fresh ricotta, and Flying Pigs Farm soppressata. There's house-milled emmer in the delicately crisp dough, plus a cup of sauce on the side for dipping.
3. Saint Julivert's Crispy Tuna Bake
264 Clinton St., Cobble Hill
Tuna casserole is either sacrosanct or cliché (or both). More credit, then, to Saint Julivert for tampering with tradition. The tuna is oil-cured, the tomato sauce is seasoned with turmeric and curry leaves, and the texture is almost all crisp edge.
4. Momofuku Ko Bar's Fried Chicken But Cold
8 Extra Pl.
Momofuku Ko Bar's "fried chicken but cold" is not exactly picnic fare, unless you're the type of basket packer who puts beer and vodka in the batter, applies it and fries it four times, and glazes each piece in a mixture of green Tabasco, mirin, and yuzu juice.
5. Misi's Charred Marinated Peppers
329 Kent Ave., Williamsburg
During the height of nightshade season, Misi's Missy Robbins attributed the intense flavor wallop of her charred marinated peppers to a few key things: the intensity of the grill, the acid blasts of red-wine vinegar and lime zest, and the quality of the Jimmy Nardello and Lipstick peppers grown at her friend Patty Gentry's Early Girl Farm.
Desserts
1. Atla's Cacao Tamal
372 Lafayette St.
Like the restaurant itself, Atla's cacao tamal (top image) embodies Mexican food at its most modern and traditional: fresh masa stained black with cocoa powder — more vegetal-corny than sugar-sweet — topped with sesame sorbet and a nut-and-seed crumble.
2. Lillo Cucina Italiana's Affogato
331 Henry St., Cobble Hill
According to Lillo Cucina Italiana's Giampietro Remia, the best things come from Italy. That includes the espresso and the coffee gelato that constitute his affogato, a confection as satisfying as it is simple.
3. Vic's Rainbow Cookie
31 Great Jones St.
Unless you've ordered Vic's biscotti plate, you might be oblivious to the rainbow-cookie greatness lurking there. Good news: You can order these unfailingly fresh, almond-syrup-soaked slabs à la carte — and you should.
4. La Mercerie's Tourteau Fromagé
53 Howard St.
La Mercerie's tourteau fromagé is best enjoyed once you dispense with all preconceived cheesecake notions. With its airy crumb, the pastry is closer to brioche than to Junior's, with only a whiff of chèvre. Dip it into a glass of Pineau des Charentes, coffee-and-doughnuts style.
5. Sofreh's Faloodeh
75 St. Marks Ave., Prospect Heights
Faloodeh is an ancient Persian ice, and Sofreh's rendition is sweet-tart from lime, perfumed with rosewater, and studded with frozen sticks of vermicelli. It's as refreshing during a heat wave as after an Iranian feast.
*A version of this article appears in the December 10, 2018, issue of New York Magazine. Subscribe Now!