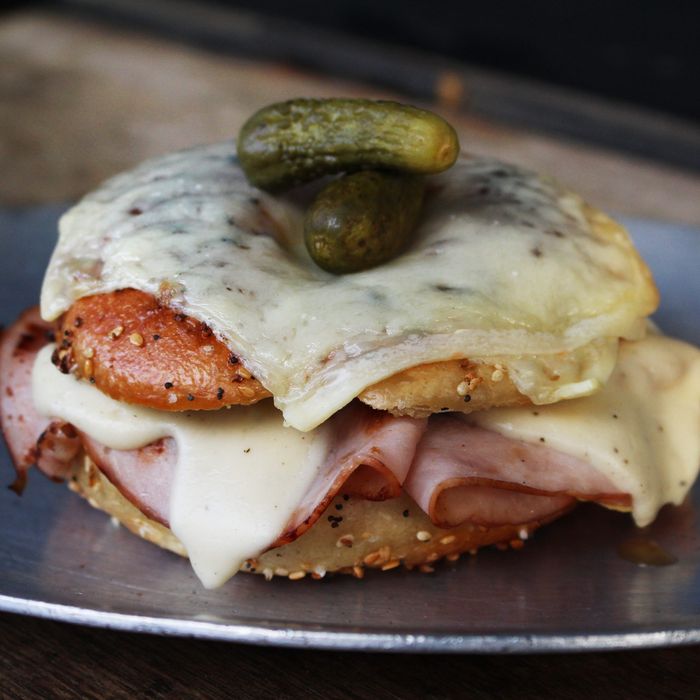 Have yourself a Black Seed Bagel sandwich.
Photo: Alex Ostroff
Every month in New York, there are a bewildering number of new dishes to eat, drinks to imbibe, and food-themed events to attend. Often, the hardest part is just figuring out what's really worth your limited time. So Grub kicks off each month with a curated selection of dishes, drinks, and events that should absolutely be on your agenda. Make your plans now.
1. Attend an Olmsted dinner featuring all-star chefs and benefiting a great organization for LGBTQ children.
How about a stellar lineup of New York chefs raising money for an organization helping some of the country's most vulnerable children? Olmsted has one for you. On January 28 starting at 5 p.m. (dinner is $300), chef Greg Baxtrom will host a dinner with all proceeds benefiting the Trevor Project, which provides LGBTQ youth with crisis intervention. Angela Dimayuga, Atomix's Junghyun and Ellia Park, Brooks Headley, and Alex Stupak will be cooking, while Undercote will provide cocktails and Momofuku's Jake Lewis the wine. The event kicks off of a charity series that will benefit different organizations and causes.
2. Have a drink at the new bar from the owners of Long Island Bar.
Shortly before Christmas, the owners of Brooklyn's charming and excellent Long Island Bar quietly expanded with the Rockwell Place. It's on a side street you'd normally walk by without consideration, and the bar is unmarked except for its street number (31 Rockwell Place) and a tuba that, if you didn't know better, would probably just confuse you. The long space looks more modern than the Long Island Bar, with floor-to-ceiling windows at the front, but they've brought the same unflashy attention to detail. There's no formal cocktail menu yet, so ask for a favorite from their other bar, like the Pineapple Daiquiri, or let the bartender make you, say, a Harvest Sour, unexpected with its apple brandy. There is food, though, such as a bowl of nutty farro with Pecorino, pistachio, and egg yolk that's like a grain 'n cheese; spicy frankfurter with cranberry beans; and specials like a very good shrimp toast.
3. Take a baking class or go to a Cookbook Club at a Greenpoint book store and café.
Greenpoint's Archestratus Books + Foods has a few events you'll want to keep in mind. First up on January 12 is a baking class (tickets are $75 and include a signed cookbook) with author Jessie Sheehan. That morning from 10 a.m. to 12:30 p.m., she'll share recipes for devil's food sheet cake, butterscotch potato chip balls, and chocolate walnut marshmallow fudge. They'll have their monthly BookBookClub on January 15, for MFK Fisher's Here Let Us Feast, and Cookbook Club on January 22, for Yotam Ottolenghi's Simple. Closing out the month is a Sicilian vegan dinner, a $25 three-course meal (tickets here) happening on January 24 from 7 p.m. to 9 p.m.
4. Celebrate New Year's again at the Museum of Food and Drink.
Didn't have the New Year's Eve you wanted? You'll get a second chance on January 19, when the Museum of Food and Drink will have its Old Russian New Year holiday party. (Tickets are $100 and the event is 21-and-over only.) Expect toasts (why stop at one?), a workshop with MOFAD's floor director and Russia native Irina Groushevaia, and, of course, caviar and vodka.
5. Get a last-minute rosca de reyes from Miscelanea or La Newyorkina.
Even if you're not celebrating Epiphany this weekend, maybe you're hosting your first brunch of the year and need something festive for the occasion. Either way, you can still preorder a rosca de reyes ($28) from Miscelanea through Wednesday at noon. The downtown Mexican specialty market bakes its own version of the traditional bread made with candied fruit. Available for pickup in-store from 2 p.m. to 7 p.m. on January 4 and 5, one is enough for four to six people. Or get one from La Newyorkina, the Mexican sweets company run by the talented Fany Gerson. She's offering both a classic ($13 for small, $32 for large) and unconvnetional "black & white" ($16 or $34) with Mexican chocolate, a topping of chocolate and vanilla. It's available from January 2 through 6 for in-store pick-up, but takes three business days, so orders yours now for the weekend.
6. Eat new dishes on the menu of a great Elmhurst Thai restaurant.
Occupying the space formerly home to Ploy Thai, Lamoon has been a tasty addition to Elmhurst's packed Thai-food scene. The dining room has a feel not unlike Carroll Gardens' Ugly Baby, but the focus here is squarely on northern Thai cooking. The menu continues to evolve, the latest edition being a "pearl" pad see ew, the stir-fried noodle dish. For a less common recent addition, ask about the tom sab leng, a spicy and sour soup made from pork backbones cooked for five hours.
7. Kick off your year at the one of the city's most delicious markets, the long-running Indonesian Food Bazaar.
Start your year off with one of New York's best, funnest food traditions, the Indonesian Food Bazaar. It's scheduled for January 12 from 11 a.m. to 5 p.m., and will take place at St. James's Parish House (8407 Broadway) in Elmhurst. The monthly event is, arguably, the home of the city's most delicious Indonesian food, and you'll find plenty of bakso, nasi padang, satay, gado-gado, and other classic dishes.
8. Cure your New Year's hangover with a cheesy bagel-sandwich special from Black Seed.
For her first monthly collaboration of the year, Black Seed's Dianna Daoheung has teamed up with Manhatta's Jason Pfeifer for a Croque Monsieur bagel sandwich ($9.50). Served on an everything bagel, it's made, as you may have guessed, with ham, Gruyère, mustard, Mornay sauce, and cornichons.
9. Learn the ins and outs of kombucha-making with a top Brooklyn producer.
Pilot Kombucha makes some of New York's fizziest and flavorful kombucha, and it's going to teach you how to at Haven's Kitchen. On January 12 from noon to 2:30 p.m. (tickets are $135), it schools aspiring fermenters on how to make their own kombucha, as well as a few recipes incorporating the beverage. Finally, this can be the year you actually make your own kombucha.
10. Go to a Vietnamese-Korean brunch pop-up downtown.
Here's a brunch that promises to bring something different to New York. Rice & Gold chef Jae Lee and Helen Nguyen of pop-up Saigon Social are teaming up for Saigon-Seoul on January 26 from noon to 3:30 p.m. An afternoon of Vietnamese-Korean food (tickets are $45), it promises meat-carving stations, a rice and noodle buffet, and more.