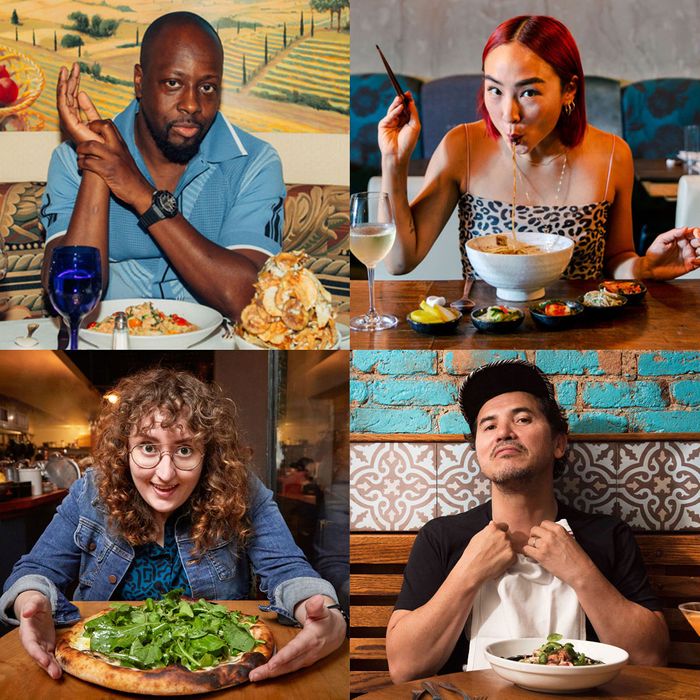 Some of our favorite Dieters this year.
Photo: Clockwise from top left: Christian Rodriguez; Mark Abramson; Scott Heins; Bradley Meinz; Liz Clayman; Yuri Hasegawa
For the last 12 years, the Grub Street Diet (or some form of it) has been a constant in the lives of New Yorkers. Rising rent? Sure, but at least you also get to read about the things that cold brew makes John Early do. Okay, problem not solved. Still, if we can say so ourselves, it's been a good year of Grub Street Diets. Which made Grub realize: It'd be irresponsible not to share some of the best wisdom and humor from this year's Diets. Here, 50 of our favorite lines for your enjoyment. Get your popcorn.
1. Comedian John Early on the dangers of consuming cold brew.
"Once, while drinking one during a meeting, I told an executive that I was the 'Robyn of comedy' with zero irony."
2. Musician Japanese Breakfast with our favorite new food phrase of '18.
"You know those 'chos got doused."
3. Actress Greta Lee knows the joys of people-watching.
"After therapy, I always go to Sweetgreen because it's across the street, but also because I'm desperate to see Nipples Girl, a braless customer I've seen there before who wears a completely transparent shirt."
4. Comedian Jimmy O. Yang doesn't fall for breakfast propaganda.
"I remember people always said, 'Oh, breakfast is the most important meal' and 'It's okay to eat as much as you want for breakfast because you're just going to burn it throughout the day.' Bullshit. Bullshit!"
5. Nailed It! host Nicole Byer on finding out her sandwich shop's ranch was not homemade.
"One day I was like, 'Oh my God, this ranch. You have to give me the recipe.' And they were like: 'It's Kraft.'"
6. Comedian Emily Heller knows the importance of having fun with your shiitake "bacon."
"I had no immediate plans for them, so I sealed them in Tupperware and whispered, 'Your time will come,' as I pressed the lid down."
7. Sports writer Jason Gay explains dealing with difficult customers.
"My 5-year-old son, Jesse, demands a toasted bagel with cream cheese, sliced once, but not, under any circumstances, sliced again in half, or he will take a plastic dinosaur's tail and stab me in the ear."
8. Wyclef Jean has ideas about steak.
"I love a filet mignon, of course medium-rare. That's Wyclef."
9. Comedian Gabe Liedman understands the benefits of the aisle seat.
"I drink a ton of water on the flight because I've got an aisle seat, which makes me the king of peeing whenever I need to."
10. Early on what happens you get stoned and find out a movie is sold out at the same time.
"Maybe it's the edible, but the stakes feel so high that I feel like we're in Argo, which I've never seen."
11. Author Alexander Chee on the joys of food television.
"We watched the Great British Bake Off, and marveled at the biscuit disasters before going to bed."
12. Comedian Jermaine Fowler understands how disappointing In-N-Out's fries are.
"I know what people mean when they say the fries aren't good 'cause they sort of taste like paper."
13. Author Jonathan Ames explains how to deal with Los Angeles's awful congestion.
"One way to avoid traffic in Los Angeles is to simply not go anywhere."
14. The most underappreciated quality of cuisines, per Yang.
"Reheat value is a real thing. We don't talk about it enough."
15. Drinks guru Talia Baiocchi on the unexpected flavors of fruits.
"It actually tastes like the '90s. There was a moment when things were flavored black cherry, but no longer. I mean, how emo is black cherry?"
16. Comedian Maeve Higgins believes in drawing a line with dairy products.
"I can't stand the anemic changeling version of butter that's somehow acceptable in this country."
17. Author Jenny Zhang on making up for breakfast mistakes at the airport.
"I've had the breakfast burrito at the faux taco-truck before, followed by immediate buyer's remorse about not getting noodle soup, and I'm here to right my wrongs."
18. Actress Emma Myles on discovering new vegetables.
"I didn't know we were eating ferns, but I'm into it."
19. Lee tests out the hot new diet.
"Lunch was a Shake Shack burger because I read somewhere that you have to shock your body's metabolism with trans fats."
20. John Leguizamo's timeless advice for getting dates when you have no money.
"Back in the day, I was a vegetarian, mostly just because I was broke, and it sounded sexier to girls to say I was a vegetarian than to say I was broke."
21. Author Jen Doll understands the relationship between Chex Mix and Sex and the City.
"The pretzels are like the Charlotte, the nuts are Samantha, maybe the wafers are Miranda, and the Chex are Carrie."
22. Comedian Hari Kondabolu's unofficial rating scale for candy.
"The fact the British often have 'currant-flavored' candies instead of 'grape' is atrocious. Not 'colonialism atrocious,' but still not good."
23. Writer Casey Johnston on being really proud of owning basic appliances.
"I lived without a freezer for five years in Bushwick — nothing but a dorm fridge — and now that I have one again, I talk about it like I invented it."
24. Author R.O. Kwon shares a flawless strategy for maintaining a healthy marriage.
"I find it much easier to travel with my husband, so I bribed him to come to San Diego by talking about tacos."
25. Phil Rosenthal rationalizes why he orders too much food.
"What if the delivery guy wants to eat with us? I don't know."
26. Early offers a glimpse into the glamorous life of comedians.
"For dinner, we drunkenly pick at a tray of falafel toppings with our bare hands at a reception for a friend's photography show."
27. Japanese Breakfast on what is and what isn't a cocktail.
"I like any novelty cocktail of any kind, really, not that I would call a Jell-O shot a 'cocktail.'"
28. What to eat while flying, according to Byer.
"I had my traditional plane breakfast: a vodka soda."
29. Eva Chen on how to approach the first meal of the day.
"Really advanced aficionados of the breakfast buffet will bring a Ziploc bag and smuggle food out."
30. Bartender Sother Teague defines pilsners.
"I call them 'hammock beers' because I don't want to do all the work of mowing a lawn."
31. Chef Gerardo Gonzalez on the seventh taste.
"Or, rather, it tastes 'dank,' which is, quite possibly, the new umami."
32. Author Jessica Knoll paints a picture of her local grocery store.
"It's a place where Jeff 'the Dude' Lebowski would go and likely cause a scene upon discovering what they charge for Jif extra-crunchy peanut butter."
33. Author Nicole Taylor on which Marvel character she is.
"Mastering food consumption between meetings and answering emails is my superpower."
34. Writer John Birdsall on not being grumpy about sous-vide.
"I am determined not to be my dad, circa 1983, exasperated over trying to record The A-Team on his RCA VCR."
35. Smitten Kitchen's Deb Perelman will defend her favorite soup dumplings.
"Many orders of soup dumplings (theirs are the best in New York, and I will fight anyone who disagrees with me)."
36. Food Network Magazine's Maile Carpenter on how her family reacts to finding out the Panera bread is missing.
"My younger daughter cried; my husband and I just started drinking."
37. Fowler understands that he has to teach his 1-year-old daughter responsibility while she's still young — very young.
"She has to learn that if she wants my Pop-Tart, she has to go buy her own. She's only 1 year old, but that's the way of the land; that's how I do things."
38. Heller gets honest about her favorite L.A. restaurant.
"At the risk of sounding exactly like what conservative Republicans think I am, it's a vegan spot helmed by Oprah's former personal chef."
39. Higgins explains what it was like to be locavores before it was cool.
"It was very farm-to-table, but not in a deliberate way. It was more that we were poor and that was just the way in 1980s rural Ireland."
40. Ames on what he'd be willing to eat after a zombie apocalypse.
"I always imagine that if I were living in such a time that I would probably be happy to eat Fezzik's wet dog food, should I have come across it."
41. How to explain your drinking habits, according to Binging With Babish's Andrew Rea.
"I'm a big whiskey drinker. That sounds bad. Let's say, I prefer whiskey."
42. Actor Max Greenfield on the extent of his cooking abilities.
"I mean, I know how to turn the oven on and put something inside of it."
43. Appreciating potato-chip flavors you're not even sure are real, with Zhang.
"They actually tasted like they were handmade — I don't even know what that means, but I really did enjoy them."
44. Pastry chef Natasha Pickowicz on how to stay hydrated while having fun.
"We call that delightful pick-me-up 'party water.'"
45. Gay on the pleasures of eating alone.
"I devour a quick order of carnitas tacos, and listen to millennials complain about their phones."
46. Chef Caroline Fidanza has one party essential.
"I do feel like if there aren't Italian cookies at every special occasion for my family or extended family, I get very upset."
47. Restaurateur Marie Tribouilloy on encountering weird desserts.
"It looked like I ate a high-school planting project."
48. Music legend Steve Albini has a very particular reason for buying Bulgarian yogurt.
"I don't know what's up with Bulgarian yogurt, it's quite like labneh or Greek yogurt, but I feel sorry for Bulgaria, so I buy theirs. Their roads are real fucked up."
49. DJ Jonathan Toubin on why he still loves New York.
"It's one of the great things about being in New York: Pizza saves the day."
50. Interpol's Paul Banks wants you to know that he likes kale for the right reasons.
"It basically just got trendy, but I love kale, and it ain't because I'm on some bandwagon."