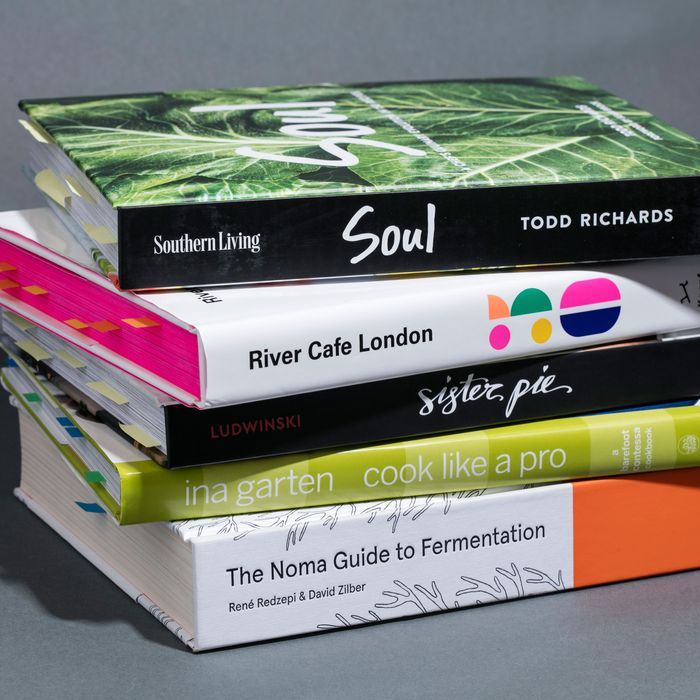 Another great year in the (cook)books.
Photo: Melissa Hom
This year brought some stunning cookbooks, including genre-defining tomes on fermentation, solo cooking, and pie; a handful of instant classics from immigrants and the children of immigrants; and impressive follow-ups from the usual suspects. Here are the very best cookbooks of 2018.
Photo: Chronicle Books
The best cookbooks are, of course, so much more than recipe collections, a description that feels more than apt for Nik Sharma's Season. Sharma's book tells the story of his journey from Mumbai to Oakland as an openly gay immigrant (he came to the U.S. to escape India's anti-gay laws and to get a degree in molecular biology), and the recipes within are bursting with the flavors of India (garam masala, green mango) without once succumbing to the catch-all term of "ethnic cuisine," and instead presenting the recipes through the lens of his own complex experience. Beautiful things can happen when people are allowed to be every part of themselves — no book better illustrated that this year.
Photo: Knopf
The original River Cafe Cookbook debuted in 1996, and this update transforms it into a book that feels as relevant and modern as anything written today. For starters: It might be the best-looking book of the year. The cover and its neon pink page-edges are influenced by pop art, and it's peppered throughout with the work of founders Ruth Rogers and Rose Gray's many artist friends, including Ed Ruscha and Damien Hirst, as well as archival photographs and papers. Within, the book contains 30 new recipes, but the overall ethos remains timeless: Simple food (many of the recipes feature 10 ingredients or less) merely requires great ingredients and an unwavering dedication to getting it right.
Photo: Southern Living
This year went a long way in redefining what it means to be a black chef in America, whether it was with Edouardo Jordan bringing renewed interest to Southern cooking at JuneBaby, or with J.J. Johnson introducing his pan-African recipes to the masses at Henry. Third in the triumvirate would be Todd Richards, the self-trained Atlanta chef who blew many stereotypes out of the water with this visually arresting book. It covers the already well-trodden ground of Southern cuisine with recipes for collards, corn bread, and barbecue, but manages to stand out as Richards showcases what he learned while working at the Ritz-Carlton and at the knee of the late, great chef Darryl Evans. Recipes for peach salsa and chicken liver paté on zucchini bread or quail eggs in green pea soup perfectly encapsulate Richard's footholds in both the world of old Southern cooking and in that of modern cuisine. Between these three, the way forward for a new generation of black chefs has never been clearer.
Photo: Ten Speed Press
The world has no shortage of good pie-related cookbooks; entering the canon of great pie books is another feat entirely. Lisa Ludwinski's debut cookbook, ostensibly about her Detroit bakery, features original, appealing recipes like her apple sage gouda pie and paprika peanut butter cookies. But where the book shines is in how well it illustrates the ethos behind her shop: Ludwinski writes at length about the importance of diversity, sisterhood, and running a business that not only is good, but also does good. It could be corny, but Ludwinski's charm as a writer makes it feel heartfelt and vital, instead.
Photo: Artisan Books
There are a handful of cookbooks that appear in every restaurant kitchen: J. Kenji Lopez-Alt's The Food Lab, The Joy of Cooking, The French Laundry Cookbook. The Noma Guide to Fermentation quickly joined them upon its publication. The nearly 500-page tome takes readers deep into the funky depths of the Copenhagen restaurant's famous fermentation lab, where David Zilber, a self-described "walking Wikipedia," continues to push the limits of what can be successfully fermented. (The short answer: basically anything.) Sure, there are way too many massive books from major restaurants in the world, but where Zilber and Noma co-founder René Redzepi succeed is in how well they're able to simplify complex ideas into surprisingly doable recipes and techniques. That alone makes The Noma Guide to Fermentation worth the shelf-space.
Photo: Abrams
A handful of New York City restaurateurs put out their debut cookbooks this year (after all, it's one of the best ways to promote a restaurant and a "brand"), but the most useful cookbook released by a New York chef in 2018 is undoubtedly Korean Home Cooking, from the same team that's also behind Insa and The Good Fork. Not only is Sohui Kim's book eminently accessible to chefs at any level, it manages to introduce readers to a style of cooking that, for many non-Koreans, will feel completely new.
Photo: Knopf
It can be surprisingly difficult for single young professionals to cook meals for themselves (especially when grocery stores tend to refuse to stock perishable ingredients in smaller quantities.) Luckily, Anita Lo, the chef and owner of the late restaurant, Annisa, has done a lot of the hard work for us, drawing on her decades of experience as a professional chef, her upbringing as a child of immigrants, and her extensive travels for a delectable guide on cooking for "a party of one." Her self-deprecating humor about being alone may hit a little close to home or cause secondhand embarrassment at times, but, more importantly, the lesson here is that cooking for yourself is tantamount to loving yourself.
Photo: Flatiron Books
No one is better at convincing American home cooks to expand their collective pantry than Naz Deravian, the author behind the blog-turned-cookbook Bottom of the Pot. The flowery language and Garden & Gun-esque photography might be a bit over the top, but if this book doesn't convince you to immediately run out and buy pomegranate molasses, orange blossom water, barberries, dried rose petals, and musir, you might as well hang up your apron and call it a day.
Photo: Chronicle Books
A lot of cookbook authors can write at length about using food to bring people together. But in reading Julia Turshen's Now & Again, you'll find that she actually understands what it means to be the person who loves to entertain: It comes from a place of immense gratitude not just for the people in your life, but for people in general. If you believe in that and want to start entertaining more, Now & Again is a great place to start: Turshen does a lot of hand-holding along the way, providing full dinner party menus that can be whipped up with a few days' notice as well as instructions on how to turn the leftovers into an entirely new meal for the next day. The arrangement of recipes can feel a bit haphazard at times and the book's concept is a little bit wonky, but as Turshen points out, "there are no rules here," just a lot of great excuses to get people over to your house.
Photo: Clarkson Potter
A year without a new Ina Garten cookbook is like a birthday without cake: it shouldn't even count. Luckily, we didn't have to wait too long for the follow up to the 2016's Cooking For Jeffrey. Cook Like a Pro is Garten's way of bringing the technique of restaurants into her readers' homes without veering too far into left field, and she, of course, does a beautiful job of it, very carefully explaining to your great-aunt in Minnesota and your friend who's just learning how to cook why it's important to use a healthy amount of salt, why sharp knives are essential, and other concepts as basic as reading a liquid measuring cup from the side and not from above. These techniques might be fairly obvious to the seasoned home cook, but everybody has to start somewhere, so why not with Cook Like a Pro and its recipes for bay scallop ceviche, short rib hash, and the excellent farro salad from Charlie Bird. Is Garten starting a home cooking revolution? Hardly. But she's still finding new ways to package her particular brand of not-so-aspirational cooking after 11 sensational cookbooks and countless hours on our televisions.
If you buy something through our links, New York may earn an affiliate commission.