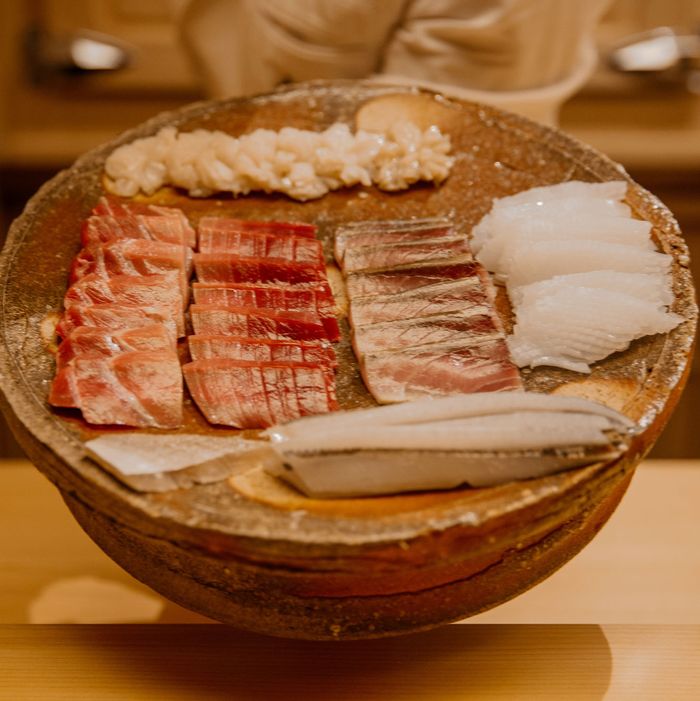 The raw materials at Sushi Noz.
Photo: Scott Heins
The great sushi omakase craze has been spreading like wildfire through the upper realms of the city's high-roller dining scene for decades now, but lately the situation seems to have taken an even more elaborate turn. Travel the circuit of discreet new tasting joints around town (with a sizable wad of cash in your pocket, of course) and you'll find uni-topped slivers of A5 Miyazaki beef (Sushi Ginza Onodera), and nori hand rolls stuffed with caviar (Uchu Kaiseki Counter). You'll find monied young restaurateurs recruiting talent not from Los Angeles, like in the old days, but from decorated establishments in Japan (Amane, Noda), and you'll see such a rainbow of different styles (box pressed, locally caught, Kansai influenced, L.A. style, edomae, vegan) that the aficionados and fat cats who keep track of such trends will sometimes whisper that these days, New York might actually be a more interesting place for top-line sushi than Tokyo.
You won't hear such heresy coming from this critic, but if you wish to experience this gilded renaissance in its purest, most obsessive form, a good place to start is a discreetly polished new Upper East Side restaurant called Sushi Noz. The façade, on 78th Street just off Third Avenue, is spackled with smooth white plaster in the classic Japanese style. A traditional noren flaps over the doorway, which is slid open as you pad in from the noisy, windswept street by a bowing "hostess" dressed in full kimono. The space inside — a snug hallway connecting two small tasting rooms, one built from ash, the other with a bar carved from a single 200-year-old hinoki tree — has been constructed without nails (in the ancient sukiya style, the website says) and looks like an idealized version of some distant sushi destination in the back lanes of Osaka or Tokyo.
Sushi Noz is the brainchild of two young restaurateur brothers, David and Josh Foulquier, who grew up during a time when delicacies like fatty tuna and Hokkaido uni were replacing slabs of beefsteak as Wall Street's favored high-status trophy food and when the focus in learned culinary circles around town was shifting away from the old Continental models to a preoccupation with all things Japanese. With this new obsession, the myth of the temperamental superstar from Provence or Lyon was replaced by that of the lordly, imperious sushi master (Nobu, Masa Takayama, Jiro Ono of Jiro Dreams of Sushi fame), and to fill this crucial role, the brothers have recruited a young chef who grew up in Hokkaido and has worked in Tokyo and New York named Nozomu Abe, who appears before his little audience every night of service and bows like an actor on a stage.
On the evening I dropped by, the performance began with a taste of barely cooked pink snapper, which had been passed over the flame of a binchotan charcoal grill and was served with freshly grated wasabi and a delicate crystal substance from Egypt called "snow salt." It was followed by a warming, luxurious winter soup made of snow crab from the south of Japan, which was topped with a tiny thatch of snipped chives that gave the delicate assemblage (male crabs are picked for their meat, females for the broth) a fresh finishing crunch. After that, slices of fluke mixed with monkfish liver, rice, and a jellied dashi broth, then strips of flavorful scorpion fish shaved with drifts of bottarga, although the undoubted star of this opening salvo was a serving of that forbidden Japanese pleasure shirako (a.k.a. cod milt), which was garnished with winter truffles and disappeared like a ball of hot, milky butter down the back of your throat.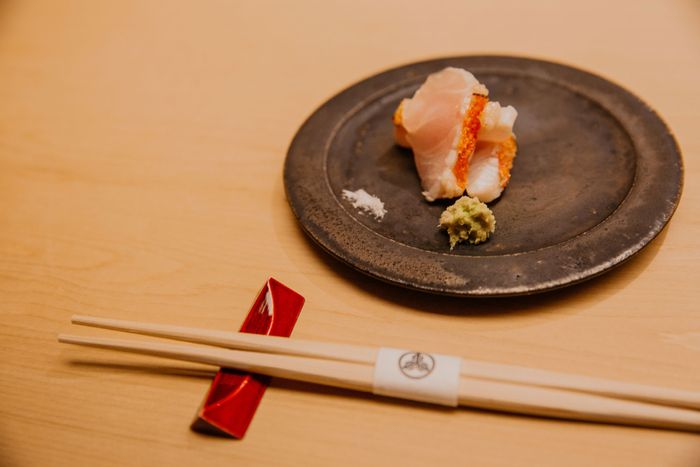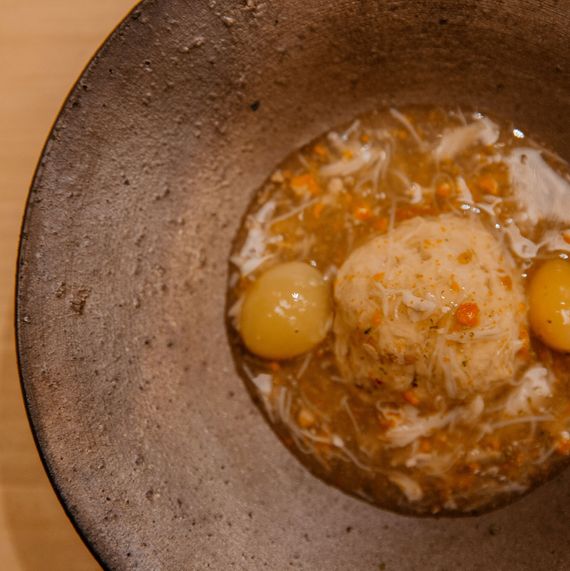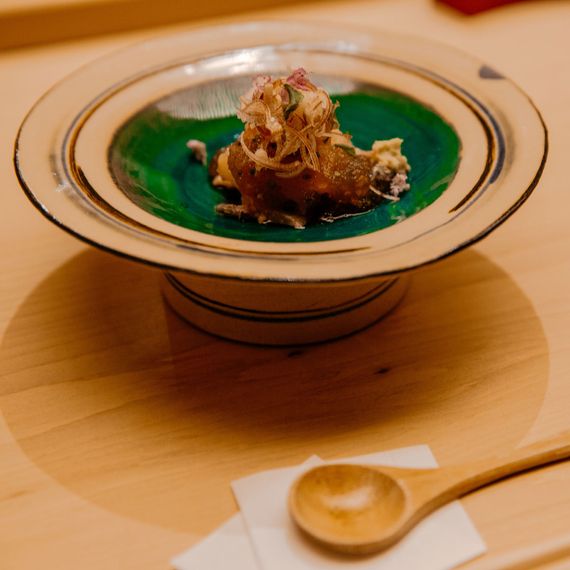 With his shaved head and pale, monkish features, Noz does his best to cultivate the theatrical air of an old-fashioned sushi ascetic. Not surprisingly, like the edomae-style masters of old, he ages and cures his fish using a variety of traditional techniques, even storing it in an antique-style icebox under melting slabs of actual ice. During the nigiri-sushi portion of dinner, we tasted pieces of silvery "sayori" needlefish brushed with a sauce made from chives and ginger, warm slips of sea eel smoked over bamboo leaves, and fat little scallops that the chef expertly crosshatches on their tops to look a little like flower petals and serves around the bar one by one. In addition to the usual uni (from Hokkaido) and popping spoonfuls of salmon roe (marinated in sake and mixed with rice), there were four grades of tuna, one of which the chef sears with a rack of glowing binchotan coals instead of the usual butane torch, and as the fish cooks, the little room fills with the sweet street-market smells of wood smoke and sizzling fat.
You're not paying street-market prices for the full $300 tasting experience at Sushi Noz, of course, and just like at most elevated new omakase joints these days, there's a good chance you'll find yourself marooned, like I was, next to a pair of overcompensated salarymen who spend their dinner absently discussing how their kids are doing in private school instead of, say, the silky qualities of the Hokkaido uni. For a slightly more focused (and, at $175 per person, slightly more modestly priced) experience, you can book a seat at the newly opened Ash Room next to Noz's Hinoki Counter, where one of his equally pale, equally monkish-looking assistants produces the sushi portion of the larger omakase menu. The food has the same kind of quality, focus, and attention to detail as the sushi next door, and as one small stylized course follows the next, Noz will drop in for a minute or two and take a bow.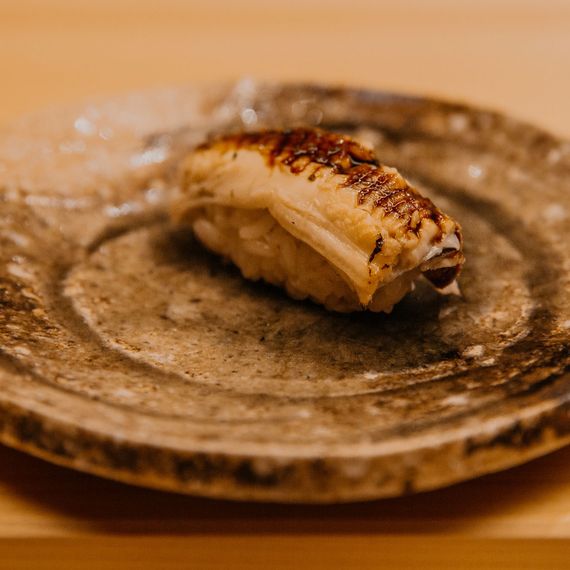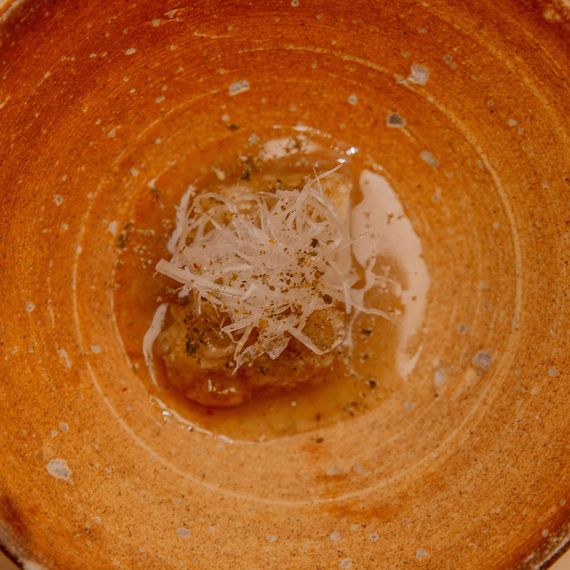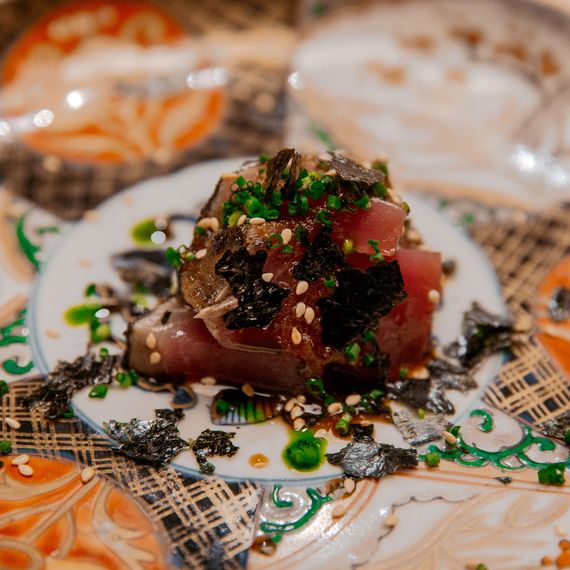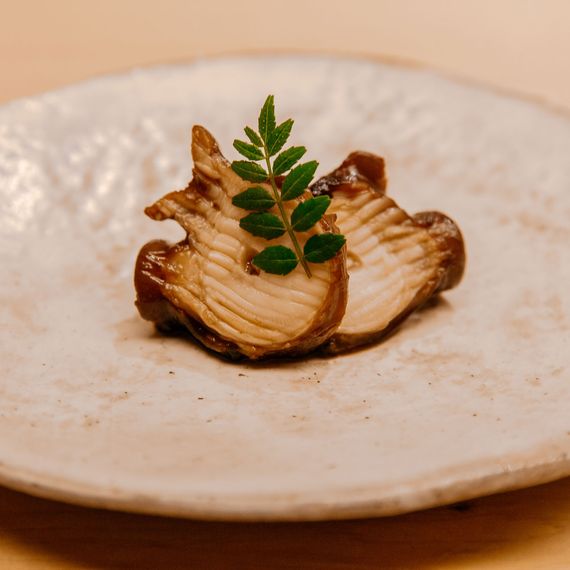 Sushi Noz | 89 (out of 100)* | Impressive
181 E. 78th St., nr. Third Ave.; 917-338-1792; sushinoz.com
Open: Dinner Monday to Saturday; two seatings per night.
Prices: Prices: $175 in the Ash Room; $300 at the Hinoki Counter (gratuity included).
Ideal Meal: Full omakase, with special attention to the crab soup, the cod milt, and the nigiri-sushi portion of dinner.
Note: As is the custom at many new high-end omakase establishments, reservations at both counters must be paid for in advance.
Scratchpad: The combination of quality, technique, and inspired old-school theatrics lands this upscale sushi parlor firmly in the "impressive" zone of our newfangled by-the-numbers rating scale.
*The rating scale of 0 to 100 reflects our editors' appraisals of all the tangible and intangible factors that make a restaurant or bar great — or terrible — regardless of price. See The Thousand Best for 999 more great places to eat and drink.
*This article appears in the January 7, 2019, issue of New York Magazine. Subscribe Now!