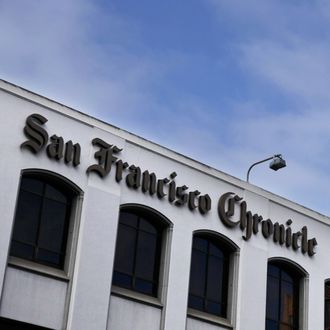 Michael Bauer left the job earlier this year.
Photo: Eric Risberg/AP/REX/Shutterstock
In September, Michael Bauer retired as the San Francisco Chronicle's restaurant critic after 32 years at the paper. Both because of Bauer's very lengthy tenure and the criticisms he faced, the subject of his replacement was a subject of scrutiny. Now, the paper has announced that his successor will be Soleil Ho, the journalist and chef who has made a name for herself by tackling issues of immigration, race, gender, and class in the food world.
It's an exciting choice, not only because Ho brings a new perspective to a staid position but because she's written movingly and incisively about topics like the food of first-generation immigrants, how nostalgia has shaped Vietnamese restaurants in America, and a Chicago poke chain that claimed a trademark on the phrases "aloha" and "aloha poke." Her Racist Sandwich podcast with Zahir Janmohamed has a real following all its own, and she co-authored Meal, a graphic novel about eating bugs. In addition to her writing, Ho has also worked in South Minneapolis, New Orleans, and Puerto Vallarta, Mexico.
The Chronicle says that Ho, who is currently based in Minneapolis, will "confront questions of ethics and social justice" — something Bauer was criticized for, well, not doing. In a statement to the paper, she says that she's "so honored … to be tasked with doing this diverse, complicated region's foodways justice through my writing" and calls the gig "a total dream." Congratulations are in order to Ho.