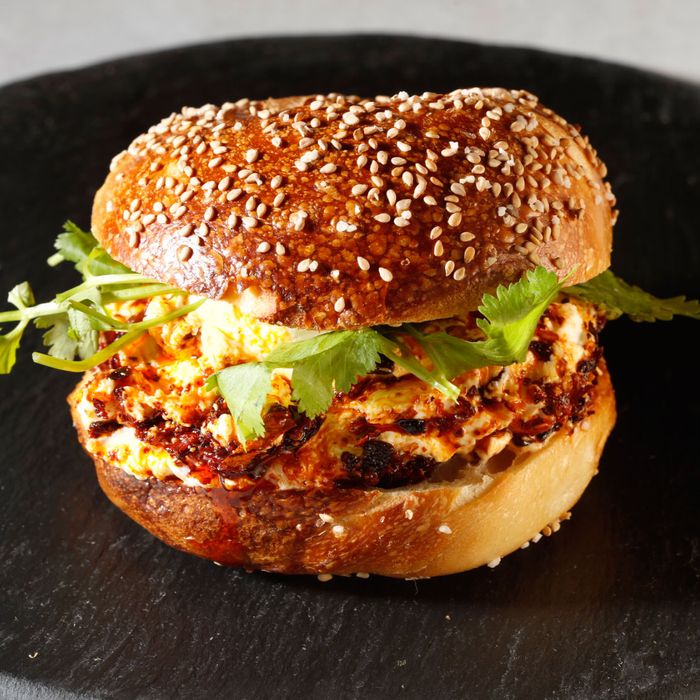 Shelsky's Brooklyn Bagels will serve cream cheese flavored with the cult condiment Lao Gan Ma chili crisp.
Photo: Melissa Hom
There are few things more New York than bemoaning the current state of the city's bagels: They're too big! Too soft! Who puts lox on a cinnamon-raisin bagel?! "They've gotten shitty everywhere," laments Peter Shelsky, who now runs the popular Cobble Hill appetizing shop Shelsky's of Brooklyn. "It's not even a matter of a specific spot, because the bagels were universally better 30 years ago," Shelsky adds.
This isn't to say that there aren't good bagel shops around. Shelsky, for one, cites Mill Basin Bagels, Bagel Hole, and uptown favorite Absolute. (For what it's worth, Grub favors Utopia.) And, of course, enterprising New Yorkers have been trying to kick-start a new golden age of bagels for years. Now, Shelsky has kicked off his own year of the bagel. Today, he and business partner Lewis Spada opened Shelsky's Brooklyn Bagels in Park Slope. For the time being, it'll be open from 6 a.m. to 3 p.m.
Shelsky's Bagel Shop doesn't have the nostalgia-infused vibe of, say, Russ & Daughters Cafe. Located just off the Fourth Avenue–9th Street subway stop in Park Slope, it looks like a very clean, nice corner deli. Only here, the baker is Matthew Tilden, who developed a cult following at his shuttered SCRATCHbread. Tilden came on to the project after Shelsky solicited advice, and has been "applying his SCRATCHbread mind" to make sure the bagels hit the essential notes: the bubbly crust, the chewy crumb, and the dense chew.
For their bagels, they're using 50 percent sourdough starter and old dough. The egg bagels will actually be made with egg rather than egg shade, and the sesame will be accented with salt. The classic flavors will be supplemented by ones like Sichuan peppercorn and a pepper-and-salt variety that Shelsky says is like eating a steak au poivre. There's a cinnamon-raisin, too, which Shelsky likes, but even he says, "I don't know about putting lox on that."
The shop wouldn't be properly nostalgic, though, without bialys, the cult bread of Jewish New York. "We really mostly only ate bialys, because my grandmother Yetta lived maybe 200 steps from Kossar's," he says. Kaiser rolls will eventually be baked in-house, pletzels will be sold on weekends, and they'll have some breads from Orwasher's, too.
All of these breads will be used for a variety of sandwiches. What's new in the Shelsky-verse here are the breakfast sandwiches, your usual bacon, egg, and cheese; a Jersey pork roll with egg and cheese; and Pennsylvania scrapple with egg, cheddar, and maple syrup. There's also a lunchtime chopped cheese, sans any gussying up. "It's $5.50, we aren't using dry-aged meat," Shelsky says. "We're doing it because we're trying to sell New York food, and I'm a New Yorker."
They've also brought over some sandwiches from the original Shelsky's, like the Great Gatsby (pastrami salmon, honey mustard, horseradish cream cheese, and red onion on rye). Others are classics with housemade meats, like a Reuben, and they're stocking German charcuterie like Black Forest ham and head cheese from Glendale's Forest Pork Store. "I'm trying to push people to go for the weird stuff a little bit," Shelsky says.
Tilden made very good muffins at SCRATCHbread, and they have some on the menu here, too, which won't be masquerading as health food. Think a banana-chocolate-chip-walnut and another made with Anson Mills roasted corn flour. Dessert means the same rugalach they make at the first Shelsky's and black-and-white cookies.
Shelsky's Brooklyn Bagels, 453 Fourth Ave., at 10th St.; 718-855-8814