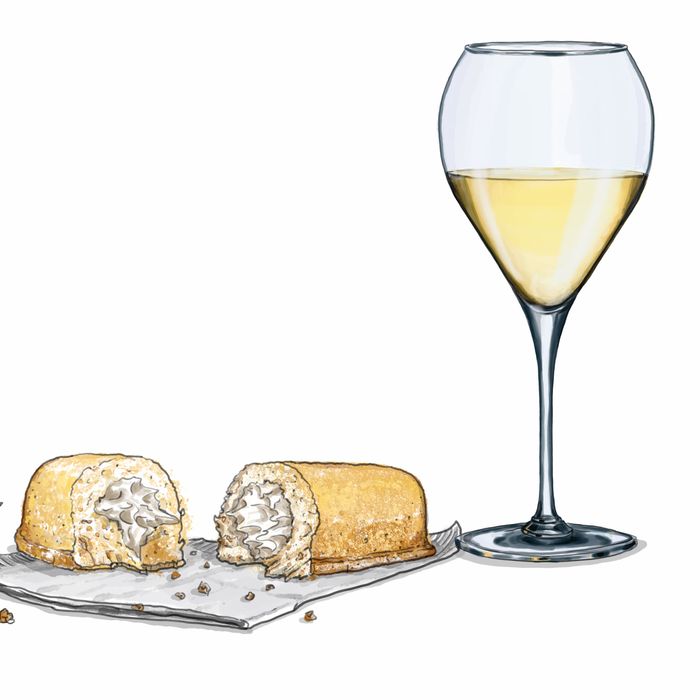 Trust us — really.
Illustration: The Ellaphant In The Room
Among well-heeled wine lovers, there are food pairings that are more or less unimpeachable, combinations that improve what you're eating and drinking in a way that's so special or unique, people wonder if they'll ever be able to enjoy one without the other again: Think about steak with a big Napa cab, the perfection of oysters and Chablis, or — for many — impossibly rich foie gras made even more luxurious by the addition of the sweet wine that's produced in Sauternes, France.
Sauternes is a small appellation in Bordeaux that is legendary because its wine — made from the sémillon, sauvignon blanc, and muscadelle varieties of grapes — has proven capable of aging for centuries on end, and is among the most coveted in the world. But there is one thing that perhaps even the French don't realize can improve this wine further: drinking it with a Twinkie.
In Sauternes, the best wines are made following a process that, to people new to winemaking, seems counterintuitive. Most vintners want clean, healthy grapes at harvest time, the less rot and disease the better, so that they can make great wines from the best grapes possible. But in Sauternes, they are praying for rot, specifically a fungus called botrytis cinerea, lovingly referred to as "noble rot". This very special condition dehydrates the grapes and, in the process, concentrates their sugar and acidity. The final wines aren't just sweet; they have levels of complexity and savoriness that lift the experience and prevent the final products from tasting like simple grape syrup.
There are other regions in which this same method of producing dessert wines is used, but none have quite captured the fame of Sauternes, in part because of Bordeaux's long history of exporting its wines. And yet even in France, the winemaking can be hit-or-miss, as the conditions needed to spur the rot at harvest time are fickle. The combination of complex process and inconsistent supply produces a substantial final price tag.
So why pair this very desirable, expensive wine with … Twinkies? Because the day you do so will be the happiest day of your week, or your month. It's the most important form of self-care. Also: they go together very well. Twinkies may not be foie gras, but the wine's toasted baking spices, honeyed apricot notes, dense citrus, and layered minerality will pair perfectly with the bright yellow snack cake's signature creamy center and fake-yet-familiar flavors of vanilla and butter. The sponge cake is industrially engineered to achieve a perfect balance between moistness and lightness; the wine achieves its own seemingly impossible juxtapositions of textures and flavors — deep richness, searing acidity — through natural means. But even if the means of production differ wildly, the end results are, oddly, shockingly perfectly complementary.
So, yes, these wines are pricey — and they are mostly available in half bottles — but they aren't fickle in the same way that most wines are, so you can open a bottle, have a glass and a bright yellow snack cake sold in a little plastic sleeve, and save the rest in the fridge for the next wine (when, should you feel up to it, you can break out the foie gras.)
Château Raymond Lafon Sauternes ($25)
From an often overlooked house in Sauternes, these vineyards are the literal next-door neighbors of those of our super-famous friend d'Yquem (see below), but they weren't included in a notorious classification system that was formulated in the late 1800s and hasn't been updated since. That means the wine is as legit as anything else in Sauternes, but the prices are far more gentle.
Château Rieussec Premier Cru Classé ($50)
An age-worthy wine that won't completely break the bank. It's owned by the famed Château Lafite Rothschild, and they apply the same high-end philosophies in investing and in producing top, top quality vins.
Château d'Yquem Sauternes Premier Cru Supérieur ($249)
The most famous sweet wine in the world. This is the house that defines both the appellation of Sauternes and acts as a testimony to the wines' age-ability. You can buy one young and age it yourself, find something older that you might pay a little more for but can drink right away, or if you're really in the mood for gusto, head to the Grill in midtown where you can select vintages of this magical wine spanning three centuries. They probably won't even mind if you bring your own Twinkie to the restaurant.