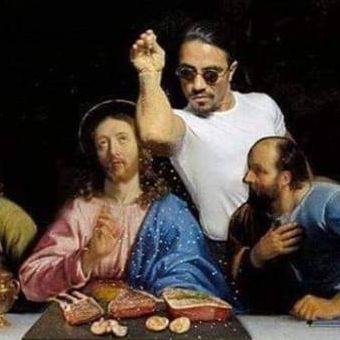 Photo: Screenshot via Twitter
On Saturday, Jordan's Al Wakeel News website published an altered image of the Last Supper depicting living meme Salt Bae performing his signature move over Jesus's shoulder. It's a funny image (and a smart joke about internet obsession), but it did not sit well with Jordan's government. After the image reportedly caused controversy online, the image was deemed offensive to Christians and the website's publisher, Mohammed al-Wakeel, and an editor, were accused of inciting sectarian strife.
Wakeel apologized and removed the "Salt Bae Supper" image following the controversy, saying it was a mistake made by an editor in training. The publisher was questioned by cyber-crimes officials, and both he and the editor were detained on December 10. The image could land them both in jail for between six months and three years. Today it was reported that bail was denied for Wakeel.