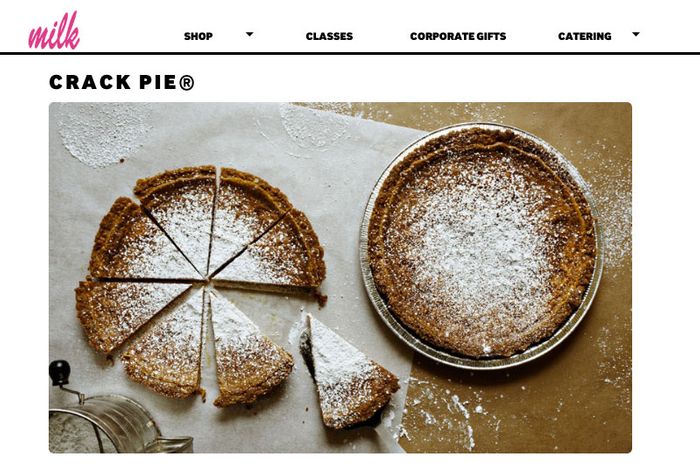 Milk Bar's crack pie.
Photo: Screenshot via milkbarstore.com
Michigan gastropub chain HopCat announced that it will rename its specialty "crack" fries and is no longer using the descriptor for a dish of fried potatoes. In a YouTube video announcing the change, and reported on by the Detroit Free Press, the CEO of HopCat's parent company BarFly Ventures, Mark Gray, explained the change. Though the name was originally meant "to be tongue-in-cheek," he says, "drug addiction is not a joke."
After 11 years of using the term, HopCat will scrub "crack" from its menus, signs, and posters. The dish of beer-battered fries seasoned with salt, pepper, and secret spices will remain on the menu, with an as-of-yet unannounced new name. A BarFly Ventures spokesperson tells the Free Press that while "a lot of people love the name," they thought it was time for a change and that he'd "been thinking about it for years."
Good. The joke is a gross, insensitive affectation that needs to end everywhere. Not only does the name make light of addiction, it reeks of classism. It's also so widespread at this point that it telegraphs a business's complete lack of originality. Slate called out people who use the word back in 2013, but most restaurant owners haven't gotten the message. America is filled with crack cookies, "holiday crack," crack popcorn, and crack chicken.
The most famous offender is probably Milk Bar, where the signature item is the Crack Pie. Elsewhere in New York, Ample Hills called an ice cream Salted Crack Caramel for years until recently changing the name to Salted Crack'd Caramel, Calexico serves Chipotle Crack sauce, and a bakery called Legally Addictive sells Crack cookies.
It's surprising that it's taken this long for any restaurant to take a stand against the "crack jokes." The government's response to the crack epidemic of the '80s and '90s was, as Al Sharpton pointed out to NBC News earlier this year, completely racist. The government targeted and punished crack users and dealers — which, Sharpton points out, "devastated urban, black communities" — much more severely than cocaine users. "Crack" shouldn't be shorthand for good food; it's an example of the country's systemic racism, and otherwise delicious pie can't change that.
A reference to California's the Crack Shack was removed from this post.