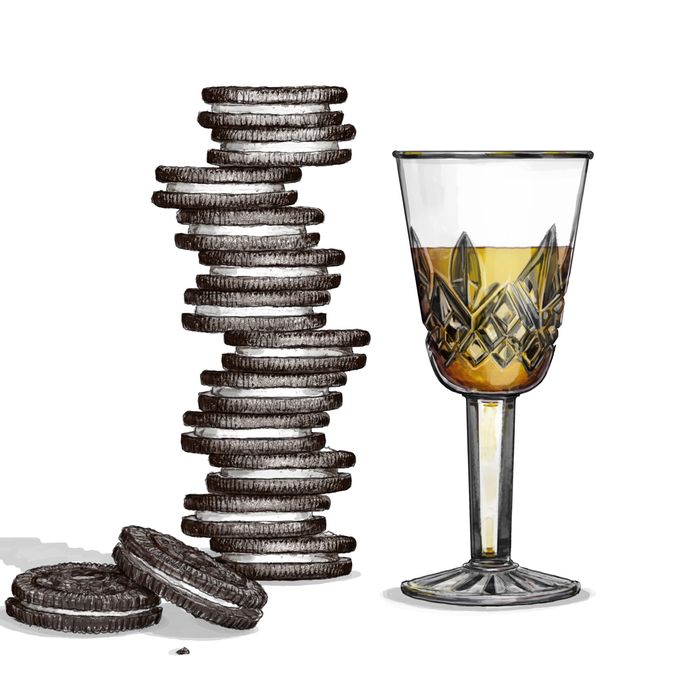 Just add Netflix.
Illustration: The Ellaphant In The Room
Let's get this out of the way: The correct drink to "pair" with an Oreo cookie (or six) is a glass of milk. The twist-and-dunk method of Oreo eating is the only correct to do it, right? I once thought that, until I tried Oreos with a glass of sherry. Consider me a convert.
I know: Sherry? If the Oreo marketing team has done a surprisingly great job of making the little sandwich cookie stay relevant over the decades, the people who make this fortified wine from southwestern Spain have … not. And, it gets worse, because the sherry that works best with Oreos is cream sherry, which might also be known as "grandma juice."
But hear me out. Sherry — dry sherry especially, which you've seen and is the type that has names like fino and amontillado — is starting to make a little cultural comeback thanks to the efforts of industry pros like Peter Liem. Cream sherry, on the other hand, contains no actual cream, and is instead a mix of dry and sweet sherries. (The actual story behind the "cream" naming is a bit confusing, but it has to do with the fact that this sherry is a little thicker than traditional sherry.)
Cream sherry itself is a shade of dark mahogany, with a flavor that tastes sweet but not stickily so. The aromas and notes also hit all sorts of great flavors, like walnuts, caramel, toffee, dried figs and dates. They are exactly right with that bitter-y, chocolaty supersweet Oreo flavor. The saltiness of the Oreo is also a great pairing for the subtle sweetness of the wine. The important thing is to make sure you look for top producers who blend quality sherries, as opposed to bulk producers who merely use flavor additives. It's the difference between a version that is just heavy, sweet, and unbalanced, and a wine that starts lusciously while ending on the savory, drier side.
And, yes, you can even dunk the cookie in the wine if you'd like. In fact, I'd recommend it. Here are three great options to get you started.
Harvey's Bristol Cream Jerez Sherry ($15)
The original cream sherry (hence the name) is not overly complex but is nevertheless legit. They apply quality principles even at an entry-level price point, which is a nice point of exploration if you're curious about the style but don't want to spend too much.
Emilio Lustau Rare Cream Solera Reseva ($26)
The sherries that this respected producer makes simply do not disappoint. They weren't lying about the name on this one: the bottling of this wine is really rare but worth the hunt.
Matusalem 30 years Vors Cream Sherry by Gonzalez & Byass ($49 for 375 ml)
For a splurge option, look no further. This is a wine that is just crazy-stupid good. It's the kind of dessert wine that will have you forgetting about the Oreos and perhaps even developing an obsession for really, really good sweet wine. The use of extremely old barrels combined with high-quality grapes and winery time equals a truly world-class wine that will show you what this style is all about.