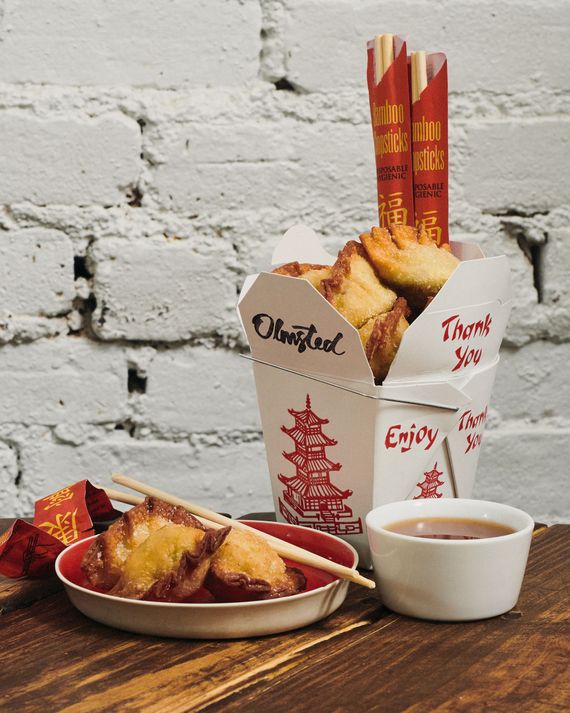 Chef Greg Baxtrom, thanks to his years of cooking at some of the world's best restaurants, has brought a knack for truly creative cuisine to Brooklyn. At his popular Olmsted restaurant, he's using the freshest, most sustainably sourced ingredients, and combining them in surprising ways at a price point that's as unpretentious as the space where they're served.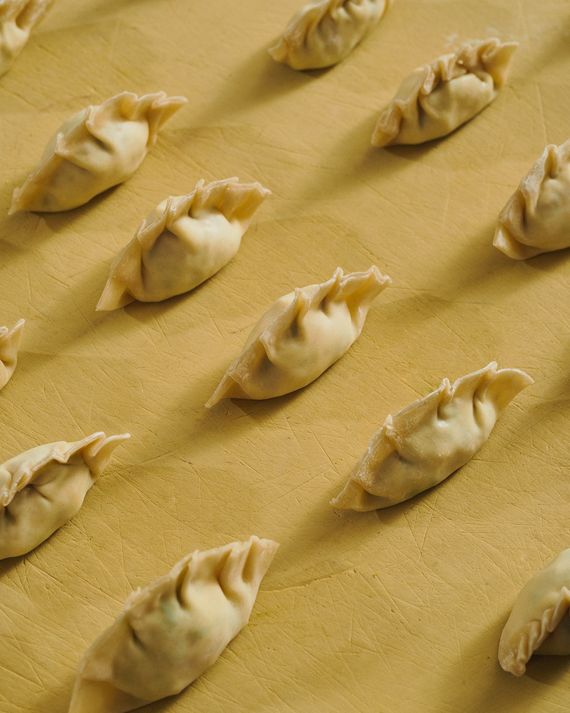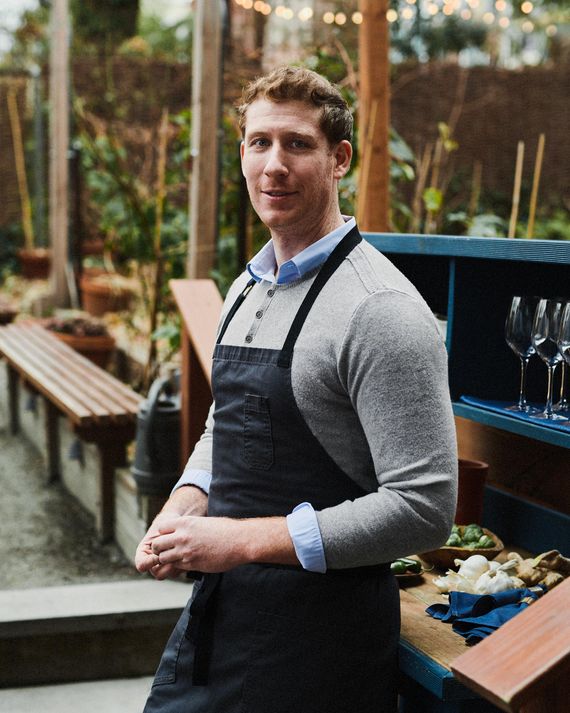 Grub Street and Jet joined Baxtrom recently to get creative with holiday cuisine: he put together an exclusive twist on Olmsted's popular rangoon, which normally combines the highest-quality crab with house-made ricotta and kale grown in the garden, turning it into a savory bacon and Brussels sprouts edition. The recipe is surprisingly simple, and you can easily grab all the ingredients online — delivered same-day or next-day* in most of New York City — at Jet.com's City Grocery service.
Greg
Baxtrom's
Bacon
and
Brussels
Holiday
Rangoon
with
Apple
Cider
Dipping
Sauce
(Makes
30
Pieces)
Baxtrom's advice: "Don't overthink it," he says of this guaranteed crowd-pleaser. "It's got cheese, bacon, and Brussels sprouts, and it's fried. They're going to love it."
Part 1: Apple Cider Dipping Sauce

Ingredients
· 1 cup sugar
· 1 cup apple cider vinegar
· ½ gallon apple cider
· 1 head of garlic, chopped in half
· 2-inch piece ginger, roughly sliced
· 1 jalapeño pepper, sliced in half
· 1 bunch cilantro, roughly chopped
· 1 tablespoon soy sauce
· 6 teaspoons cornstarch
Instructions
1. In a small saucepan, mix together the sugar, apple cider vinegar, and apple cider.
2. Mix in halved garlic head, sliced ginger, halved pepper, and roughly chopped cilantro.
3. Stir in soy sauce.
4. Bring to a slight boil, then lower the temperature to reduce and thicken.
5. Reduce until you have roughly 1 quart of sauce. In a separate bowl, mix the cornstarch with 6 teaspoons of the sauce. Whisk the mixture back into the rest of the sauce.
6. Strain the sauce to remove all the solids (garlic, ginger, pepper, and cilantro), and chill.
Part 2: Bacon and Brussels Rangoon

Ingredients
· 1 pound bacon
· 2 quarts Brussels sprouts, shredded
· 2 quarts ricotta cheese
· 1 package of gyoza wrappers (30 pieces)
· 2 quarts canola oil
· Salt and pepper, as needed
Instructions
1. Cut the bacon into thin strips and crisp in a frying pan; season with black pepper.
2. In the same pan, crisp up the Brussels sprouts (pre-shredded on a mandolin).
3. Remove the bacon and Brussels sprouts from the pan, and drain. Let the mixture cool.
4. In a small bowl, stir the cooled mixture into chilled ricotta.
5. Lay out the gyoza wrappers on a parchment- or paper-towel-covered counter or cutting board.
6. Using a small spoon or scoop, portion roughly 1/2 tablespoon of the ricotta mixture onto the center of each gyoza wrapper.
7. Wet your pointer fingertip in a small dish of water; use your fingertip to draw a circle around the edge of the wonton wrapper to wet it.
8. Fold and seal the wontons in a half-circle shape, hand-crimping every ¼ inch or so.
9. Heat 2 quarts of canola oil in a 5-quart pot to 350°. (Monitor the temperature with a standing thermometer if you have one, or otherwise, check to be sure the oil is slightly simmering.)
10. Deep fry rangoons about 5-6 at a time for about 3 minutes. Remove from oil with a slotted spoon when golden brown, and drain on a paper towel.
11. Salt and serve immediately with dipping sauce.
*A $5.95 scheduling fee may apply. Scheduled delivery only available in select zips in and around NYC and subject to availability. To order with same-day delivery, place your order by 9 am. For next-day delivery, order by 8 pm the night before. See jet.com/citygrocery for full details.
This is paid content produced for an advertiser by New York Stories. The editorial staff of Grub Street did not play a role in its creation.