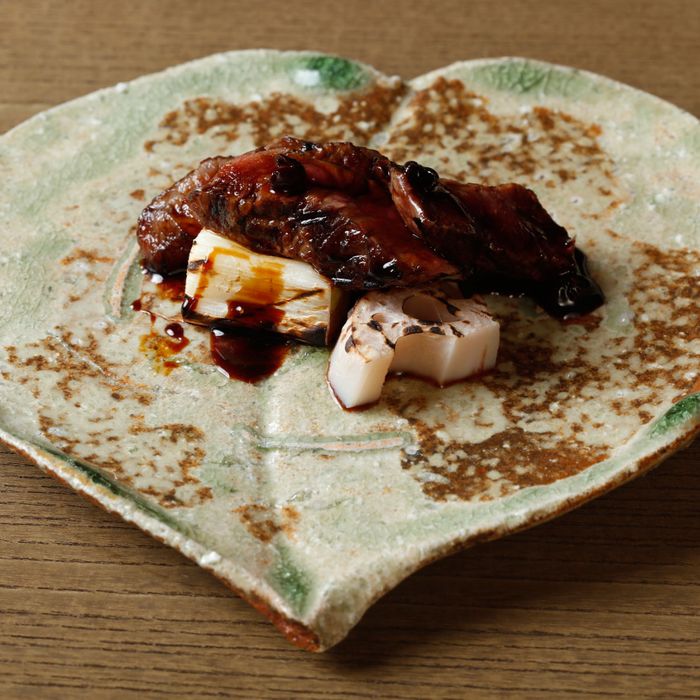 The yakimono course comes with washugyu rib eye, lotus root, charcoal grilled leek, and sansho-soy sauce.
Photo: Melissa Hom
Midtown's Kajitsu is one of New York's most celebrated vegan restaurants, a destination for Japan's Buddhist shojin ryori cuisine. The chef Hiroki Odo ran the kitchen there for four years, serving what New York's Underground Gourmet called "pristine vegetable-centric food." In March, he departed the restaurant to open the all-day café and cocktail bar Hall, which, with a menu that features the likes of meatball sandwiches, is a change of pace for the chef. And yet, behind Hall, the chef is pulling out his old tricks for the eponymous Odo, a 14-seat kaiseki restaurant that starts serving its 9-course, $200 dinner tomorrow.
New York has been awash, in recent years, with high-end Japanese restaurants serving elaborate omakase dinners at wallet-emptying prices. Odo (the restaurant) is joining this crowded fray, but it stands out because of its chef's experience and the complexity of the dishes being served. Alas, plant-based diners may be disappointed to find out the food isn't vegan or even vegetarian as at Kajitsu, but the chef's menu will be guided by the same seasonality of kaiseki cuisine that he practiced at Kajitsu and in Japan.
The nine-course menu will start with a sakizuke — a small dish that's a sort of amuse-bouche — of fried taro with Pacific spiny lobster, mushrooms, and truffle yoshinoni. The menu doesn't go over the top on luxury ingredients, though there are a handful in the yakimono (washugyu rib eye) and the oshinogi (live snow crab) courses. Seafood factors into five of the courses, including a sushi course of six nigiri, and a dessert includes yuzu jelly served in the fruit's shell.
Odo, 17 W. 20th St., nr. 5th Ave.