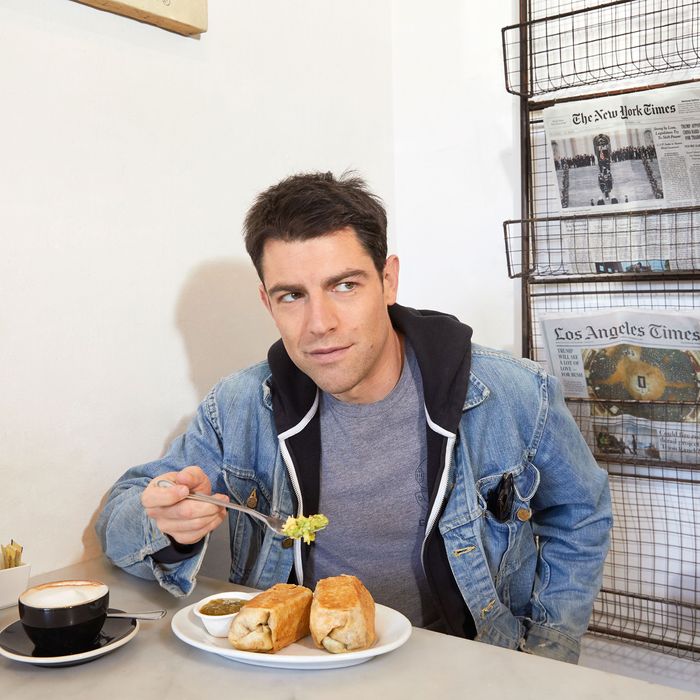 At Joan's on Third, "a magical place."
Photo: Yuri Hasegawa
After New Girl ended earlier this year, Max Greenfield — who played Schmidt on the show — did not get much of a break. He's already back on CBS alongside Cedric the Entertainer in the comedy The Neighborhood, and starring as a sniper in an awkward love triangle with Joe Manganiello in the CBS All Access series No Activity, which is all available to stream right now. But Greenfield did get a break from filming this week, although his Los Angeles diet nevertheless skewed healthy to keep up with his schedule — and his young kids. Read all about it in this week's Grub Street Diet.
Thursday, November 29
I was lucky enough to be invited to go and see the Nike campus in Portland. A friend of mine works there and said, "Come up." And I was like, "Yeah, I wanna see that shit!" So breakfast was a blueberry RX bar and coffee from Starbucks at LAX. Starbucks is fine. In a pinch it'll do.
The campus was unbelievable. It was sort of like going to a museum, with a lot of history. The campus has gone through a lot of iterations […] in the '90s it was initially three buildings, then it kept growing, and now it's like a full college campus. I heard there was a vault where there are, like, first editions of things, but I didn't get to see it.
Apparently there are many restaurants on campus: I saw one that looked like a cafeteria, I saw a couple cafés, and we went to a great one for lunch. It was like an upscale cafeteria, and I got grilled salmon over rice. It was delicious. They're very health-conscious over there at Nike.
Dinner was a quinoa salad from the Portland airport. It looked fine. And that's just what it was.
Friday, November 30
I woke up tired, so I had a strong coffee. Then I made an egg scramble with sweet potato and broccoli. I try to be healthy. I don't love a lot of sugar, and I've learned over a bunch of years that I feel better when I eat healthier. And I like feeling good. We cut red meat out two years ago, for no particular reason other than that my wife was like, "I think we should stop eating red meat," and I was like, "Great." That's how most decisions are made in this house: my wife will say something and I'll say, "Great!"
I had a veggie drink and an RX Bar for lunch and an apple, trail mix, and coffee mid-afternoon. There's always an afternoon coffee. Whether it's three o'clock, four o'clock, there's always a coffee. I like to make an Americano with almond milk. I've tried every bean in Los Angeles, and right now I get them from a place called Go Get Em Tiger. It's very hipster-y. They just started roasting their own beans and they got it real right. The Minor Monuments is spectacular. It's so good, and I savor it, like, "I don't want this to end." But I also don't want too much caffeine, so it's not like I can just have some more. You make one cup of coffee and enjoy it.
My wife and I went out for dinner with some friends, two other couples. No kids. It was a very special occasion, and very rare. We hadn't been out to dinner in a long time with other adults and we like, went for it. We went to Chateau Marmont, which I think might have been just the second time I've been there for dinner. The fried cauliflower was the real surprise of the meal. There were just a bunch of appetizers on the table and I was like, "I'll try that!" And it was the best thing I had all night. For my entree I had roasted yams and grilled fish. And then a chocolate chip cookie for dessert because I was out and I was feeling it.
Saturday, December 1
Saturdays are all over the place, you never know what's going to happen. We all eat breakfast together — I had my scrambled eggs and coffee — and then the kids are scheduled with their things. I'm usually the chauffeur to the classes and activities. When that ends at around noon, it's back to the house for lunch.
I made lunch — chicken, french fries, and fruit — and then Ozzie, my youngest, went down for a nap. While he's napping I come back to the kitchen and snack — that's the routine. I'm just a scavenger. It depends on what's in the house, and it's a good opportunity for me to overeat. That day I found an apple and almond butter and a random bag of sweet potato chips that I bought at the farmer's market a week earlier. I had the whole bag with my afternoon coffee.
For dinner we went to a friend's house.There are a bunch of families that live close by and we switch off houses every so often. It's just getting the kids together and adults talking to adults, sometimes for the first time all week.  We all hung out in the kitchen with the kids running through. We ordered pizza, and then it was game time. I was so excited, I just dove in.
Sunday, December 2
Sunday is farmers' market day with my son. We basically ransack the Larchmont Farmers' Market. I mean, he's not into it, but I am. I get as many vegetables as I can, mainly sweet potatoes and broccoli, and then usually on Sunday evening I'll cook those and and I'll have them for the week with eggs.
We woke up, hung out for a little bit, had some breakfast, then went. Can't go to the farmers' market on an empty stomach. That's crazy talk!
At the farmers' market, my son really wanted a donut and I was like, okay let's just do it, dude. I split a vanilla donut with him — his choice — and it was awesome. I only ate a big chunk to prevent him from eating the whole thing. Because he would.
I got a couple veggie drinks and took them home for later. Then I found some more chips in my house. They were so good the day before that I went back to them.
For dinner, we Postmated from Veggie Grill: brown rice and a veggie bowl with sweet potato fries. We usually do Postmates on Sunday, but it's from a bunch of different places. The kids like a place called Burger Lounge, but we do it so much and sometimes we need a change.
Monday, December 3
I made breakfast for my kids. They usually get half a bagel. Lilly will get scrambled eggs, which she likes, but she has to eat it either way because that's her protein for the morning. So she'll get some of that, with a little bit of fruit, some grapes and a cut-up apple, which she and her brother split. She likes these blueberry scones that we get from the farmers' market, so I'll cut one up and she gets a nice little piece of that. And then the boy will have applesauce and maybe some cereal.
I was feeling lazy, and I didn't cook my usual vegetables on Sunday, so this morning was eggs and spinach. I scrambled them together and tossed an avocado on top. It really threw my fucking day off. No, I'm kidding. It was fine.
We're not filming right now, so I'm left to my own devices. Which means my snack is a protein bar and a juice.
I had dinner with a buddy of mine at a restaurant called Best Girl, near the Ace Hotel. We went there because he was in town from San Francisco and his friend had directed a movie that was premiering at the hotel last night. We needed to eat fast, but I could have spent another two hours there, it was so good. Starters were roasted carrots with chickpeas, pine nuts, and black olive tapenade, Japanese sweet potatoes, and a bowl of french fries. And my entree was chicken with corn and pickled chanterelle. The movie we saw was called Bob Lazar: Area 51 and Flying Saucers. It was a documentary about aliens, and it was perfectly weird.
Tuesday, December 4
I was able to cook my vegetables the day before, so I scrambled the eggs with sweet potato and broccoli and some chopped-up walnuts. In the last couple months I've started doing this, and it's been really helpful to have a really good, like, hearty vegetable breakfast, because it keeps me full and sort of energized for an extended period of time and you don't have that feeling of, "Is it lunch yet?" And then you look at your watch and it's 9:30 a.m.
But it's hardly cooking. It's chopping up vegetables. To be healthy, you don't need to be some sort of chef. I chop up vegetables, put them in the oven, and then I wait until they're like golden and mushy and then I take them out. I mean, I know how to turn the oven on and put something inside of it. And I know when something's burnt or like, still like a rock. But it does not go beyond this — except I can toast a bagel for my kids, and they love it. I'll toast a bagel against anybody.
Lunch was a burrito and cappuccino at Joan's on Third, my go-to when we're filming The Neighborhood, because it's walking distance. It is a more intimate version of Dean & DeLuca. There's only two of them, but it's the same exact vibe, if you can just condense Dean & DeLuca. And if you are a regular there, which I have become, you start to really get to know all the people who work there, and then it becomes a magical place. I go there almost every day when we're shooting, but this day was special because Joan was there! I don't think I've ever met Joan before, and it was like meeting a celebrity — she's a Los Angeles legend.