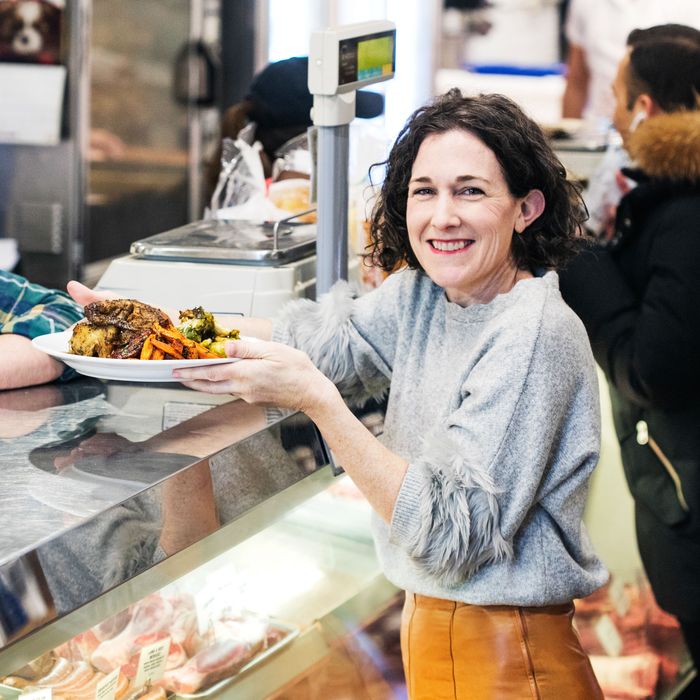 At Dickson's Farmstand in the Chelsea Market.
Photo: Melissa Hom
Since its founding in 2008, Maile Carpenter has been the editor-in-chief of Food Network Magazine, spearheading its quick rise and populist approach. (Since last year, Carpenter has also run The Pioneer Woman Magazine.) The recipe-centric FNM draws on the network's chefs and personalities, and Carpenter shares the hosts' unpretentious, easygoing attitude toward food. She's a big fan of Panera ( "they've got it figured out"), while she's also found time recently to check out Dave Chang's new Bāng Bar, make sticky buns, and eat plenty of candy. Read all about it in this week's Grub Diet.
Thursday, December 6
I got up at 5:30 a.m. to make four batches of sugar cookie dough before our kids woke up. My older daughter was having friends over for a Secret Santa exchange and cookie-decorating party on Friday night, and my only window for making the dough was Thursday at the crack of dawn.
I finished the dough, packed school lunches, then threw two slices of "grandma bread" in the toaster. My mom supplies us with homemade raisin bread and English muffins almost every week. I don't remember when this program started but I'm so glad it did. As I toasted the bread, I noticed a stray egg that was supposed to be in the cookie dough. Eff. I panicked, but then my husband, Wylie, reminded me that he makes dough for a living — he owns a doughnut shop — and asked me why on earth I didn't just have him do it in the first place. I hate subcontracting this, it feels like cheating, but I had no choice. I was out of time.
I don't usually eat anything until I get to work, but my daughter left her raisin toast behind, so I took half of it on my way out. I ran on the treadmill at the office gym, then went downstairs to Café 57 (the Hearst cafeteria) for my usual breakfast: a latte and a bowl of half Rice Chex, half Lucky Charms with totally out-of-season strawberries. The cafeteria espresso machine was broken. In lieu of a caffeine high, I ate two small bags of Chewy SweeTarts from my stash of leftover Halloween candy. (I'd never seen them before, they just came in this multipack I got. I loved them, so I dug them all out and they're my secret stash.)
Around 1 p.m., I went to check out Dave Chang's new Bāng Bar with a couple of editors. We were happy to find that we could sample everything for less than $20: They serve only two sandwiches, pork and chicken ($5.79), and two dips, eggplant and chickpea ($2.99). I couldn't imagine that these things would live up to the hype, but they were actually super tasty. I drank a can of LaCroix grapefruit seltzer, because I hate still water and never really drink it, unless I'm exercising. I find sparkling to be so much more fun. Why wouldn't you just drink it? It's like drinking a party, instead of just keeping yourself alive.
By three o'clock, I couldn't take it, I needed coffee. I went to Birch for a small latte that cost almost as much as my sandwich from Bang. It was worth every penny. An hour later, I drank a bottle of Hal's cherry seltzer. Of all the seltzers, I like Hal's the best — it has big, bouncy bubbles.
I had hours of baking and icing-making ahead of me, so I ordered from Panera for pick-up: chicken noodle and tomato soups and Southwestern chicken salad for four. I love Panera. I go every weekend. The kids eat what they have there, which is not something I can say for my home-cooked food. The tomato soup is delicious. They've got it figured out.
The kids jumped up and down when I got home — they'd much rather have this than anything I make. Oh my God, they're picky. You have no idea. We recently decided — it's kind of pathetic that we've never done this before — to eat dinner together as a family every night. It's super hard because they don't like anything. They like spaghetti and meatballs and I got them to eat lasagna, which is a big thing.
But … we unpacked and discovered the bread was missing, which is the whole point of ordering from Panera. My younger daughter cried; my husband and I just started drinking. We were all still hungry after dinner (we really needed the bread) so we ate raw cookie dough while I rolled out the cookies and Wylie made the two of us a Manhattan. I rolled and baked until almost midnight and drank a strawberry Bubly seltzer while I watched Seth Meyers.
Friday, December 7
I went for an early run at six, then came home and cleaned the house for the kids' party. I ate a bowl of Chobani strawberry yogurt with Brandless blueberry flax granola. I would never buy a product with flax in it, but it was sent to me at work and it's delicious. I assumed the espresso machine at work was still broken, so I made a latte on our Breville Oracle machine at home and took it with me in a thermos. I love this machine; ever since we got it, I can make a latte that's as good as any I can buy nearby.
For lunch, I met Clarkson Potter publicist Kate Tyler at Marta and — super bonus — Ina Garten was with her, along with Ina's assistant, Lidey. I couldn't possibly put together a better lunch date for a Friday. Marta was bustling and festive and smelled like fire and dough and Christmas. Kate, Ina, and Lidey were wrapping up their tour for Ina's new cookbook, and were happy to be home. We shared a tricolore salad and two pizzas: mushroom and potato-carbonara. The carbonara pizza was a textural wonder — a crackly thin crust that seemed like it could barely hold all the potatoes and cheese loaded on top, and yet it did. We each ate our piece of the pie while we talked about Ina's early days at her Barefoot Contessa store. I feel lucky to know her. (Everyone always asks if she's as lovely in person as she is on TV and the answer is yes, and more so.)
I left work early, around five, to race home for the kids' party. I ordered three pizzas from Tappo the minute I emerged from the subway. It's part of a chain of thin-crust pizza shops (along with Gruppo, Vezzo, Spunto, Brado, and Posto). I've moved three times in the past 15 years but have always managed to land in a delivery zone. I ate one piece of pizza, under the assumption I'd have a real dinner with Wylie later.
The kids and I attempted a new cookie-decorating technique: We made a thin royal icing, dotted it with food coloring, swirled the coloring, then dipped the cookies in facedown and pulled them up, to form a swirl design. I made a batch of icing for each kid, and we failed spectacularly at our swirling. The cookies looked insane and the kids' mouths were dyed blue and green. How about a Christmas movie instead?
Three parents arrived for pickup and, because it was Friday, they stayed for a drink. I gave up on the idea of a real dinner and ate another slice of pizza with arugula and mozzarella salad on top, plus all the grapes and sliced cucumbers that the kids left behind. Wylie made a cocktail that we both decided was weird (I would tell you what was in it, but Wylie was like, "Why are you going to put in a gross cocktail?"), so I reverted to Grüner Veltliner. After the kids went to bed, I ate the one remaining blank star cookie and half of a red velvet doughnut that Wylie brought home from work.
Saturday, December 8
A 7:55 a.m. departure for Trader Joe's. If I get there early, when it's empty, I can pull my giant red wagon through the store and no one seems to mind. I filled it up with our weekly essentials: salad kits, cheap basil, granola, hummus, Just the Clusters cereal (ginger-almond-cashew version), sweet potato fries, raisin bread for whenever we run out of grandma's, and crazy cheap, really good macarons. They're made in France, so … they're legit? Back at home, I tasted three other doughnuts that Wylie had brought from work — blueberry, gingerbread and passionfruit — while I drank a homemade latte.
We got a small black truffle this week in our advent calendar from the Made Nice guys. Every year, they send out this insanely thoughtful box containing 25 little boxes, each with a meaningful gift inside, like a bottled cocktail from Leo Robitschek. Wylie made scrambled eggs, put them on top of one of my mom's toasted English muffins, covered the whole thing with grated truffles, and served it to me while I played a game of cards with my daughters. Wylie posted his creation to Instagram, thanking the Made Nice guys and also @mysticgrandma for the English muffins, which was funny because my mom was getting tons of follow requests from chefs around the world who were wondering about this unknown baker called Mystic Grandma. Sorry, mom!
The kids wanted to go ice skating in Stuyvesant Town, but we needed lunch first. I blended a batch of pesto, then made pesto and mozzarella grilled cheese sandwiches for all of us before we left. At the rink, we bought cheddar Ruffles and drank hot chocolate that Wylie had brought in a thermos. It was a terrible combination, but we polished both off anyway.
We went home to warm up for a bit, then at 6 p.m. we went to Pasta Flyer to say goodbye. We had just heard that it's closing. The chef and owner, Mark Ladner, is a friend of Wylie's and we were happy to see him at the counter. He brought out a bottle of red wine, spaghetti and meatballs for the kids, a bowl of fettuccine Alfredo smothered in truffles, and a side salad filled with these curiously small, super-satisfying pellets of goat cheese. Mark told Wylie that he extrudes them from a meat grinder. Genius. If you close your eyes while you eat anything at this place, you could be at Del Posto; the pasta is so good.
After dinner we went to Venchi, a gelato and chocolate shop that just opened near our apartment, for dessert. I spent $26 for four cups of gelato, and two of them were called "baby" size. Not cool. Back at home, I made cinnamon-roll dough for Sunday brunch so it could rise overnight, and Wylie made us a cocktail he invented called the Chair Lift. It's two ounces bourbon, one ounce sweet vermouth, ¼ ounce China-China, ¼ ounce Zirbenz pine liqueur, a dash of lemon and Angostura bitters, and the tiniest pinch of salt. Shake, strain, serve on a giant cube of ice.
Sunday, December 9
We had my dermatologist and her family over for lunch. Well, technically we had my younger daughter's classmate for brunch, but by coincidence, her mom is my longtime dermatologist. I promised myself not to ask her anything about my face while she was here.
I finished the cinnamon rolls while Wylie prepped potatoes rösti — a thick potato pancake, crisp on the outside, like a giant latke without the egg. He scrambled eggs and fried bacon while I sliced pineapple and prepped a fruit plate. We ate all of the above and brunch stretched into the afternoon.
At 3 p.m., I went downtown with my daughters and we bought gifts for our school's toy drive. While we waited for the subway, both girls told me they were hungry. I dug in my bag and found three squished mini candy bars: two Snickers and one caramel-apple Milky Way. I took one of the Snickers and left the others for them.
Home for dinner. We had some pork sausage from Dickson's Farmstand in Chelsea Market and we needed to use it. Wylie turned the sausage into a pasta sauce that, miraculously, the kids loved, too. We had that plus a kale salad kit from Trader Joe's and a Last Word cocktail, because we were out of bourbon.
Monday, December 10
I ate two spoonfuls of oatmeal I made for the kids, and half of a leftover cinnamon bun. It was stale but still kind of delicious. At work, I ate the usual: Chex with Lucky Charms. The coffee machine was still broken.
I met HGTV Magazine editor-in-chief Sara Peterson for lunch in the Hearst cafeteria. It was taco day at the Action Station, which was kind of like having Chipotle without the line or the cold walk across the street. I ordered two chicken tacos with black beans and cheese; Sara hit the Middle Eastern table. It's a very multi-culti cafeteria. Back at my desk, I was still hungry, so I ate a few handfuls of trail mix, one pack of chewy SweeTarts, and one stick of a Kit Kat bar. I keep a ton of candy in my office for people. My entire filing cabinet — it's a deep drawer — is full of bags of candy.
I was supposed to meet my friend and former co-worker Gina after work for a drink at Existing Conditions, my brother-in-law's newish bar, except I arrived to find they were closed for a private party. I saw Dave through the window and he let us have a quick drink (I got a Professor Plum, made with prune-infused bourbon) before we moved on. We tried to get a table at Loring Place, because after a Professor Plum, I was just that bold and irrational. We failed, of course, so Gina suggested Pearl Oyster Bar. It was every bit as perfect as ever. We grabbed a tiny table by the window, ate bowls of New England clam chowder and shared a lobster roll and a pile of shoestring fries while we talked about the good old days in publishing. On nights like this, I feel like I've lived in New York forever, and I never want to leave.