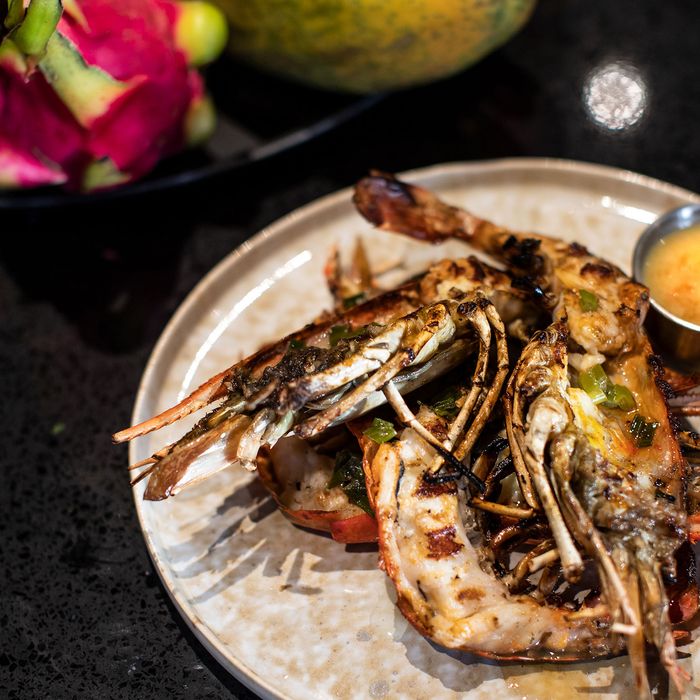 Madame prawns with "Mama Ly's orange butter."
Photo: Erinn Springer
Over the last few years, a handful of restaurants opened by young chefs has invigorated New York's Vietnamese-restaurant scene with a modern approach and romantic affection for the cuisine. Jimmy Ly and Yen Vo of the East Village's Madame Vo want to continue that trend with their newest spot, Madame Vo BBQ, which is now open in the East Village.
"Everybody is kind of doing the same thing, just their take on it," Ly says. "What they're doing, that's great. But I felt Vietnamese food in New York has, especially, not been represented properly. I felt like a lot of things were missing."
One of those things, Ly says, is what he calls Vietnamese barbecue, the focus of his and Vo's second restaurant. This is food Vo grew up eating outdoors in Mississippi, and you'll find outside, cooking over heaps of charcoal, in Vietnam. Yet while grilled meats are an essential feature of Vietnamese restaurants in this city, there's no restaurant here dedicated to this style of cooking in this way. "We're in NYC, we can't come out with a pot of charcoal because of our fire codes, the Health Department, yada yada yada," Ly says. Instead, they're doing what he calls a "modern, refined version" that borrows from Japanese and Korean barbecue, using Japanese tabletop grills with coils that, Ly says, give off a charcoal flavor.
The centerpiece of the menu is the bò 7 món or beef seven ways, a more ceremonious set-meal consisting of, you guessed it, seven beef dishes served with the necessary accoutrements to make your own spring rolls. (These include vermicelli noodles, garnishes like green apple slices, and a trio of sauces.) There's a bò lá lốt or ground beef rolled in betel leaf, like in the traditional version, and a steak that, in this case, is 45-day dry-aged with bone-marrow butter. Other courses include lemongrass-marinated short-rib rolls, and one that's not beef but pork meatballs. "I think when you have Vietnamese barbecue, you have to have them," Ly says. "I'm a meat connoisseur."
Every other dish on the menu has something grilled or barbecued as well, like the barbecue oysters with uni mayo, prawns with "Mama Ly's orange butter," and lemongrass chicken skewers. What there's not is a single dish from the first Madame Vo. "We don't want to just copy and paste our restaurant, it would be boring," Ly says. The space is more colorful than Madame Vo; near the front, there's a teal Vespa that was brought over from Vietnam. Which gets to what Ly and Vo want to do here: bring over a different idea about what Vietnamese food is. "I wanted to push the envelope and push my skills as a chef," he says. "And to push for the food culture in general."
Madame Vo BBQ, 104 Second Ave., nr. 6th St.