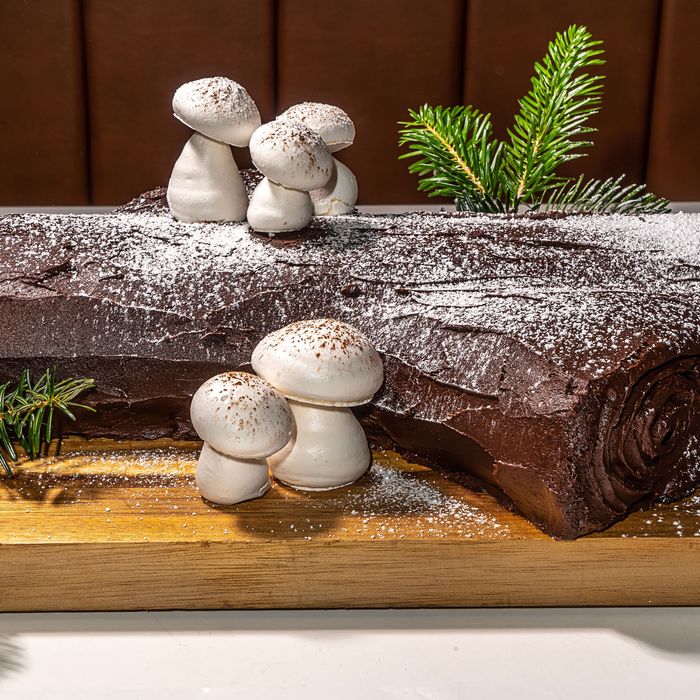 The Bûche de Nöel from MeMe's Diner in Prospect Heights.
Photo: Courtesy of MeMe's Diner
We have officially entered Christmas crunch time and while it's too late to get certain presents, it's an ideal time to pick up food gifts. After all, food is better when it's fresh, so it's not even like you're waiting until the last minute. Luckily for you, Grub has done the hard work and put together some great options for gifts you can eat (sweet and savory alike) that are perfect for dinner at grandma's house or your cousin down in Texas. Here's where to grab the best last-minute food gifts in New York City right now.
MeMe's Diner
This charmingly kitschy spot in Prospect Heights has four stellar options for holiday desserts if you're looking for creative takes on the familiar. There's a devil's food cake brushed with peppermint schnapps and filled and iced with peppermint-marshmallow buttercream frosting; eggnog-and-fruitcake pies; and Bûche de Noël (a.k.a. Yule log), a chocolate sponge cake filled with peppermint-marshmallow buttercream and topped with chocolate buttercream "bark" and meringue toadstools. All orders are pickup only and must be put in 48 hours ahead of time.
Daily Provisions
If you're looking to impress your friends and relatives without turning your kitchen into a baking disaster zone, look no further than this Flatiron bakery and café. For the holidays, you choose between two types of cookies (caramel chocolate chunk, Snickerdoodles, or a mixed box of both) and Daily Prov's take on the Bûche de Noël, which features a ginger sponge, bahibe mousse and eggnog mousse, and guanaja ganache. Cookies are available for immediate pickup all month long while the Bûche de Noël can be ordered now and picked up between December 21 and December 24.
Mah Ze Dahr
The sheer number of options available at this West Village bakery is, frankly, overwhelming. Sure, you've got the usual suspects: cookies and pies. But there's also the $65 "Heaven in a Box" with dark-chocolate brownies, peanut brittle, gingersnaps, shortbread, and chocolate-chip cookies, as well as homemade marshmallows, granola, brioche doughnuts choux, and a massive cheesecake with your choice of a dark-chocolate or graham cracker crust. Go online or call 212-498-9810 to put in your order.
Ovenly
This Brooklyn bakery is one of the few places willing to ship sweets out to your niece in D.C. or your best friend in Minnesota if you put in your order as soon as possible. Among the options is a box of classic holiday cookies (salted chocolate chip and salted peanut butter), a special holiday treats box with minty crinkle cookies and praline pecan bars, gluten-free peanut butter and hot chocolate cookies, and three cakes, which happen to be the absolute best in the city.
Katz's Delicatessen
If you really want to make someone's Christmas, send them food from one of the city's best Jewish delis. Over at Katz's, all online orders over $100 are eligible for two-day shipping, which means you could send your loved ones pastrami, corned beef, and brisket, knishes, babka, bagels, hot dogs, lox, and latkes by December 25 and they will totally forget that you waited until the last minute.
Petee's Pie
Whether you're in Manhattan or Brooklyn, Petee's Pie has you covered. Up until 3 p.m. on Christmas Eve, you can drop by either location and pick up seasonal sweets, including a box of cinnamon rolls; nesselrode, cranberry, and mincemeat pies; and biscuits and cookies. Best of all, they'll even zhuzh it up with a bow for you!
Magnolia Bakery
Even if you think Magnolia Bakery is nothing more than a tourist trap, there's no denying that their baked goods are absolutely delicious. Imagine the smiles you'll put on everyone's faces when you show up on Christmas Day with a box full of their holiday cookies — red-velvet crinkles, iced molasses, gingersnap, etc. — or their heavily decorated holiday cupcakes. Or you can ship a party-sized amount of the bakery's banana pudding, plus the aforementioned cookies and cupcakes. Whatever your decision, prepare for a lot of physical and virtual hugs.
She Wolf Bakery
Bread has always been and will always be the perfect appetizer or predinner snack. Lucky for all of us, She Wolf Bakery will be posted up at the city's many farmers' markets through Christmas Eve selling their impossibly good breads, including sourdough, miche and toasted sesame wheat, sprouted rye, polenta sourdough, baguettes, brioche, and more. Grab a loaf or two (or three), some good butter or cheese, and you're all set.
Breads Bakery
As usual, Breads has gone all out for the holidays with a special Christmas menu packed with sweet and savory treats. On the sweet side, there's a linzer tart, chocolate babka pie, strudel, and a variety of cookies, while those who are more into savory baked goods can grab dinner rolls, two types of challah bread, or a Christmas quiche with brussel sprouts and tomatoes. Pickup is available until 7 p.m. on Christmas Eve. Preorder from the Union Square or Lincoln Center locations here.
Underwest Donuts
Finally, for those who are more into donuts than anything else, head over to Underwest Donuts to cop a box of their special holiday treats, which includes a dark chocolate donut topped with a dark chocolate glaze and red and green chocolate cookie crumbs and chocolate peppermint donuts with a peppermint glaze, white chocolate ganache, peppermint patties, and silver sprinkles. Plus you can order all their other hits like the Car Wash and their S'Mores Donut and a box of coffee if you want to mix it up a bit.