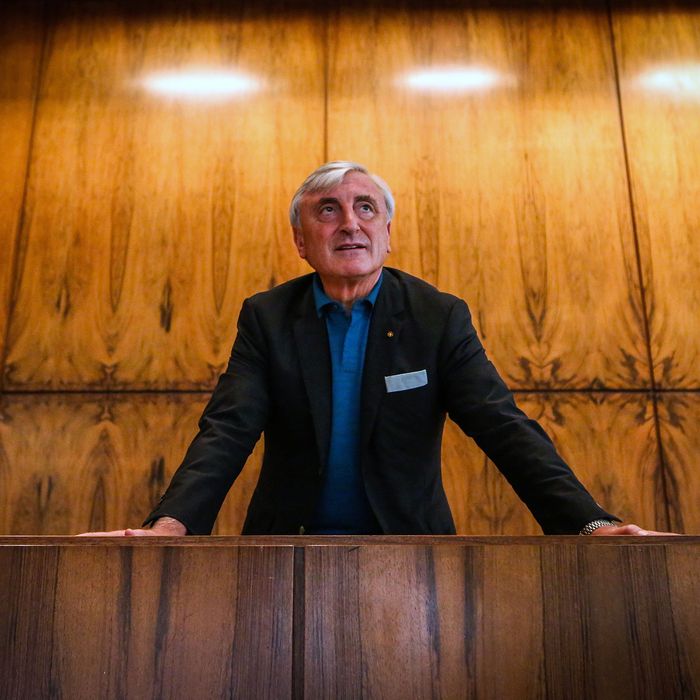 Julian Niccolini.
Photo: Chris Goodney/Bloomberg via Getty Images
Julian Niccolini is no longer involved in the Four Seasons, the highly influential restaurant he has famously been a face of since 1973. The New York Post first reported that he was ousted this morning by his partner Alex von Bidder, four months after the restaurant reopened in its new location. An "insider" wouldn't give the paper the exact reasons for the firing, but says Niccolini "failed to live up to an agreement with other owners to obtain counseling for his past behavior." In a statement shared by a representative, the Four Seasons confirmed that ownership "told Niccolini to resign" because "it had become clear that he had not honored that commitment." It is still to be determined how this will affect Niccolini's financial stake in the restaurant.
That "past behavior" includes pleading guilty to misdemeanor assault in 2016 and the circumstances behind a $4 million sexual-harassment lawsuit filed by a Four Seasons waitress and resolved in 1992. In 2014, a former assistant manager sued Niccolini, von Bidder, and the Four Seasons, alleging that she was fired after returning from maternity leave. The statement also reads that "creating a warm and respectful environment for staff and patrons alike is central to the exceptional fine dining experience" the restaurant is known for.
Over its 57-year history, the Four Seasons has been this country's most important restaurant; it's also synonymous with the power lunch. This month, both New York's Adam Platt and New York Times critic Pete Wells gave the restaurant one-star reviews. Both reviews mentioned Niccolini's past behavior. The restaurant's popularity hasn't appeared to wane, however.
This post has been updated with new information from the Four Seasons.