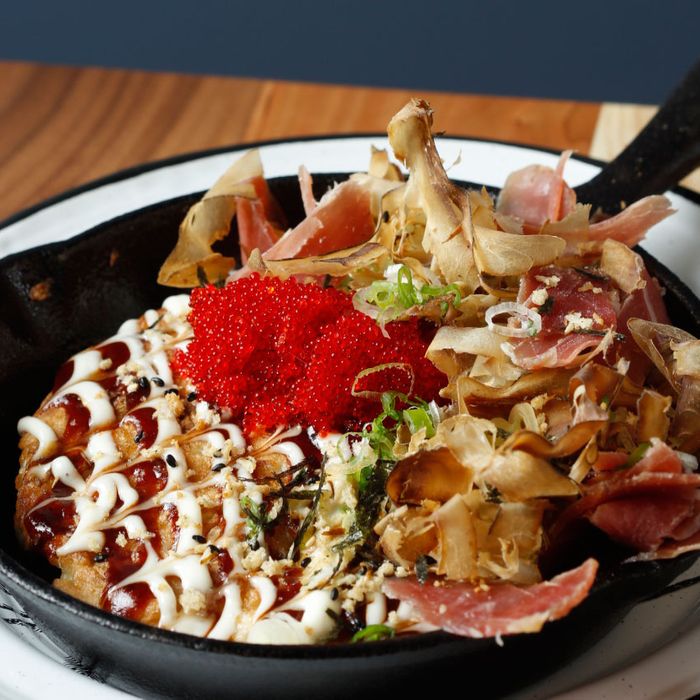 Teo's cast-iron skillet okonomiyaki.
Photo: Melissa Hom
Dave Chang may be the face of Momofuku, but the chef Joaquin Baca was just as important in shaping and sustaining the culinary empire in its earliest years. He was the first and only employee of Noodle Bar when it initially opened, Chang's co-chef and partner, and the person that GQ, in a 2007 profile of Chang, credited with transforming Momofuku Ssäm Bar into one of the company's most consistently interesting restaurants. That same year, Grub called Baca Chang's "criminally underappreciated co-chef." Baca left Momofuku's ramen nest to open his Southern restaurant the Brooklyn Star in 2009, which he ran until closing it earlier this year. While the Star was a return to the Texas-born chef's roots, so, in its own way, is his next act, the izakaya Teo. After a series of the usual delays — "bureaucratic snafu," says Baca — it's on track to open any day now.
When Teo does open, one of New York's best — if not best-known — chefs will be cooking food akin to what he helped create at what has arguably been the city's most influential restaurant of the past two decades. Located in a corner of Bushwick that's buzzing with bars, it isn't a rehash of what Baca was doing at Momofuku. "It's safe to say pretty much anyone's current menu is a mixture of their past experiences," Baca tells Grub. "It's definitely Momofuku in the style of ingredients, but filtered through the experience of doing old-school classic American technique and recipes. I don't think that's to say it's a fusion."
At Teo, Baca uses Japanese influences in unconventional ways, seasoning the cooking with some Southern (including Texan) ingredients, too. Take his cast-iron skillet okonomiyaki, which sounds like the purest synthesis of Baca's varied influences, with its shaved Benton's ham, Duke's mayo, smoked tobiko, and Otafuku sauce. There's Japanese-style fried chicken that's dredged in potato flour and served with togarashi-honey and pickled watermelon, as well as an eggplant katsudon with charred cabbage chow chow, pub mustard, and katsu sauce. For that dish, the eggplant is cooked, Baca says, like an eggplant parm, but without dairy and breaded with rice flour.
The menu is divided into three sections: specialty dishes like the aforementioned okonomiyaki; yakitori; and ramen. Those who like their meats and vegetables grilled can mix and match chicken skin with ranch and Louisiana hot sauce, parsnip and long beans with smoked molasses, and a rabbit riff on the meatball tsukune with carrot barbecue sauce and quail yolk. For the noodles, Baca is starting with a trio of ramen including a confit duck leg in duck broth with pickled fresno peppers and nori, roasted pork shoulder in shoyu broth, and a seaweed and fungus in miso dashi.
Baca also says his menu will be informed by, and change because of, the restaurant's limited footprint and storage space. "The size does put us in a spot where if we run out one day, we'll try something else," Baca says. That said, the format won't change. "We're not going to run a tasting menu. One week it won't be, like, Jewish soul food."
The adage goes that constraints like this tend to breed creativity, but they also result in very tightly edited drinks menus. There's not even space for an actual bartender, so Baca enlisted his old Brooklyn Star bartender Carlos M. Victoria (now of Sunset Botánica) to make batched cocktails like a mezcal Negroni. You can order something basic like a gin and tonic, or from the limited menu of beer (three), wine (four), and liquors (four whiskies, one of everything else).
"I missed — not all the Momofukus, but the very first one," Baca says. "I want to get back to small, first of all."
Teo, 321 Starr St, at Cypress Ave.; 347-627-6156