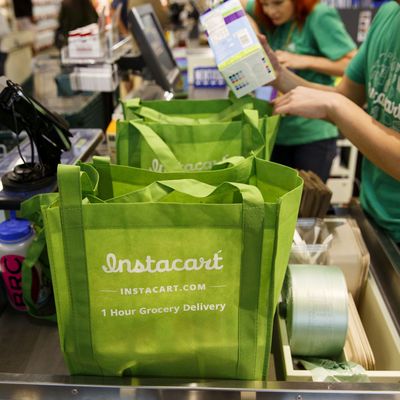 The gig economy strikes again.
Photo: Patrick T. Fallon/Bloomberg via Getty Images
Once again, the gig economy is failing to deliver on the dream of independence and financial stability once promised to the tens of thousands of employees of Uber, Postmates, and, now, Instacart.
The Chicago Tribune has a massive report out today on the trials and tribulations of Instacart shoppers (which is what the company calls its independent contractors), who say that since the company altered its pay structure back in October, they've seen their earnings drop significantly.
Under the new model, workers are paid according to the weight of the items in their orders. In one alarming example, a man who's been with the company for five years says he received just under $21 for delivering 501 cans of soup. Previously, he would have earned $75 for the same order. Accordingly, a small group of shoppers are now trying to convince others to boycott low-paying orders.
So far, they don't seem to have had any significant impact on Instacart's bottom line. In a statement to the Tribune, the San Francisco-based company says the boycott has had "no meaningful impact on delayed customer orders" though they're "committed to looking into every issue that our shoppers raise to better understand how we can improve our features and create the best possible shopper experience."
It looks like most workers, though, are simply turning their backs on the gig economy as a whole. Earlier this year, the Bureau of Labor Statistics reported that the number of independent contractors has dropped nearly 7 percent since 2005.