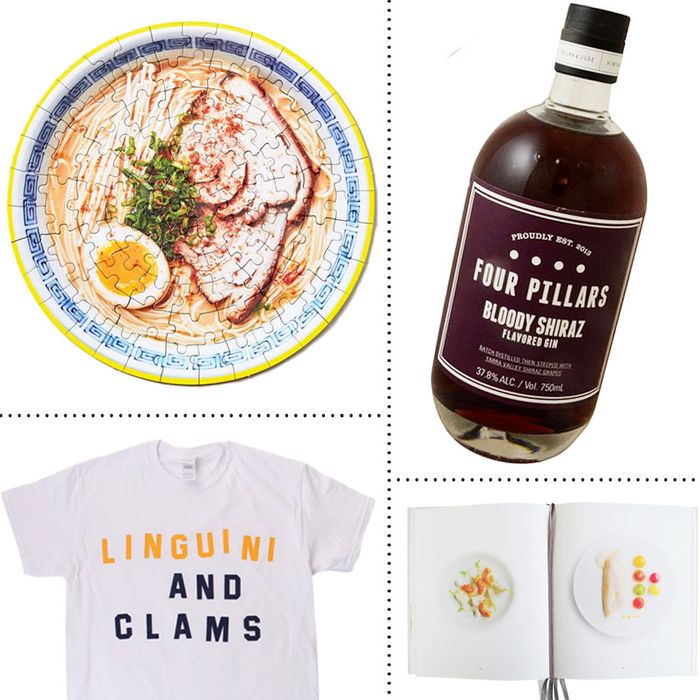 Get shopping.
Photo: Courtey of the vendors
The holidays are here – our editors and contributors have lots of thoughts on the perfect gifts for ramen fans, rosé lovers, coffee fanatics, and plenty more.
I really like highballs. My older brother turned me on to rum and tonics, an old-man classic that's become a new-to-me favorite. So, to thank him, I'm getting him these glasses, which are used by the Hidden Pearl, a great Greenpoint bar with an entire menu section of sharply made highballs. The glasses are sleek and graceful, while highball glasses can often look clunky or inappropriately heavy. I like the gentle slope at the bottom, and I like even more that they're made to accent and amplify the good looks of translucent drinks: the ripple effect in the glass makes a whiskey-soda look gorgeous. — Chris Crowley
Photo: Kendall Mills
What to give the serious ramen lover who enjoys debating the merits of shio versus shoyu? This playful, round tonkotsu jigsaw will keep the ramen vibes alive long after your last noodle is gone. The distinct pleasure of placing the final piece might be second only to scoring a seat at Nakamura without a wait. — Carolyn Murnick
One of my go-to baby gifts is this oversize rosé pillow from Brooklyn-based children's brand Oeuf. Knitted from ultrasoft alpaca wool and produced by a collective of indigenous women in Bolivia, it's plush, huggable, a little bit absurd, and a great way to start teaching junior her varietals. — C.M.
Maybe you've already seen these Katie Kimmel shirts on your favorite food-world cool girls; their charmingly blunt messaging has endeared them to writers, bakers, and Instagrammers alike. To wear one is to declare devotion to a dish outright, and there's no obvious branding to distract from the main message. I'll be gifting the linguini and clams tee to a few members of my pasta-centric Italian family, but shirts are also available in butter noodle, lentil soup, mozzarella sticks, and more. — Madeline Muzzi
Show them you listened.
Gift an Audible membership!
2018 has been a trying year for icons in the food world, so interspersed between my usual boxes of See's peanut brittle and bottles of overpriced brown liquor, I'll be gifting my daughters, and other members of the younger generation, copies of three timeless books by three departed masters — Tony Bourdain's seminal memoir, Kitchen Confidential; Jonathan Gold's great (and only) collection of reviews, Counter Intelligence; and Kenny Shopsin's wonderful disquisition on the the art of short-order cooking, Eat Me, which among many other life lessons, contains the key to cooking the perfect fried egg. — Adam Platt
This year I discovered that at-home fermentation is pretty simple. All you need is a few wide-mouth Ball jars, fermentation lids, and glass weights. You won't find the latter two at your local kitchen supply store (trust me, I looked everywhere), so order them from Amazon. The fermentation lids keep non-beneficial bacteria out of your soon-to-be-sauerkraut but allow gases to escape while the glass weights keep whatever you're fermenting submerged in its own juices. With these combined powers, you'll get picture-perfect fermentation every single time. — Nikita Richardson
This handy bowl is small enough to carry in a tote, but big enough to hold a satisfying amount of food to keep the 4 p.m. munchies at bay. Plus there's a stretchy silicone strap that keeps the lid on real tight so you don't have to worry about spills. All that practical stuff aside, it's really pretty and just begging to class up a sad office lunch. — N.R.
For my friends who have home bars that are already extremely well-stocked, I'm grabbing bottles of this shiraz gin, which has more kick than sloe gin, plus the credibility of a fast-rising artisanal distillery from Australia's Yarra Valley. Four Pillars' Bloody Shiraz gin takes their Rare Dry gin, which uses botanicals both native and exotic to the valley, and steeps it in shiraz grapes for eight weeks, making for a booze delicious either on the rocks or in a cocktail. Not to mention: that burgundy hue is extremely attractive. — Vanita Salisbury
Society's great pivot to reusable straws is on the horizon, and while we're well-versed on the stainless steel, bamboo, silicone, glass, and paper-straw front (the Strategist has some informative guides), what do we do when we have to drink beverages outside of the house? Get your environmentally conscious buds the collapsible, dishwasher-safe FinalStraw, which attaches to a keychain for easy access. It's less than $30, but really, can you put a price on moral superiority? — V.S.
This cookbook is not new, and you will not be able to make any of the recipes unless you've spent a few years working on the line in a Michelin-starred kitchen. And yet: In the years I've owned it, this is the only cookbook that I make a point of flipping through every few weeks. In a world of "easy weeknight cooking" and 15-minute meals, I love that this entire book instead shows exactly how insanely difficult it is to cook this kind of food, and doesn't pretend that most readers might be able to cook it themselves. Also: the photography by Michaël Roulier is truly spectacular. True to the book's title, everything is presented on plain white china, putting the focus squarely on Pic's hyperprecise recipes (wild abalone with white asparagus and artichoke, for example; or a "tart" of vegetable ribbons and parmesan sauce on lavender shortbread).
The book looks, and feels, like one of those $200 testaments to the genius of a world-class chef. Yet, perhaps owing to Pic's relative obscurity in the States, it only costs around $30 for this particular testament to the genius of this particular world-class chef — and as far as I'm concerned, it's a must-have addition to any kind of cookbook collection. — Alan Sytsma
There are few phrases I find more loathsome than "pour-over coffee," which somehow makes the most basic, straightforward method of brewing coffee sound hopelessly pretentious. It's water and coffee and a paper filter! But if you make it every morning — and don't mind a little bit of manual labor to start the day — it really is the cleanest, brightest coffee imaginable. So, for my chef friends who can't sit still and seem to be in constant need of something to do, I'm going to give the gift of a Chemex coffee maker, which I know costs a little more than other "pour-over systems" (yuck), but which gets the nod in my book because the extra-thick filters make coffee that's especially pleasing, and the larger size means you aren't forced to brew individual cups of coffee, which even I will admit does seem fairly pretentious. And also, let's not pretend: These carafes just look really handsome sitting on your counter. — A.S.
If you buy something through our links, New York may earn an affiliate commission.