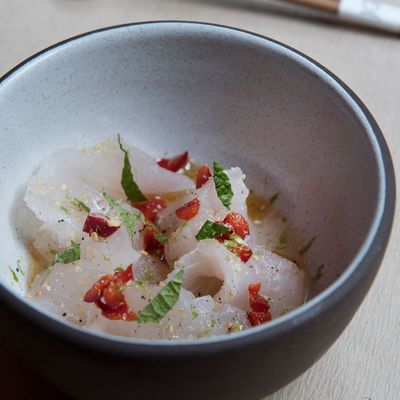 New York is awash in a sea of fluke crudo.
Photo: Liz Clayman
How did fluke crudo become the tuna tartare of the modern restaurant world? It's an otherwise-innocuous appetizer that now threatens to take over every restaurant in New York. The light, fresh, easy-to-prepare dish is so versatile that it fits in at almost any restaurant; is harmless enough to ensure that nobody's unhappy about eating it; and has become so mind-numbingly boring that it now actually angers me to see it on menus.
"I'm not against fluke — I grew up eating it — but now that you see it so much, I'm completely opposed to having it," says Victoria Blamey, who was the chef at Chumley's and currently runs the kitchen at Il Buco Alimentari. Now, she says, it seems so boring that her eyes glaze right over it on restaurant menus. "I haven't in a very, very long time. Maybe, God, four years?"
Does the world have more important problems to worry about right now? Of course. Do those problems make fluke crudo seem any less insipid? They do not. To say that fluke crudo is available "everywhere" is not exaggeration or hyperbole. Loring Place (with citrus, chilies, and radishes); Scampi (with Robiolina cheese, trout roe, and crispy shallot); Legacy Records (with green coriander cherry, chile); JoJo (with crushed green olives, lemon, olive oil, and chili) and its sister restaurant Public Kitchen (pickled cherry peppers, sea salt, and sesame); the Four Seasons (with watermelon radish and seaweed vinaigrette); Upland (tequila, cilantro, and key lime); Oxomoco (grilled avocado-basil salsa, toasted amaranth, and lime leaf); Autre Kyo Ya (salmon roe, seaweed chips, pomelo, and lemon vinaigrette); and Sauvage (kumquat, radish, Thai lime).
Our restaurant critic, Adam Platt, says he faces down the dish on a far-too-frequent basis: "If you're subject to it night after night after night, it's possible, really, that it will make you insane." And yet, he says, even though he spies it on so many menus, it's almost never memorable: "In what restaurant do you get great flourish of fluke creativity? I don't know. They all blend into one."
Alas, there was a time and place when fluke crudo did seem exciting: When it first appeared on the menu at Dave Pasternack's midtown seafood spot, Esca, which took the idea of "crudo" — raw fish given a very light, vaguely Italian preparation — and turned it into a citywide phenomenon. Pasternack's kitchen was masterful in the way it used simple ingredients to highlight the finest qualities of often-overlooked local seafood, like bluefish and — yes — fluke. In 2000, then–Times critic William Grimes called Esca's crudi "the freshest, most exciting thing to happen to Italian food in recent memory." Two years later, Steve Cuozzo of the New York Post wrote, perhaps a bit too evocatively, that the "divine creations … all but quiver on the tongue." A 2005 New Yorker piece on Pasternack charts crudo's eventual spread to "Cleveland, Denver, and St. Louis." Fluke crudo spread throughout New York, popping up in new dining rooms, like, for example, those run by the prolific restaurateur Michael White, who had made it something of a personal calling card by the time he opened Ai Fiori in 2010. As recently as 2015, Hamptons Magazine called White's fluke crudo "the epitome of the summer."
It's easy to see the appeal: The fish is plentiful and affordable, any dish that amounts to mixing a few pre-prepped raw ingredients in a bowl and placing them on a plate is a major boon for harried kitchen staffers, and the dish — inoffensive, vaguely healthy — is guaranteed to move product. "Crudo dishes are always an easy sell," says chef Diego Moya, who until recently ran the ambitious Lower East Side restaurant Hemlock. "It was our best cold-protein sale, behind the ubiquitous tartare offer." The problem is that, when chefs run the dish as an afterthought, they don't necessarily worry about making it great. "They don't really capture the best qualities of fluke," Moya says. "They see it as an easy, bland bite to create dishes around."
The problem is that real estate in New York kitchens, and on the city's restaurant menus, is tight, so every time a chef devotes time and energy to making a so-so seafood crudo, she or he misses a chance to offer something — anything — that's more exciting. Suddenly, the menus blur together and a sameness permeates New York restaurants. "It's something for chefs and restaurants to grab at a time when there's not much to grab at," Platt told me when I asked him about the scourge of fluke crudo facing the city. "It's this sad little poster child," he said, "for this gourmet-challenged era."