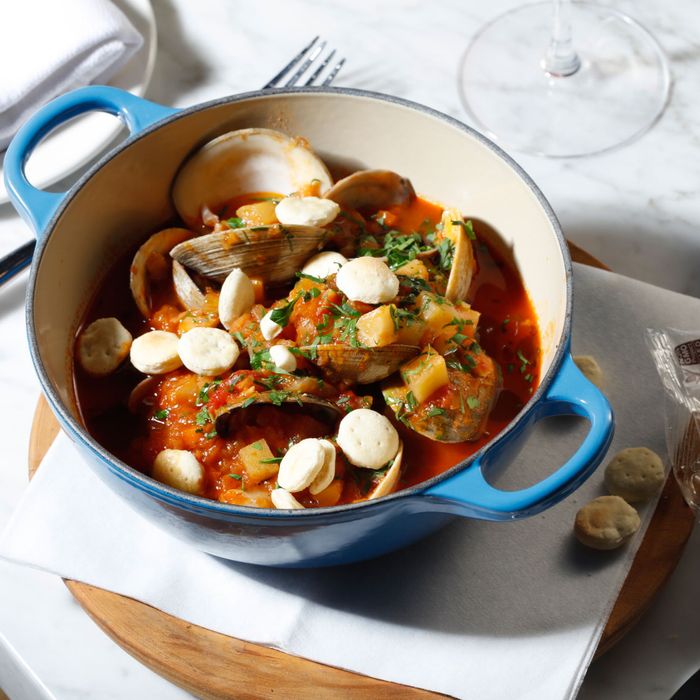 The "traditional" clam chowder.
Photo: Melissa Hom
Through his midtown restaurant Esca, Dave Pasternack has had a major influence on the way New Yorkers eat seafood. He's the reason every restaurant this side of the Hudson offers crudo, the questionably Italian raw seafood dish that has become one of 21st-century New York's essential dishes. (Yes, including fluke.) A dedicated fisherman, he's espoused the virtues of local seafood, like bluefish, filtered through Italian cuisine. Pasternack also hasn't strayed far from his home base of 16 years, having opened only one other restaurant (the short-lived Barchetta) — until now. The chef is a partner at the waterfront restaurant Barca, which soft-opens today in the Staten Island Urby.
"We met through a mutual friend in the fish business. It's all about the fish," Pasternack said when asked how he got into business with his partner Vic Rallo, the New Jersey restaurateur who is also behind the nearby Surf. Staten Island boasts some top-notch pizzerias and the city's best collection of Sri Lankan restaurants, but Pasternack is easily the biggest outside name to open a new restaurant in the borough in, arguably, forever. That name won't just be on the awning. "Oh, 100 percent involved," the chef says of his involvement. To run the kitchen as executive chef, Pasternack and Rallo brought on Katie O'Donnell, who worked at Esca for seven years. The three share a love of seafood. "On her days off she's going fishing" says Rallo. "Me, I go out and kind of fish, always bring a nice bottle of wine, and usually don't bring back much."
Anyone who has spent a sunny day on, say, Midland Beach, or another of Staten Island's surprisingly great beaches, knows that its eastern shore has excellent vistas onto the city. So while winter isn't exactly waterfront restaurant season, it's worth noting that Barca features unencumbered views of Brooklyn, the Verrazzano Bridge, and lower Manhattan. (Not to mention the ships passing through.) Excellent waterfront restaurants are surprisingly rare in this city, despite all the water around. Often, it seems like restaurants use the prime real estate in lieu of great food — it can feel as if the two things are mutually exclusive. Pasternack, Rallo, and O'Donnell would like to change that, at least on one waterfront.
Barca is not meant to be a clone of Esca: it's a bit more accessible in flavor if not in price. That means more meat, but the menu is still about three-quarters seafood. It's divided into five main sections, along with sides and raw bar selections. One of these is, of course, crudo, like "two-minute ceviche" razor clams and pink snapper with black lava salt. You might want to start a meal with an autumn vegetable and sheep's milk ricotta salad, or antipasti like salt-cod arancini and Dave's zuppa di vongole, a.k.a. clam chowder.
There are house-made pastas, like your usual linguine with clams, orecchiette with house sausage and garlic, and spaghetti all'Aragosta with spicy tomato, mint, and Maine lobster. The secondi include pesce spada, or swordfish Milanese, or if you're not feeling so fishy, pork chop cooked like chicken Scarpariello with its white wine and hot cherry peppers.
A good waterfront restaurant is a place for occasions, and this one has a 150-bottle wine list that emphasizes Italian producers. They'll serve a handful of beers like Six Point Crisp, with five cocktails including a Margarita Italiano with elderflower and blood orange and a Martino Bergamotto with Rosilio di Bergamotto, Nardini acqua di Cedro, and prosecco.
"Where do you find restaurants on the water? You're looking at Brooklyn or Jersey City. You're not looking at Manhattan," says Vito. "It's pretty cool, you see Coney Island, the Statue of Liberty, on a clear day you can see all the way up to the George Washington Bridge."
Barca, 44 Navy Pier Ct., nr. Front St.; 718-556-9300