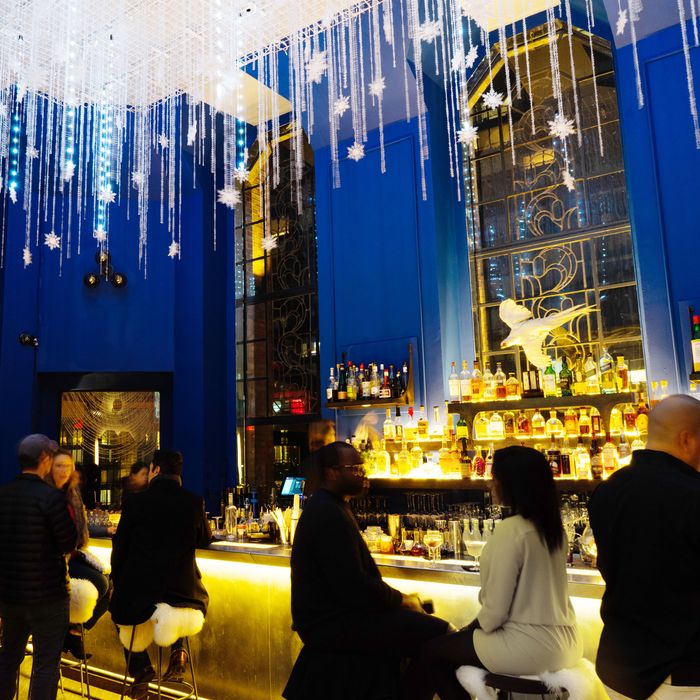 New bar and restaurant Ophelia will be decorated to the nines.
Photo: Sophie Fabbri
The city knows how to celebrate the start of a new year in style — revelers can chat over expensive wines in the East Village, dine at the city's best restaurants, or feast on fried chicken and Champagne until the wee hours. If you're the type to wait until the last minute to grab a spot to ring in the New Year, worry not: Grub has you covered. Here are some Grub-approved suggestions for where you might want to go this December 31.
Agern
On New Year's Eve, Noma co-founder Claus Meyer is inviting New Yorkers to celebrate like the Scandinavians, albeit in a very classy way. On December 31, Agern will mark the occasion with a $225 tasting menu (plus $145 or $195 for wine and reserve wine pairings, respectively). Among the bites will be mackerel with herby nasturtium flowers and turnips, venison with coffee and endive, and persimmons plated with ginger, skyr, and pine nut. (There's also a $195 vegetarian menu.) Seatings are scheduled for 5:30 p.m., 6 p.m., 8 p.m., and 8:30 p.m. Reserve your table here.
Bar Sardine, Fairfax, Fedora, Jeffrey's Grocery, and Joseph Leonard
Those looking for a low-key, but still celebratory NYE can stop by any of Gabe Stulman's West Village restaurants to enjoy an à la carte menu plus a complimentary midnight Champagne toast. (There's still plenty of seating at Bar Sardine, but you'll want to pull the trigger on the other restaurants as soon as possible.) All night long, the Alex Simon Gypsy Band with move from restaurant to restaurant playing live music, so expect a good amount of dancing.
Bernie's
This comfort-food spot on the border of Greenpoint and Williamsburg will host two New Year's Eve seatings featuring a four-course, prix fixe menu. Among the options: chips and dip with caviar, chilled seafood platters, and a surf and turf entrée. The first seating is going for $75 per person, while the second is $98 per person. Make a reservation here via Tock.
Blanca
New Year's Eve is a great excuse to spend an entire night at one restaurant, and there are plenty to choose from. But if you want to go all out (without going to Manhattan), chef Carlo Mirarchi of Roberta's and the Michelin-starred Blanca will be serving a $500 tasting menu with special wine pairings at 5 p.m. and 8 p.m. on New Year's Eve. It won't be cheap, but it'll certainly be unforgettable. Grab your seat at the tasting counter here.
Boulud Sud
There's nothing fancy French restaurants love more than a good celebration. Accordingly, Daniel Boulud's excellent Mediterranean-leaning Boulud Sud will have two prix fixe seatings on New Year's Eve. For the pretheater crowd, there will be a $115 three-course menu featuring octopus à la plancha, Moroccan chicken tagine, lemon saffron linguini, and more from 5 p.m. to 7 p.m. For the second prix fixe seating, priced at $225 per person, the kitchen will turn out more French- and Italian-leaning fare, including lobster bisque, chestnut agnolotti, and wagyu beef tenderloin. Book your table via OpenTable here.
Brooklyn Cider House
Over in Bushwick, the folks at Brooklyn Cider House will be partying like the Spanish with a five-course menu and a whole lot of cider catching. For $69, enjoy a striped bass ceviche, arroz con almejas (clams), and grilled rib-eye or red snapper. If you just want to drink, $25 will get you unlimited cider catching from 10 p.m. to just after midnight. Call 347-295-0308 to make a reservation or head to OpenTable.
Bubby's
Should you find yourself in the Meatpacking District or Tribeca, comfort-food mecca Bubby's is hosting its first-ever fried chicken and Champagne New Year's Eve dinner at both locations. For an hour and a half, you can enjoy buttermilk biscuits with homemade seasonal jam, coleslaw, buckets of fried chicken, and a choice of pie with unlimited Champagne. Reservations aren't required but are strongly encouraged.
Cervo's and Hart's
These sister restaurants are each hosting its own NYE dinners to mark the New Year. In Brooklyn, Hart's will have $75 four-course set menu featuring shrimp cocktail, latkes with Maine uni, poached halibut in a crab broth, and its beloved lamb burger. On the Lower East Side, Cervo's is going à la carte plus a few specials, including squid-ink empanadas, sardines à la plancha, and a steak for two. There are still a few spots left on the early side between 5 p.m. and 6:30 p.m. Book both spots on Resy.
Empellón
This Midtown hot spot is serving both an à la carte option (from 5 p.m. to 7:30 p.m.) and a $125 prix fixe dinner featuring scallop ceviche, skirt steak with Persian onion salad, sticky rice tamal alongside red chile duck, and a spate of world-class desserts from chef-owner Alex Stupak. All guests (over 21) will receive a welcome margarita and there'll of course be a midnight toast to the Año Nuevo. Reservations are available here.
Gibson & Luce and Henry
After the food and drinks, the most noticeable thing about J.J. Johnson's Henry is the music, which is almost all hip-hop and R&B. So it's no surprise that for New Year's Eve both Henry and downstairs bar Gibson & Luce plan to party like it's 1999. At Henry, there'll be a three-course menu featuring pork and shrimp dumplings, housemade roti, and uni rice, while downstairs there'll be an open bar. Both are priced at $99. Make reservations or purchase tickets here.
Grimm Artisanal Ales
Out in East Williamsburg, the folks behind Grimm Artisanal Ales are calling all beer nerds to come by and not only drink their own brews but to help kill kegs from a handful of Hudson Valley breweries, including Suarez Family, Equilibrium, Hudson Valley, and Plan Bee. Samesa will be on hand with shawarma taco bar and other food, and at midnight the brewery will release Purple Prose, a new wild ale featuring black currants and raspberries, right after a natural wine toast. Buy $125 tickets here.
Holy Ground
This combination speakeasy-restaurant has put together a $125 prix fixe dinner with an optional $50 wine pairing to celebrate the New Year. The theme of the black-tie evening will be the Roaring '20s so expect lots of Sidecars and French 75s as well as jazzy tunes from the Holy Underground Trio. Seatings are at 6:30 p.m. and 9:30 p.m., make reservations here.
Leonelli Taberna
This year, one of New York's finest Italian chefs returned with not one, not two, but three new restaurants, all located in the Evelyn Hotel. The first of these, Leonelli Taberna, will mark New Year's Eve with a very low-key but ultimately delicious night of regular dining with a few decadent specials thrown in. Best of all, every table will get a bottle of Prosecco with the order of an entrée, so you can have your bubbly and drink it, too. Make reservations here.
Little Tong Noodle Shop
Chef Simone Tong is pulling out all the stops for New Year's Eve with two seatings that will showcase her delectable Yunnanese fare. From 6 p.m. to 8:30 p.m., there will be a more staid $96 Dynasty Dinner, featuring a seven-course tasting menu, while at 9:30 p.m., the restaurant will ring in the Year of the Pig with a $108 Emperor's Party, featuring bites, beer, wine, sake, a DJ, and a Champagne toast at midnight.
Loosie's Kitchen and Café
If you're a price-conscious reveler, you can't do much better than the deal going down at Williamsburg's Loosie's (short of just staying home all night). For $60 per person, chef Henry Lu is whipping up a five-course, prix fixe tasting menu featuring focaccia with garlic and herb ghee butter; winter squash with smoked Asian pear salsa, celery root purée, and mustard greens; and a hefty pork loin with jus carrot purée and shishito peppers. Make a reservation here and then stick around for a dance party that'll kick off at 11:30 p.m.
Mekki
On New Year's Eve, this new Middle Eastern restaurant will host an $80 four-course Moroccan feast featuring traditional salads and appetizers (kefta robat, anyone?) as well as a selection of tangines like fish agadir (red snapper with tomato chermoula, curcum, and lemon verbena). To end the night, guests are welcome to dig into a platter of Moroccan cookies and Layla Pastylla, a filo-dough pastry topped with creme anglaise and roasted pistachios. Make reservations here.
Mimi
If NYE is also doubling as a date night, you can't do much better than the cozy, intimate setting that is French bistro Mimi. To celebrate the night, the 18-seat restaurant is serving a $125 prix fixe menu (plus $75 for optional wine pairings), featuring seared foie gras on brioche toast, spaghetti squash in black pepper beurre blanc, grilled and butter poached turbot in saffron dashi, and a crème fraîche glacée to close out the meal. Book a table here.
Miss Ada
Usually, this hip Israeli-Mediterranean spot in Fort Greene is closed on Mondays, but it's making a rare exception for New Year's Eve. On December 31, drop by for one of three seatings (5:30 p.m., 8 p.m., or 10:15 p.m.), featuring an $85 prix fixe dinner or the same dinner with wine pairings for $125. Grab a reservation here.
Nur
Those who feel that Middle Eastern fare is just the ticket for NYE will want to book a table at Nur. Starting at 5 p.m., the restaurant will serve a $125 prix fixe menu featuring everything from its stellar kubaneh (a Yemeni pepper sauce with grated tomato) to a foie-gras parfait with citrus and rosewater gelée, fennel-blossom garnish, and challah toast. Book a table via Resy here.
Ophelia
If you want to celebrate your New Year's in true style, head to Ophelia, the newish, sky-high bar and restaurant in the historic Beekman Tower in Midtown East. Not only is the space decorated to the nines, but for $125, attendees will enjoy music, specialty cocktails, passed bites and desserts, and the requisite Champagne toast. Buy tickets here.
Other Half Brewing
Not unlike Grimm, Gowanus-based brewery Other Half is hosting a beer-centric New Year's Eve party for the ages. For $150, attendees can enjoy an open bar, guest brews from Monkish, Suarez Family, and Holy Mountain, food catered by North Brooklyn Farms plus oysters from Island Creek Oysters, and mountains of Ample Hills ice cream. For music there'll be both a live band and a DJ. Grab tickets here.
Pinch Chinese
This year, dumpling shop Pinch Chinese is throwing a blowout party with a five-hour open bar (starting at 9 p.m.), a DJ, and passed hors d'oeuvres, including kung pao tiger shrimp, Taiwanese fried chicken skewers, dan dan noodles, and spicy pork wonton, with tickets at $100. But if you want to throw even more food into the mix, the restaurant is seating three tables of four for $1,000, where revelers can enjoy dinner with unlimited food all night long, plus bottle service. Tickets, including $30 post-midnight admission, are available here.
The Polynesian
If you're against being fenced in like so many human cattle while waiting for the ball to drop, but still want to get a look at Times Square on New Year's Eve, rooftop tiki bar the Polynesian is your next best bet. The over-the-top bar is, unsurprisingly, hosting an over-the-top party replete with a four-hour open bar, a pig roast, a luau buffet, and live hula dancing. (In fact, luau attire is "encourage," so dust off your Hawaiian shirt.) Purchase $125 tickets here.
Red Rooster and Ginny's Supper Club
Up in Harlem, Marcus Samuelsson's Red Rooster and Ginny's Supper Club are combining forces for a night of drinking, eating, and carousing. Red Rooster will serve $75 four-course and $95 five-course tasting menus featuring jerk branzino, roasted scallops with caviar beurre blanc, and more, and three DJs will be on hand to get people moving in their seats. Book a table here.
Ruffian Wine Bar
This East Village wine spot is celebrating twice over on New Year's because not only is it ringing in 2019, but it also happens to be Ruffian's third anniversary. To mark the occasion, the bar will have three intimate seatings at 5 p.m., 7:30 p.m., 10 p.m. with the number of courses (starting with three) going up with each gathering. Reservations can be made on the Ruffian website.
Sleyenda at Leyenda
Since the end of November, Brooklyn restaurant Leyenda has been home to Sleyenda, a charity-minded holiday pop-up bar. NYE marks the pop-up's last night in business, and to mark the occasion, the bar is going over the top with decorations (think boot-shaped mugs and a lot of tinsel), four specialty cocktails, and plenty of empanadas, enchiladas, tacos, and arepas to go around. Admission is free and, best of all, $1 from every specialty cocktail sold will go toward supporting Global Fund for Women, New York Women's Foundation, Outsmart NYC, and Me Too Movement.
Slowly Shirley
If you're looking for a more retro NYE, grab a table at cocktail bar Slowly Shirley, which is celebrating with a Piano Party. Starting at 10 p.m., well-dressed revelers are invited to spend the night sipping cocktails from an open bar (including one of the city's best martinis) while passing around plates of small bites to keep the munchies at bay. To get your $150 tickets, shoot an email to reservations@slowlyshirley.com.
Stay Gold
What was the best part of your grandparents' New Year's party? Probably the punch. Upscale cocktail bar Stay Gold (from the team behind the Up & Up) thinks so, too, and on New Year's Eve, the bar is hosting a Punch Party featuring several bowls of specialty punches all night long. For $10, anyone can attend, but if you want unlimited punch all night long, $99 will get you an all-punch-pass plus two tickets for cocktails. At the end of the night, all guests will get a book featuring recipes for the night's punches so you can make some for your own NYE shindig in 50 years.
Westlight at the William Vale
For people who love rooftops regardless of the season, you don't do much better than Westlight at the William Vale, which boasts 360-degree views of Manhattan, Brooklyn, and Queens (making it the absolute best rooftop in the city). On New Year's Eve, the hotel bar will have an open bar starting at 9 p.m., specialty cocktails, platter after platter of canapes, and live music. And, of course, glasses of Champagne will go around shortly before midnight. Grab tickets here.