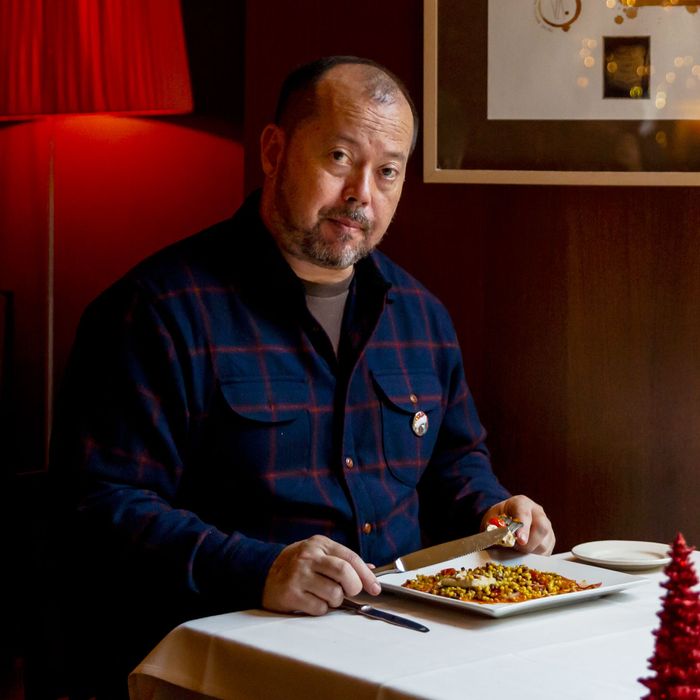 At ViceVersa, where Chee can "imagine a sequel to 
The Birdcage
 perhaps beginning."
Photo: Mark Abramson
The author and novelist Alexander Chee grew up in spots like South Korea, Guam, and Maine — and the geographical variety helped shape the way he thinks about food to this day. "Food is very sentimental to me, because the way that I eat is almost always about remembering the places I've been as much as what I'm hungry for," he says. And he seemed to be in a particularly sentimental mood after spending so much time on the road for his latest book, How to Write an Autobiographical Novel. (Our friends at Vulture named it one of the year's ten best books.) This week, Chee took advantage of his downtime to drink with friends in Tribeca, graze at Flushing's New World Mall, and to workshop his martini skills. Read all about in this week's Grub Street Diet.
Thursday, December 13
I'm obsessed with breakfast sandwiches, and I make them pretty regularly. I had a new loaf of a bread I love, from Le Pain Quotidien. It's whole-grain and gluten-free with seeds on the top, and the closest I've had to the incredible, richly flavored German breads I miss from when I was in Leipzig. I carved off two slices, toasted them in the oven and scrambled some eggs and cheddar to put on top. I drizzled a little sriracha for good measure.
I prepared for my trip to my accountant's office in Chelsea, and after a few hours of examining my life's choices and wishing everything were different, I needed lunch. I selected Grand Sichuan International, famous in these parts for their dan dan noodles and dumplings, but I ordered the shredded tofu and pork lunch special with hot and sour soup, still a magical $7.95 — a consoling deal after sobbing over my taxes.
After an hour of more regrets over life choices at my chiropractor, I grabbed a consoling cappuccino at Madman Espresso, where I noticed they had the coffee beans I needed — we had just run out.
Back home, I prepared for an event at the Asian American Writers' Workshop honoring Samuel Park's posthumous masterpiece, The Caregiver. Sam was the second Korean-American gay novelist, and I am the first, so I convened a gathering of Asian American and queer writers to read from the novel and discuss it. I heated up soup from earlier this week, a root vegetable puree with some sage and red pepper flakes for heat and then left for the AAWW, where I was greeted by my chosen team for the event. Afterward, a few of us went for Korean food at Cho Dang Gol. Daniel K. Issac, who read that night, led us in a toast for Sam with some soju before we truly feasted.
If you've never been, Cho Dang Gol is known for making homemade tofu, daily, and they bring everyone a complimentary dish of it. It's great if you love soondubu, but you should feel free to indulge widely across the menu. We loved everything we ordered: bo ssam, bulgogi jeongol with rice cakes and udon noodles, a mushroom pajeon, and a perilla seed and tofu stew, which was a revelation. I'd never had anything like it.
We talked about how it was makgeolli drinking weather and the filmmaker Patrick G. Lee told stories about this ajumma at a food stand near the gay bars in Itaewon, also known as Homo Hill, and the tangy white tteokbokki she makes. I thought about how much Sam would have loved to have been with us, and how bittersweet it was that remembering him was the occasion for this, and I hope he felt the love and honor, somehow.
After, I made my way back across the hellscape that is midtown on a Thursday to Hell's Kitchen, and managed to get back in time for a nightcap with my husband: a vodka martini on the rocks with a twist and a splash of rhubarb bitters. It's honestly more of a summer drink, but it was what I wanted. We watched The Great British Baking Show and marveled at the biscuit disasters before going to bed.
Friday, December 14
I often do this thing where I'll buy a one-off box of farm share vegetables from FoodKick to force myself to eat a lot of vegetables, because left to our own devices, my husband and I will basically just eat meat and starches. This morning I made a fast veggie breakfast hash of brussels sprouts and potatoes with garlic, onion, and red pepper flakes, and I fried an egg and put it on top with, yes, a theme — sriracha. I drank some of that fine coffee from Madman Espresso.
I then headed for an 11 a.m. reading of my essay "The Rosary" for a Financial Times podcast. I was delighted, but I admit it was intense to read the entire essay. Luckily the Pearson people have some fine coffee in their offices, and I made it through the taping alive.
Once out on the street, I made my way to Westville Hudson and ate a decent, basic grilled salmon salad while I edited an essay. Westville was hopping, I have to say, on a Friday afternoon, and God love the people who were already ordering Bloody Marys. I will definitely remember this restaurant, which is apparently part of a chain around the city.
I hopped on the M20 bus uptown and arrived home in time to do some work before I headed back out to Primo's to meet up with my friends Isaac Fitzgerald, Dan Saltzstein, and Jason Diamond, for this regular drinks meet-up we have called Beardos (self-named because … we all have or have had beards and drink — Dan sported a mustache this time). These men are my chosen straight bears, and Dan and Jason know food and drink in this town better than anyone so it is always great. One time we saw Rosie Schaap, at her shift at South in Brooklyn, and sometimes we have a guest star like Jami Attenberg, who showed up this time.
I was happy to see a new favorite drink of mine on the menu, the Old Pal, which is rye, dry vermouth, and Campari, with an orange twist — a sort of twist on the Negroni. We ordered some food, and I threw in a shrimp cocktail impulsively, at which point Jami told us about her grandmother, who used to order two shrimp cocktails, a martini, and a chocolate dessert for her dinners. We toasted to her memory, and stayed for several rounds.
We left around 10 p.m., and I still needed dinner, and wanted sushi. I went, on the advice of Jason, to Blue Ribbon Sushi, where I hadn't been in years. My friends had noticed I seemed exhausted instead of celebratory. "Treat yourself," Jason said, and so I decided I would. From the moment I entered, I knew I was right to go. It was such a pleasure to go down the stairs again, and to be greeted by a maître d' who looked like a leading man from a 1960s-era Japanese New Wave film. I was seated at the bar, and decided to go with the omakase. My waiter explained that theirs was a little different from others — a single plate of sashimi first, then a single plate of sushi. But what explained itself was the visual storytelling on the plates: A fish's head, spine, and tail were curled around a spear to make a background to the sashimi first course, and then this returned fried, with a dipping sauce, to be a sort of final, third-course crispy treat. "You can eat everything," he said, almost a dare, and while I didn't get to the eyes, I did my best.
Afterward, unable to hail a cab, and unwilling to engage in the overcharging that counts for a "surge pricing" shared ride, I got on an Eighth Avenue uptown bus for a beautiful ride home in the rainy dark. An empty bus for 40 blocks may be one of the few real luxuries left in a city so crowded. After I got off, I wanted something sweet and so I bought a container of chopped pineapple at my corner deli and went upstairs to enjoy it before bed.
Saturday, December 15
This was perhaps my busiest day of the week, with two events I'd agreed to take part in: Housing Works bookstore's "What the Dickens?" A Christmas Carol reading, my favorite annual holiday event, and the launch of The Velocity of Being, a volume of letters to young readers, at the New York Public Library.
I had no time for my usual complicated breakfast, so I just made some coffee and had a piece of the Pain Quotidien bread toasted with peanut butter and blueberry jam before making my way to Housing Works bookstore. The store has been there through so much of my life in New York, it is itself like an old friend. This annual reading of A Christmas Carol has become the closest thing I have to a ritual.
Afterward, Jami and I went off to get a quick lunch. Jami had hopes of going to Great N.Y. Noodle Town and honestly, we should have — you were right, Jami! Instead, because we had lingered to listen and I had my second event, we went to a Cuban restaurant nearby that had once been very good but seemed to have a new, less-good, kitchen. I won't name them in case it was just an off day, but I was surprised to find huevos rancheros on the menu — I don't think of it as Cuban? — which I ordered, along with the grilled corn I remembered as being good and a Mexican hot chocolate. Jami ordered the once-famous Cuban sandwich there. I took a few flavorless bites of eggs and asked for cotija to just shake all over my dish, and Jami abandoned her sandwich. The corn was at least good, and the waitress was amusing. She danced through the whole lunch and it might have been the only time I ever felt that was worth it because it cheered me up. Still, the kitchen shouldn't put that kind of pressure on the waitstaff.
I made it just barely in time for my evening event. While I listened to fellow readers, I sustained myself on green-room chocolate and alternated Pellegrino with prosecco.
I left and stepped on a train to Park Slope, for the holiday party of my old friends, Kera Bolonik and her wife, Meredith Claire. I made my way through the buffet's assortment of cheeses and salumi to the holiday baked ham, feathered into perfect slices, before arriving at a roasted vegetable platter and a buttery, perfect paté. Meredith had made a pitcher of Manhattans, which I set myself up with, before inventing a gin cocktail with a Spanish gin called Wint and Lila. It was a sort of mixed-up Martinez, with dry vermouth as well as sweet, and a dash of the Peychaud's bitters instead of orange bitters, and a lemon twist, but I liked it so much I made at least two before all was said and done. Meredith noticed and approved after a sip. "I'm on a journey," I said, and she said, "It needs a name," and well, "The Journey" isn't the most auspicious name but maybe "The Pilgrim" is better. In any case I was entirely calm when I was introduced to Molly Ringwald, and didn't get around to mentioning how my first-year dorm room was a shrine made of her Interview magazine photo shoot.
Sunday, December 16
I only had coffee this morning as I had, many weeks ago, planned to have brunch with my friend, the writer and editor Vivian Lee. Our destination, selected by her, was the food court of the New World Mall in Flushing.
We met by the entrance, determined to tour the storefronts before settling on our menu. So much was on offer, we decided to eat in several courses, until we got full. Vivian in particular was drawn to the Chinese-Korean dumpling shop, and I to a rice noodles joint, and so I ordered spicy beef rice noodles, which came with a bay leaf tucked into the corner, and she ordered the fried dumplings with kimchi, and we each shared and observed what other people around us were getting.
One dish we were interested in came down at the table next to us, and, curious, we asked about it — our new friend was not impressed, so we dropped it from our list. Instead we went for an order of tteokbokki rice cakes from a shop with a charmingly cocky saleswoman who was not at all worried that we wouldn't come back and order her rice cakes. We made a break for caffeine, settling on two of Gong Cha's mysteriously named "Mustache series" drinks: green milk foam tea with herbal jelly for me, and the Earl Gray milk foam with boba for Vivian. Finally less hungry, we split an order of a tangy minced pork with vegetables from No. 10 Xiang Ba La. For dessert, we had a chocolate milkshake and a Hong Kong-style egg waffle. Vivian noticed her bob resembled a takoyaki octopus drawing and so we posed her in photos that I will probably keep forever.
We then toured JMart in an attempt to walk off our meal, even perusing the ceramics exhibit. After a long, slow train ride back to Hell's Kitchen, I was sure I'd never eat again that day, but near bedtime, I broke down for some rice crackers and a few slices of cheddar.
Monday, December 17
I outsourced my breakfast to my corner deli, which has a satisfying American cheese omelette with tomatoes and potatoes that I indulge in a few times a year when I need of someone to take care of me at that early hour.
For lunch, I went to a Japanese curry restaurant on 9th Avenue where a seafood curry special caught my eye. A number of these fast-food Japanese places have opened up in Hell's Kitchen, and if they ever bring Daredevil back, they could work it into a plot somehow, but in any case, it was delicious and satisfying, and it came quickly with a salad that had a simple rice wine vinegar dressing I now make myself.
Dinner was with a friend, the screenwriter and playwright Zac Hug, who was visiting before leaving on a holiday tour of some European capitals and the men he will certainly meet there. We greeted him at my husband's apartment, where he declared he was drinking vodka on the rocks in the manner of Charlize Theron in Atomic Blonde, and I countered with a vodka martini on the rocks with a twist and rhubarb bitters, which we all drank before heading off to one of my very favorite restaurants, ViceVersa. It's an old-school Hell's Kitchen restaurant where I imagine a sequel to The Birdcage perhaps beginning over a dinner like this one.
The restaurant was decked out for the holidays to the rafters — with tiny glittering red trees on every table, Nutcracker dolls next to the urns that line both walls, and as we ate we were comforted by the mesmeric light show in the garden, where strings of lights flashed and switched direction, as if marching quickly.
I ordered a grilled calamari with radicchio and tomato, and the spare ribs and cheesy polenta with mushrooms, both of which were gratifying and rich, and a good bottle of Bolgheri for the table. My husband ordered an arugula salad and the swordfish, and on my recommendation, Zac ordered the house specialty, casoncelli alla bergamosca, ravioli filled with veal, amaretto cookies, raisins, pancetta, and sage. The chef, Stefano Terzi, is from the Lombardy region of Italy, and this dish is from there, along with a few others that friends have noticed are rarely seen here. After three summers in Florence, I would put his food up against that food, and recommend this place heartily, especially as the staff are always kind and swift, and the drinks are generous. We then ordered desserts: warm chocolate cake for Zac, a sour cherry panna cotta for my husband, and ice cream for me — salted caramel, vanilla, and chocolate — and then made our way home to bed.