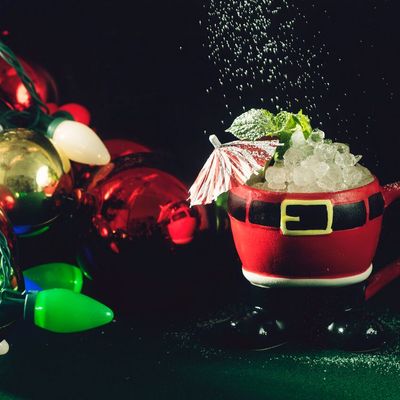 Santa's got some chill pants.
Photo: Courtesy of Miracle on Ninth Street
The weather outside may be getting frightful, but inside these pop-ups there's booze. That's delightful! Here are 25 spots that will keep you warm while getting you in the holiday spirit. For more picks of the season, check out New York's Holiday Guide.
Tacky Winter Takeover at The Late Late
159 E. Houston St., at Allen St.; 212-633-2000
The Irish-ish Houston bar leans into the holiday tackiness with kitsch and tinsel, just like grandma used to use. And also like grandma, they go heavy on the seasonal cocktails, like the Oh, F … udge! with Hennessy VSOP, Green Chartreuse, hot chocolate, marshmallow meringue, and peppermint candy.
Through February 2019.
Cottontail at Stay Gold
360 3rd Ave., at 26th St.; 917-261-7441
This year the team behind the Up & Up opened Stay Gold, and this winter Stay Gold introduces a hot toddy pop-up called Cottontail. With room for just 30 guests, it's first come, first served for a menu with variations on the toddy, plus other warming drinks. And if you've got buddies with you, toddys are available in large formats. December 12-15 and December 19-24.
Helliday Inn at the Skinny
174 Orchard St., nr. Stanton Street; 212-228-3668
Hey, the holidays aren't for everyone. But sometimes there's more fun to be had than in just ignoring them, by actively spurning them, which is what the "anti-holiday" pop-up Helliday Inn does. Show up for the Naughty Nightcap ($12) — a platter of rum horchata, cinnamon whiskey and Insomnia Cookies, Santa's Wheel of Misfortune, which you can spin to win (or lose) money, nightly programming like Krampus Karaoke and dirty caroling, and over-the-top creepy-tacky decorations. If you actually like them, we won't tell. Through January 2019.
Midnights Winter Chalet
149 N. 6th St., nr. Bedford Ave., Williamsburg; 718-384-6961
Just because the weather gets chilly doesn't mean you have to move indoors. This year, Midnights in Williamsburg turns its outdoor space into an old world-style chalet, with sheepskins, woolen throws, vintage ski posters, and a pretty cool chandelier, and special cocktails like the Home Alone, with vanilla vodka, espresso, cinnamon, and nutmeg. The space is open for dinner, brunch, and private events. Through April 2019.
SNOWday in Brooklyn
348 Wythe Ave., at S. 2nd St.; 347-222-6722
It's probably acceptable to wear your jammies to Sunday in Brooklyn's pop-up. In the main barroom, SNOWday in Brooklyn serves drinks after 5 p.m. nightly like the Partridge in a Pear Tree, a spiced pear margarita served in a decorative bird glass, and the Ugly Sweater Weather, a winter negroni. The Rum Rum Rudolph sounds especially cozy, a hot chamomile buttered rum that will go well with table-side raclette. Through February 2019.
Bad Santa at Grand Republic Cocktail Club
19 Greenpoint Ave., nr. West St.; 347-689-3860
Sometimes your idea of a holiday good time is a tree decorated with beer cans and a mezcal, pineapple, and coconut cocktail called the Christmas Viagra Colada (which pairs with the condoms, also on the tree). Inspired by the Billy Bob Thornton movie, the den of iniquity will be open until the end of the year. Through December 31.
Clinton Hall's North Williamsburg Pole
Pod BK Hotel, 247 Metropolitan Ave., at Driggs Ave.; 929-419-6988
In the Pod BK Hotel, the courtyard of this beer hall is transformed for Xmas in Brooklyn, with an LED Christmas tree, beer can ornaments, and candy cane shot-skis, which come with an opportunity to win a vacation adventure. Santa will also make random appearances, so be ready to defend yourself if you've been more naughty than nice. Through February 11.
Sleyenda at Leyenda
Co-owners and superstar bartenders Julie Reiner and Ivy Mix know that to make the season merry, just add mezcal. Through the end of the month, their bar Leyenda wears its annual sparkling holiday attire, with seasonal drinks like Grandma's Secret Stash (allspice dram, vanilla, Smith & Cross rum, and black tea), plus a Slay Chalet, a small hut dedicated to inspiring women. A dollar from every new Sleyenda cocktail goes to the Global Fund for Women, the New York Women's Foundation, Outsmart NYC, and the Me Too Movement. Through December 31.
Winterland at Pier 17
89 South St., at Fulton St.; 212-732-8257
Skate in the sky (or at least five stories up) at the winterized version of the Rooftop bar at Pier 17, which, beginning on Friday, will include a rooftop ice rink — the only one in NYC — with dramatic backdrops of the Brooklyn Bridge and the Hudson. There will be skating, curling, and broomball lessons. While you're there, check out the new rooftop bar R17 for cocktails like the Red Winter (Maker's Mark, apple cider, allspice, and amaro), or stop by Tank, a seasonal space offering "ski lodge-style food and drinks in a chalet-style setting." That also opens Friday. Through April 2019.
Bank of America Winter Village
Bryant Park
The free Bryant Park skating rink comes with a few other perks, including rink-side bar and food hall The Lodge by Urbanspace, which includes about twelve eateries. There's a cocktail bar and a beer hall, and this year, a Bollinger Champagne bar, serving up a little of France in the middle of New York with the house's special cuvée, its non-vintage Bollinger Rosé, and prestige cuvée Bollinger R.D. 2004. Through March 3.
Miracle on Ninth at Mace
649 E. 9th St., nr. Ave. C; 212-673-1190
Miracle on Twelfth
505 East 12th St., nr. Avenue A
Miracle in Brooklyn
177 Grand, at Bedford Avenue
The annual pop-up of all things boozy, kitschy, and holiday now has 80 locations around the world but only one original, at the bar Mace in the East Village. This year, they've also added a location on 12th Street for larger groups to secure reservations, as well as a space in Brooklyn. That's three miracles! Find good cheer in Santa-shaped mugs, or, if you want to take the custom glassware home, you can purchase it at the bar, with 10 percent of proceeds going toward Action Against Hunger. This year you can contact them for reservations for groups of eight or more and make it a holiday party every night. Through December 31.
Sippin' Santa at Boilermaker
13 First Ave., at First St.; 212-995-5400
Santa's boozing it up before his big day and, as always, you're invited, at the annual tropical-themed tiki pop-up at Boilermaker. Sit under the bar's thatched roof while having a Kris Kringle Colada or a Hawaiian Milk Punch in themed glassware. Or just go with a shot and a beer from the Boilermaker menu. If you're feeling extra festive, show up in a lei. You'll fit right in. Through December 31.
The Lodge at STK
26 Little W. 12th St., nr. Washington St.; 646-624-2444
It's hygge with a view of the Hudson at the indoor-outdoor rooftop at STK. Glamp outdoors in a canopy bed or head inside for a traditional cabin experience, complete with (hopefully) fake animal heads on the walls. Open Thursday to Saturday evenings with DJs and cocktails, including ginger toddies, tequila-laced hot chocolates with maple whipped cream, and a Naughty & Nice group punch bowl of vodka, apple cider, cinnamon ginger beer, and prosecco. Through March.
Snow Globe in the Sky at Ophelia
Beekman Tower, 3 Mitchell Pl., at First Ave.; 212-980-4796
Spin around in a snow globe this winter on the top of Beekman Tower in Midtown East, where the art deco former Sinatra hangout is already infused with drama with its wraparound windows, blood-red stools, and deep blue walls. This winter, they're adding garlands of crystals and snowflakes, sheepskin throws, and golden candelabras, plus new cocktails like the cognac, rum, cinnamon, and lotus cookie-infused Rising Star. Through January 31.
Donner & Blitzen's Reindeer Lounge at The Springs
224 Franklin St., at Green St.; Brooklyn
Sure, Blitzen is named after lightning, but do you think it was also because he was always … blitzed? If so, his namesake lounge in Greenpoint would be right up his alley, combining holiday cheer with booze and cocktails like mulled wine, a white chocolate peppermint bark slushy, and the "Nog-Gonna Make It to Work Tomorrow." And, for the office orphans out there, you can pretend it's a work party every night, with DJs, office cookie plates and fondue, and ugly sweater parties in a space with no less than four fireplaces, a candy cane wall, and multiple floor-to-ceiling Christmas trees. Through December 30.
Winter Chalet at Industry Kitchen
70 South Street, nr. Maiden Lane; 212-487-9600
Sure, Industry Kitchen's waterside holiday chalet transformation looks inviting, with its twinkling lights on exposed wood and its giant nutcrackers and snow-flecked greenery, but they've also got something called a Frozen Peppermint Slide, a giant shareable cocktail with Baileys, candy canes, peppermint bark, and pretzel rods. Happy holidays, indeed. Through January 31.
Serra Alpina at Birreria on top of Eataly
200 Fifth Ave., at 23rd St.; 212-937-8910
This winter, the rooftop at Eataly picked up some fur throws for Serra Alpina, transporting you to the Alps in a flower-filled space inspired by the Stella Alpina, or alpine star, a rare wildflower revered in the northern Italian Alpine region. Have your choice of 35 different amari, cocktails infused with mountain herbs, or house-made vin brulé — the Italian version of mulled wine. Then kick back, look up through the glass-topped retractable roof, and get ready to "let it snow" (grate cheese on your meal). Through the winter.
Arlo-Arctica at Arlo SoHo and Arlo NoMad
231 Hudson St., nr. Broome St.; 212-342-7000
11 E. 31st St., nr. Fifth Ave.; 212-806-7000
The Arlo hotels shoot high with their concept: Arlo-Antarctica, in partnership with Shackleton Whisky and Symmetry Labs, inspired by Sir Ernest Shackleton's 1907 Antarctica expedition. As the story goes, the ship left behind three crates of rare whiskey, which were buried in ice and uncovered a century later. Shackleton has attempted to recreate this antique wonder, featuring it in a special cocktail menu which will be served in ice huts in the hotel's courtyard. There will also be virtual reality LED installations, as if the whiskey won't be transportive enough. Through March.
Winter Garden at The Standard, East Village
25 Cooper Sq., at 6th St.; 212-475-5700
The world will be bustling around you, but you can sit in a yurt, eat fondue, and drink spiked cocktails in the middle of the East Village with the Standard's Winter Garden. Christmas trees by Crest Market will make it festive, and when you're ready to crawl out, you can purchase one to take home. Through the winter.
Pink Holiday Pop-Up at Moxy Times Square
485 7th Ave., nr. 37th St.; 212-967-6699
With décor Mariah Carey, or, hey, P!nk, would probably love, the Moxy's second floor turns into an all-pink living room, with a pink piano, menorah, fireplace, holiday tree, grandfather clock, and more. Plus, a cocktail menu including hot toddies, pink hot chocolate, and probably rosé, and photo opportunities with Mrs. Claws, a gigantic pink teddy bear. Through January 2. 
Winter Room at the Roof
Viceroy New York; 124 W. 57th St., 29th fl., at Sixth Ave.; 212-707-8008
Whether or not there's snow outside, it's always a snowy winter night in this 29th-floor lounge, with fondue, vodka-spiked hot chocolate, and fuzzy blankets to keep you warm. And if it does indeed snow, you'll see it on the treetops of Central Park below. Through March.
Midwinter Night's Dream at PHD Terrace at Dream Midtown
210 W 55th St., at Broadway; 212-247-2000
No need to go outside: PHD at Dream Midtown has your Midsummer Night's Dream-inspired garden on its rooftop, with floor-to-ceiling swings, winter floral installations, and mistletoe. Share a Secret Garden Sangria with pomegranate seed-infused cubes or have a S'mores 'Tini with marshmallows you can roast table-side. Just watch the fire — you are in a fictional garden, after all. Through the winter.
Winter Wonderland at the VNYL
100 3rd Ave., nr. 13th St.; 212-633-2000
The disco-themed multi-level nightclub (the name stands for Vintage New York Lifestyle) serves up sleek décor for an even sleeker clientele. This holiday season it adds a little whimsy, transforming the main floor into the North Pole with LED stars and fake snow, plus seasonal cocktails. And if you're present-shopping for music-lovers, at the entrance is a fully stocked record store curated by music director Adrian Grenier, a.k.a. Vinny Chase. Through January 31.
Après Ski at Treadwell Park
1125 1st Ave., at 62nd St.; 212-832-1551
Is drinking beer a traditional après-ski activity? It is this winter at all three Treadwell Park locations, where along with their extensive beer menus, they're serving up comfort dishes like a Hefeweizen beer fondue and short-rib pumpkin ravioli, plus hot cocktails like bourbon hot cider and, okay, a shot-ski. Plus, antler chandeliers and games. Who needs actual skiing?
Through March.
The Lodge at Gallow Green
The McKittrick Hotel; 542 W. 27th St., nr. Tenth Ave.; 212-904-1883
With the long-running, immersive Sleep No More plus a couple of illusionist offerings happening downstairs, the rooftop at the fictional McKittrick Hotel makes its own magic, with its annual switch from a verdant haven to a cozy Scottish lodge. Keep cozy with warming whiskey-based cocktails and actual warm, mulled cocktails, plus fireside seating, pine trees, and plenty of nooks to get lost in on a snowy winter night. Blankets provided. Through April.
This post has been updated to include additional picks.