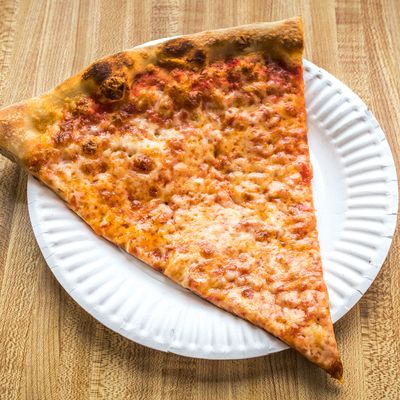 All hail the slice.
Photo: Noah Fecks
The New York slice has returned to its proper place atop the pizza pyramid. This is no small feat, considering that the last decade-plus of pizza news has been dominated by whole pies, often puffy-crusted and sometimes topped with farm-to-table-y ingredients that are a far cry from the industrial mozzarella and powdered Parmesan that are the hallmarks of the slice genre. As such, the local pizza cognoscenti lamented the decline of the humble big-city slice. Slice joints, they argued, had settled into a state of complacency, and the best you could hope for was a slice that was "fine." All the real action, it seemed, was at sit-down pizzerias where the pies started at around $20 each. The complaints were loud and the doomsday talk was frequent.
But the slice is this city's preeminent form of pizza. More importantly, it's a perfect food that, even when it's bad, is still pretty good. A single slice is also mobile, snackable, and endlessly versatile. The slice never really went away, in other words. It was just waiting for the right moment to reappear and reclaim its crown. This was the year it finally happened.
Of course, you wouldn't have expected that to be the case back in January, when the biggest pizza-slice breakthrough was dubious, at best: Brooklyn stunt-pizza innovators Vinnie's introduced its PIEd Pods, a "100% edible and 100% not poison" Tide Pod alternative stuffed with mozzarella and pepperoni and topped with melted, dyed cheese to replicate the look of Tide Pods. It was … not pleasant, but it was proof that the humble slice may yet be able to find a place in our digital present.
The following month, in the first big pizza opening of the year, the people behind the San Matteo restaurants poached a Roman pizza savant named Angelo Iezzi to to open PQR. It serves square pizza al taglio with unusual ingredients like grapes and, most important of all, lots of Italian-style hubris. "Before [me] pizza was heavy and boring," Iezzi told New York, managing to fit in immediately.
Another omen: Pizza Rat made its triumphant return to the city's subways in April. And indeed, the very next day, Staten Island's famous Joe & Pat's expanded with its first-ever Manhattan location. The restaurant took a few months to start offering slices, which are some of the best in the city, but they now do. Slice-culture creep had begun in full.
In fact, the ever-familiar New York triangle wasn't even the only slice gaining steam. The square slice is not exactly the red-headed stepchild of the pizzeria — that's the calzone — but the Underground Gourmet wondered aloud if the city might be taken over by Roman models, and it was soon clear that the city was experiencing something of a square-slice renaissance, as well.
(That same month, the square-slice specialists at Prince Street Pizza released a groundbreaking video and act of social commentary, in which they made the case that ranch's proper place at a pizzeria is in the trash, a respectably passionate — albeit incorrect — thesis.).
Speaking of squares, the pizzeria that makes one of the city's best Sicilian slices found a second home of its own. Di Fara is New York's most romanticized pizzeria, a place where people wait 45 minutes for cheesy tomato bread and one man, Dom DeMarco, reigns as the city's most legendary pizza savant. This year, the Di Fara empire expanded to, of all places, a Williamsburg food hall, a development that Grub hailed as "earth-shaking." After decades of perfection, any expansion could threaten to ruin the legacy of the original — it was the pizza-world equivalent of getting a new Mary Poppins movie. (Luckily, in both cases, the consensus opinion seems to be that the new versions largely uphold the lofty standards of their forebearers.)
It was already shaping up to be a banner year for slices, but this was hardly the end. This summer, the Staten Island Yankees — Staten Island's premier waterfront minor league baseball team — temporarily re-christened the team the Staten Island Pizza Rats, an appropriate honor for the city's most famous pizza fan.
A new DiFara, a new Joe & Pat's, a new slew of square slices, and ongoing, citywide love for Pizza Rat: Even with all of these developments, perhaps the biggest slice event was the opening of a new slice shop from Paul Giannone, who serves some of New York's most popular, and best, Neapolitan-ish pizza at Paulie Gee's. His new Greenpoint slice shop is a pure nostalgia trip with its orange booths, vintage Yankees yearbooks, and straightforward pizza, crisp-crusted slices that demanded to be taken as seriously as any froufrou pies being slung around town. As if that weren't enough, vegetable whisperer Brooks Headley launched Focaccia Fridays at Superiority Burger, serving accidentally vegan pizza that the Underground Gourmet crowned this year's best.
From there, slice momentum was inescapable: On November 6, New York Times critic Pete Wells published a starred review of slice joint Mama's Too, wherein the critic declared "a great reawakening of slice culture." (Wells also recounted his personal pizza odyssey and the places, starting with Best Pizza in 2010, that have put the slice back on the pedestal.) The year's slice-aissance was not over yet, though. A few days ago, Roman pizza dude Stefano Callegari, best known as the inventor of the trapizzino, opened La Rossa with takeout pizza quadrata.
Slice lovers, the days of doom and gloom appear to be over — for now — so it's time to turn our attention to other pressing matters, like who makes the best garlic knots …