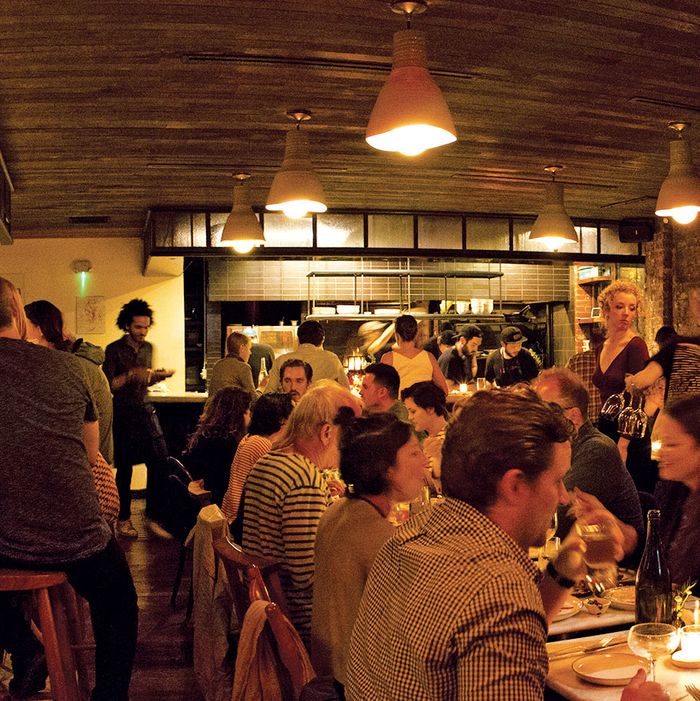 Diners at Mettā, a Resy restaurant.
Photo: Jemma Hinkly/New York Magazine
The online-reservation wars saw a major shake-up last week when the founders of Resy announced they would acquire a major competitor, Reserve. OpenTable, which boasts 47,000 restaurant partners is still the undisputed king of digital-booking services, but the move will likely help increase competition and, in the end, be a boon for anyone that regularly eats out at restaurants. Here's why.
Diners will now have one fewer app to worry about.
Even though OpenTable is reportedly used by nearly 50,000 restaurants worldwide, tables at a growing number of brand-new and high-profile restaurants can be booked through one of OpenTable's competitors, such as Tock, Resy, or Reserve. For diners, this could often mean navigating a number of sites just to see where you could find a given restaurant. Now that two major players will consolidate, it means one less service to check when you want to find a great table.
Resy keeps pushing OpenTable to become a better company.
Since Resy arrived on the scene four years ago, OpenTable has been forced to improve its own product to prove that it can keep up with the notably sleek site. In May, OpenTable completely streamlined its outdated app, whittling the available tabs down to "Book" and "Discover" to address the trend of diners looking for location-specific, last-minute reservations while also making it easier to find what's new and notable. (Resy's app has had these features for a while.)
There's also a matter of price: Currently, OpenTable's premium product, GuestCenter, costs $249/month in addition to a $1.00 fee per diner booked through OpenTable. Resy, meanwhile, charges flat fees starting at $189/month ("perfect for neighborhood restaurants") and rising to $899/month ("perfect for restaurants looking for enterprise scale"). At every level, the restaurant is not charged for the number of diners that use Resy, meaning restaurants aren't, in essence, penalized for being popular.
Accordingly, OpenTable will introduce a new pricing model next quarter that will most likely make it more affordable for restaurateurs already operating on razor-thin margins.
The deal should make Resy a smarter service.
Earlier this year, Reserve struck deals with Google and Instagram that allowed diners to book reservations directly through the two sites, and since Resy is bringing on the majority of Reserve's employees, they'll likely maintain those relationships. Reserve also uses a unique "open data model," which allows restaurateurs to adjust their own seating based on diner demand (instead of simply offering a static list of table inventory). Tech like this is how Reserve grew its network from 60 restaurants at launch to nearly 1,000 in just two years.
Lower costs for restaurateurs are ultimately good.
At the end of the day, the reservation sites are more important to those who own restaurants than those who visit them. In such a precarious business, every dime saved can make a huge impact and if OpenTable's new prices make it more affordable in an effort compete with Resy, then that means savings for the people who put their checkbooks on the line to open restaurants. And anything that makes opening or running a restaurant easier is a good thing.