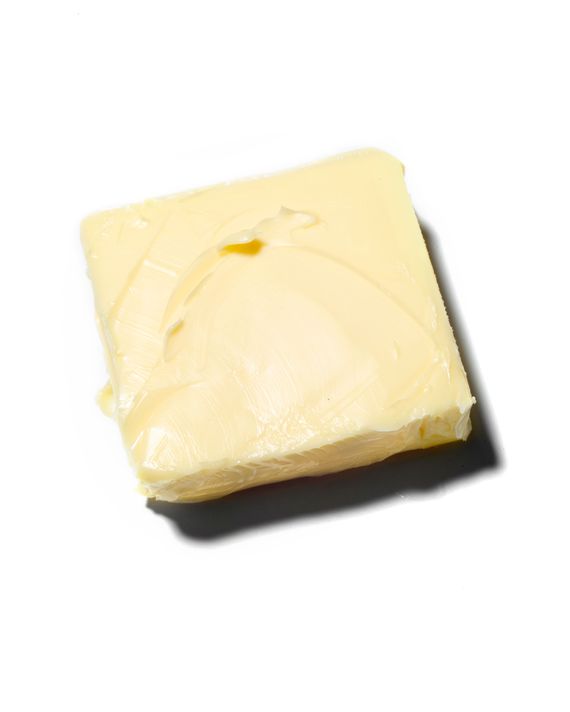 Keto mania has caused sales of grass-fed butter to rise 45 percent this year.
Photo: Jonathan Kantor/Getty Images
The time of the keto diet is now. Although the idea of a ketogenic diet was originally created by Mayo Clinic doctors to treat epileptics in 1923, its popularity as a weight-loss phenomenon has exploded since people started hyping butter coffee — and in the ensuing time, the fad diet has turned into a $5 billion industry.
The idea behind going keto is relatively simple. It's evolved a bit over the years and become more complex, but the original diet split daily caloric intake into 90 percent fat, 6 percent protein, and 4 percent carbohydrates. For a 2,000-calorie-per-day diet, this translates to a daily intake of roughly two sticks of butter, five eggs, and a mere one-third cup of cooked rice. The ratio intentionally deprives the body of glucose, forcing it to tap into a backup fuel source — stored fat — that becomes ketones (the byproduct of fat that's used for energy when carbohydrate intake is low).
Advocates argue this state of ketosis leads to weight loss, greater satiety, and improved glycemic control. Modern-day keto fanatics include Silicon Valley biohackers by the incubator-load, athletes, the thriving #ketotransformation Instagram community, and Reddit's 860,000-member /r/keto subreddit. Excitement around all things keto is so out of control that when a group recently introduced $38 bottles of "keto compatible" unfiltered "hot dog water" at a local Vancouver festival, people weren't sure if it was real or a prank. (It was a prank.)
But the reality is that hot-dog water isn't all that absurd when you look at some of the other products and services that have sprung up to capitalize on the keto gold rush. In addition to the obvious deluge of cookbooks, products and services specifically targeted to keto dieters are everywhere, and plenty of people are making loads of money off of your desire to cut carbs and binge on fat.
MCTs = $$$
Talking about keto diets means talking about medium-chain triglycerides, or MCTs. In short, these are the super-fats that drive the entire keto economy, and research indicates that MCTs will be a $2.5 billion market by 2025. MCTs are sought out by endurance athletes, bodybuilders, epileptics, and keto dieters. Coconut oil is an MCT, but many keto dieters prefer a fatty acid extracted from it that's known as caprylic acid, or C8. In fact, coconut-oil sales have recently fallen, and reports say that the intense focus on C8s is partly to blame.
Butter Is Bigger Than Ever
To track the keto trend, Yeji Lee, a marketing insights specialist who follows the keto craze for Kerry Taste & Nutrition, says they track consumer habits to see how many people look and act as if they're on keto diets. That, specifically, means butter. While the market for butter, in general, has grown 5 percent this year, keto-focused butter has exploded. "One core ketogenic staple is grass-fed butter," she explains. New data shows grass-fed butter sales are up 45 percent this year. "You see a general trend toward carb-conscious foods — which grew by 10.3 percent in the last year — and moving away from no-, low-, and reduced-fat foods, which declined by 4 percent over the same time."
Meanwhile, Bulletproof Coffee — a keto pioneer of sorts and the group that popularized the idea of adding butter to coffee — has grown 80 percent since 2012, runs cafés in Seattle and L.A., and now sells coffee pods, as well as something called "Brain Octane MCT oil" in Whole Foods. This year, Bulletproof also raised $40 million from Starbucks investor Trinity Ventures, and $17 million the year before that.
Start-ups, of Course, Are Everywhere
The site Keto and Company — basically a one-stop web shop for all things keto — averages about 5,000 customers a month, for items like brownies with three net carbs per serving, or coconut-avocado-olive oil. Demand is "increasing consistently," founder Ted Tieken says: In September he told CNN, "Six months ago, I stopped having to explain what keto was to the average person," adding that lately "people get offended when I explain."
Jeff Frese started his own ketogenic diet in 2015 after reading Tim Ferriss's The 4-Hour Body. But early attempts to follow it revealed few good snack options existed, he says. So in 2016, he started Fat Snax, a brand that sells low-carb chocolate chip, lemon, and peanut butter cookies and a line of MCT-infused matcha described as "our tasty take on Bulletproof Coffee." Since January, he says sales are up tenfold, now comfortably in the seven figures. This week, Vitamin Shoppe started stocking Fat Snax. "Come summertime, I expect us to be in many national retail outlets," adds Frese, who's quit his job in software development.
They're hardly alone: Vitra, a health start-up that puts people on a "proprietary" keto diet to reverse type 2 diabetes, raised $45 million this past April. The month before, a start-up called Ancient Nutrition secured $103 million to produce collagen-infused bone broths, a supplement line, and the first-ever keto probiotic.
Then there is FBomb, a company whose official website URL, it's worth noting, is DropAnFBomb.com. FBomb debuted a line of nut butters in Vitamin Shoppe stores last month and, this month, they went on sale at 2,000 GNC locations as well as 200 HEBs. The company just finished the onboarding process with Whole Foods, too. Starting in January, you'll find FBombs at 3,200 CVS stores. Ross Taylor, the company's "chief fat officer" (they have fun at FBomb) predicted in October that growth will only continue.
Yes, You Can Turn an Ice-Cube Tray Into a Fat Mold
The craze is spilling into food-adjacent categories. In the same way that the Soylent craze helped boost sales of the bottles people use to drink it, keto adherents are buying ice trays and muffin tins in order to repurpose them as fat bomb molds, essentially places to store bite-sized balls of ghee or bacon lard mixed with things like chia seeds and shredded coconut. Ketosis has been known to cause bad breath (is that really a surprise from a diet that relies on something called "fat bombs"?), so when Amazon perceives users shopping its Keto Snacks section, it might also suggest sugar-free breath mints.
Even Atkins Has Seen a Keto Boost
Way back in 2003, the Atkins diet was so huge that TGI Fridays launched its own Atkins menu, saying a whopping 40 percent of its customers were on the diet. But that same year, Dr. Atkins himself passed away and the diet began to fall out of favor. The weight-loss company filed for bankruptcy in 2005, reemerged, and got purchased in 2010 by Roark Capital Group, the same firm that owns Arby's. (As you know, they have the meats.)
The Atkins plan is still around, of course, thanks to some corrective re-strategizing. Rob Lowe is the new spokesman, and there's an Atkins 100 program rolling out: It's a diet that allows up to 100 carbs per day, five times more than the old diet plan allowed. The thinking behind this is that the original plan was "unnecessarily restrictive" for some people, says senior vice president of innovation Linda Zink. "We want to get the message out that, yes, we offer a way to lose weight, but this is also a lifestyle." As far how much Atkins interest is due to keto-fueled interest in low-carb diets in general, Zink says that Atkins has seen "continued growth for years," and "we don't see the pendulum swinging back the other way to low fat."